The NHS saved Boris – but that doesn't mean he now owes even more money to the service that already costs £133bn a year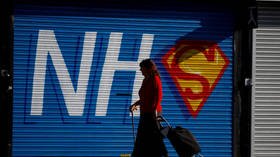 Having rescued the Prime Minister in his fight against Covid-19, Britain's National Health Service is in a position to ask for anything that's in his power to bestow – regardless of whether or not we, the taxpayers, can afford it.
Shiny new hospitals? Got it. We already built a brand new one on the banks of the Thames in what seemed like a matter of days. Now they're popping up all over the place. Soon it will be hard to move, thanks to the dozens of new ICU beds.
Countless, well-trained staff from overseas? You betcha! The two nurses namechecked personally by Boris in his thank you Twitter video, Jenny from New Zealand and Luis from Portugal, have unwittingly done more for open-door immigration in the UK than millions of chanting Remainers outside the Palace of Westminster ever did in five years.
And the genuine gratitude on the face of the croaking PM is worth countless petitions and high-level meetings with the Secretary of State for Health, Matt Hancock, and his advisers.
So the pressure will mount on Boris to spend on the NHS like never before, and he'll need to be in robust health if he is to ever fix those problems with the health service that cannot be sorted overnight by a big fat cheque.
Authentic praise and first-hand experience of the way that the NHS has taken on the battle against coronavirus will reap some huge public relations dividends… and while they may be deserved, there are still serious questions that need to be asked before the public piggy bank is smashed open with a hammer.
Because we seem to have some disconnect between what the Government is already giving the NHS and what actually appears in the hospital theatres and wards.
With around 30p of every pound spent on public services going to health, there is a helluva lot of money sloshing about, some £133 billion earmarked, pre-coronavirus, for the NHS this year. While that puts our total health spend just above the EU average, it's still less than that spent by Germany, France and Sweden.
And the NHS has problems that money alone will never solve.
There is the UK's ageing population; it's hugely more expensive to treat a 90-year-old than a 30-year-old patient. That is not going to improve in the short term. Because not everyone is entitled to free care in their later years, thanks to means testing, the chances of any of the 1.4 million elderly people who currently get no help ending up in hospital means that the NHS is left with an influx of patients that it will need to treat using money that it may have preferred to spend elsewhere… maybe buying personal protective equipment for staff.
Thanks to advances in medicine which increase longevity but not the availability of care, this problem will simply grow.
Then we have out-of-control obesity, with a fat, lazy population simply eating too much rubbish and not exercising enough. Strangely, it's taken the Covid-19 lockdown for people to suddenly develop an unbridled desire to walk the dog or venture outside for some basic exercise.
Again, not a straightforward money problem.
Then we have staff shortages. With recent figures, again pre-Covid-19, showing nearly 100,000 unfilled vacancies in the NHS, it seems the money for salaries is there, just not the 40,000 trained nurses or other staff needed to hand those payslips to every month.
Once more, not a matter of funding shortfalls.
Also on rt.com
A cure worse than the disease: UK lockdown could cause 150,000 'avoidable' deaths, MORE than the virus it's meant to stop
The list of NHS problems goes on. There are unacceptable and seemingly unreachable targets for A&E waiting times, there are over-schedule and over-budget maintenance projects and there is constant competition from other public services for a limited pot of cash.
Education, transport, you name it. All piling the pressure on Boris Johnson for their slice of the cake.
With the NHS having such an opportunity to request more funding from a Prime Minister who was, only a week ago, looking at a survival prospect of 50-50 from his hospital bed, it will take a man of steel to keep the public purse shut and reverse the pressure on the NHS to fix a few of its issues first.
Boris is a lot of things, but is he that man?
Like this story? Share it with a friend!
The statements, views and opinions expressed in this column are solely those of the author and do not necessarily represent those of RT.
You can share this story on social media: