Finally, some true CNN news! Chris Cuomo admits he traffics 'in the ridiculous'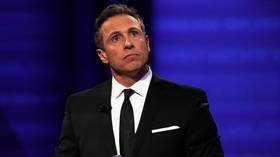 Since 2013, Chris Cuomo has been the star attraction on CNN, but now their relationship appears to be hitting the rocks. Has the host of 'Cuomo Prime Time' simply witnessed too much of the absurd in his career?
This year, Chris Cuomo broke the golden rule of journalism that says reporters should only report the news and never become the news.
On Tuesday, the CNN anchor went off on a wild tangent from his home studio, telling his audience "I don't want to spend my time doing things that I don't think are valuable enough to me personally" and "trafficking in things that I think are ridiculous." He added "I don't value indulging the irrationality, hyper-partisanship."
CNN anchor Chris Cuomo says his COVID diagnosis has made him rethink his career: "I don't like what I do, professionally, I've decided … I don't value indulging irrationality, hyper-partisanship. I don't think it's worth my time anymore."pic.twitter.com/AmkUsuoATY

— Alex Salvi (@alexsalvinews) April 14, 2020
Coming from Chris Cuomo, that's quite fresh. Anyone who has ever watched just five minutes of CNN understands that it is the absolute epitome of hyper-partnership. Indeed, epic clashes occur frequently between CNN's White House reporters and US President Donald Trump, who openly calls the news organization "fake news." Just last week, Cuomo had his own partisan moment by accusing Trump of peddling lies about the coronavirus, using an expletive on-air as he called it "bullsh*t."
So how should the public interpret Cuomo's prime-time confessional? First, there is a strong temptation not to be overly judgmental. On March 31, Cuomo joined a long list of other celebrities by announcing he had contracted the new coronavirus. That would be enough to put anyone on edge.

On Monday, a day before his on-air meltdown, Cuomo opened up about the "psychological impact" of dealing with Covid-19, saying it "creates emotional illness and creates psychological illness…And it's creating brain fog. It's creating edginess in people. I'm experiencing that. It messes with your head, this virus."
At this point, nobody would doubt Cuomo on that account.
Employed with CNN since 2013, perhaps Chris Cuomo has been hit with the notorious 'seven-year itch' and is ready for something different. Or perhaps he is beginning to show the telltale signs of a mid-life crisis. After all, the popular anchor turns 50 years old in August, an emotional milestone for many people. On top of all that, his older brother, New York Governor Andrew Cuomo, with whom he has a famously difficult relationship, is rumored as a possible Democratic candidate to take on Trump in November, that is, should Joe Biden fail to live up to already very low expectations. It must weigh heavily on Chris's already clouded mind that his older brother may one day be the Commander-in-Chief. Is he dreaming of a possible Bobby Kennedy role for himself in the White House alongside his brother?
Then again, maybe all the 'fake news' that CNN has been accused of peddling over the years has finally caught up with Chris Cuomo. After all, here is a man who has just witnessed some of the most abysmal reporting on an American presidency in living memory. This is no defense of Donald J Trump, a leader who certainly has some major character flaws. Yet from the very moment Trump entered the White House, CNN has been leading a non-stop offensive, rarely questioning the Democratic Party's possible motives for launching Russiagate, which was followed up almost immediately with Ukraine-gate and then impeachment hearings. Yet there have been signs that not everyone, not least of all inside of CNN's leaking ship, believed the bombast.
In one of those candid off-air comments that summed up four years of wasted US taxpayer dollars, Cuomo's colleague, Van Jones, caught unawares by James O'Keefe from Project Veritas, admitted that "The whole Russia thing is a big nothing-burger." Perhaps deep down Chris Cuomo entertains those very same disturbing thoughts, and, having been shaken by a bout of coronavirus, is looking at things from a brand-new perspective.
Also on rt.com
CNN's Van Jones admits Russia story a 'big nothing burger' in undercover video
In fact, there is some bitter irony in Cuomo contracting the coronavirus. Had CNN reported more truthfully in the course of the last four years, perhaps the United States would have been better prepared to fight against the pandemic as it made landfall. Instead, the Trump administration was distracted, busily defending itself from a barrage of fake news, something which CNN and Chris Cuomo could have helped to mitigate had they been more honest.

Maybe now Chris Cuomo understands, from firsthand experience with a deadly virus, that fake news is not only a bad business model, especially for a media company, it can be downright dangerous to one's health.
Like this story? Share it with a friend!
The statements, views and opinions expressed in this column are solely those of the author and do not necessarily represent those of RT.
You can share this story on social media: