Covid-19 proves the Churchillian spirit Britain's leaders love to promote is a laughable myth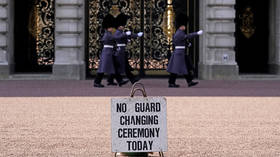 The UK has been painfully exposed as relying on rhetoric, bluster and faded imperial notions of "We Shall Fight on the Beaches" to confront this pandemic, and has deluded itself into believing it's still a world power.
Prince William entered the public debate on Covid-19 and in a split-second joined with so many of those who hold power in Britain, proving he's also stuck in a deluded time warp.
His contribution, that the country was at its best "when we're in a crisis" showed he's lacking an appreciation of the reality of the situation.
The UK is predicted to suffer 66,000 deaths, the most of any European nation, and has a crippling shortage of Personal Protective Equipment (PPE) and a severe lack of testing kits particularly for nurses, doctors and other health workers.
But the Duke of Cambridge somehow fathoms we're at our best. He's bought into the blood-stained legend of his royal descendants, who orchestrated wars and controlled the British Empire as it rampaged across the world, conquering land, resources and people against their will.
Also on rt.com
British PM Johnson says he 'owes his life' to NHS staff as UK coronavirus death toll closes in on 10,000
Boris Johnson, it seems, has been drinking the same Kool-Aid. Upon leaving hospital –after being treated for Covid-19– he was manufacturing war cries like China does iPhones. The prime minister bellowed: "We are making progress in this incredible national battle" in "a fight we never picked against an enemy we still don't understand."
As far back as over a month ago, Boris brazenly proclaimed: "We must act like any wartime government."
The media has joined in, too, with the UK's biggest selling newspaper The Sun billing its Covid-19 fundraising effort as being "for our frontline heroes."
This proves how Britain's default setting is about harking back to war as something to be proud of and the type of mindset the country should readily adopt. That is complete garbage. This pandemic isn't a war.
People are not getting their limbs blown off by bombs or being shot to death in trenches. We are not fighting anyone or anything – like the rest of the world, we are trying to stop a virus from spreading.
Sue Hill, vice-president of the Royal College of Surgeons of England, commented: "The thing that irritates me is cabinet ministers are standing up every day, addressing us as if we're on a war footing and giving Churchillian quotes when they could be doing a few simple things like getting more bits of plastic and paper [which personal protective equipment is made out of] on to wards."
There's very little debate to be had that Britain's response has been shambolic.
Not only is it supposed to top the European Covid-19 death-toll rankings, its prime minister contracted it weeks after boasting that he wouldn't stop shaking people's hands. Scotland's Chief Medical Officer Catherine Calderwood was sacked after flouting the lockdown rules that she'd told the public to follow. There's such a shortage of PPE that the Health Secretary Matt Hancock cringingly advised healthcare professionals scrambling to save lives, not to waste any resources.
Police forces in some parts of the country are handing out fines for public gatherings, while others are not – one force was even patrolling a supermarket looking for evidence of non-essential purchases.
Also on rt.com
George Galloway: PUSSYCAT media has failed to call out the UK government's ABYSMAL Covid-19 response. We should be angry
Britain is a country that likes to think of itself as being at the forefront, as a world leader and a nation able to hold its own when faced with difficult situations.
Sadly, Covid-19 has proven it isn't.
The glory days are over, Britain doesn't have the power, resources or infrastructure to sit at the top table any more.
So the prime minister, the government and other public figures have gone for the lowest common denominator.
They decided to stir up the glorious and so often eulogised wartime spirit and pretend that, no matter what Britain faces, it will stand up – just like it engaged in The Falklands War or the rescue operation on the beaches of Dunkirk.
They want to convince every person in Britain that it's a plucky, brave country and that it always faces an enemy with honour and courage.
Unfortunately, that message is not consistent with reality – or, more bluntly put, is total crap. The pandemic has left Britain standing like a man with his pants around his ankles. Embarrassed and ill-prepared.
This is not a movie where a rousing speech in a bunker changes the course of events.
We need to wake up. Being British isn't going to help us come through the pandemic. In fact, it may make it even less likely we do.
Talk is cheap and right now that's all Britain's leaders are doing and, even worse, they're doing it like it's 1939.
Like this story? Share it with a friend!
The statements, views and opinions expressed in this column are solely those of the author and do not necessarily represent those of RT.