I am in Denmark, where the lockdown has ended. Are we the only sane ones, or are my children canaries in a coal mine?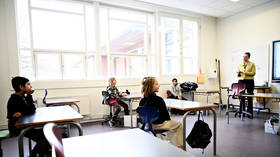 Denmark became one the first countries to emerge from strong Covid-19 restrictions, with schools and some businesses reopening. Are we right to do so, or are our children just test subjects in a mass public health experiment?
As I look out of my apartment window, a bus goes past with children inside. Elsewhere, I can see a toddler on the back of his mother's bike and an older child cycling next to them with a rucksack on his back. The street is by no means busy but there is a small difference. Today is the first day of Denmark's reopening.
All primary schools (6-12 year olds), all nurseries (0-3 year, approx) and kindergartens (about 3- 5/6 years) have been given permission to reopen, in the first step of the government's "gradual, quiet and controlled opening."
Was there cheering and Danish flag-waving as we emerged bleary-eyed and blinking into the sunshine, getting our first taste of real freedom in over a month? Not quite. There were certainly a few Dannebrogs on show, which Danes love to flutter at most opportunities. But there will probably be many more waved tomorrow for Queen Margrethe's 80th birthday – a much-loved and respected royal.
Today is about a slow and cautious restart to life. Not a return to our old lives and routines, but a re-adjustment to the new normal, our post-pandemic reality. The BC (Before Coronavirus) period is gone; welcome to the AC era.
As children arrived with packed lunches and washed hands, a primary school teacher explained the new rules. "The first day will be about teaching the children our new way of life and about hygiene and washing hands," she told me. "It's going to feel very strange."
Over the last week, schools and day-care institutions have been working flat-out to implement the national health authority's instructions for reopening. Some have even been installing extra sinks for hand washing. There has been so much to do that only around half of Denmark's municipalities will reopen schools and day-care institutions today, according to the National Association of Local Authorities. The rest will reopen by next Monday.
Many parents are still waiting to hear from their day-care institutions as to when and how they will operate, so reactions are still hesitant and mixed.
My children are aged four and almost two. Their nursery and kindergarten have been sending parents regular updates. They will reopen on Thursday but can only accept half the children. The reopening instructions include doubling the recommended floor space to six square meters per child for nurseries and four per child for kindergartens, so my children's day-care facility no longer has a safe amount of space.
They, along with other institutions, are working on plans to use other playgrounds and museums in the area so more children can go back sooner. But for now, my children will stay at home until further notice, as my husband and I don't meet the urgency criteria for childcare. Something we're strangely relieved about.
For those that do return over the next week; children, staff and parents will have to adapt to the new way of playing and learning. Schoolchildren must sit at desks two meters apart and will have many lessons outside. Children in nurseries and kindergartens must also be seated two meters apart when at a table.
The rest of the time they must play with the same small group of four or five children, mainly outside. Playgrounds will be marked into sections. Hands must be washed at least every two hours, including before and after food. Nursery workers must wash children's hands after they cough or sneeze. Staff must clean surfaces, including light switches and door handles, twice a day and toys twice a day. Parents have been asked to state what time they will drop off and collect their children and this will preferably be done outside.
I've spoken to two teachers who, although supportive of the reopening, are worried about how they can realistically meet all the requirements. There are plans for some extra staffing they told me, but this won't happen straight away.
Also on rt.com
'My child is not a guinea pig' petition gets thousands of signatures as Denmark re-opens schools amid Covid-19 pandemic
It is compulsory for pupils from the age of six to attend school but concessions can be made if parents have good reason and are willing to home-educate. How many parents decide to take this option will be interesting to see. After Prime Minister Mette Frederiksen announced the reopening plans last week, a Facebook group was created, called "Mit barn skal ikke være forsøgskanin for Covid19" – "My child will not be a Covid19 guinea pig." It currently has over 40,000 members.
The government has acknowledged common concerns about second waves of infection, but has reassured people the reopening plans have the backing of the health authorities and that the country is in a good position. In fact, just yesterday another press conference was held to announce that figures were looking even better than hoped-for and the first stage of reopening could now include some businesses, as well as routine doctor and hospital appointments.
Denmark has flattened the curve and avoided any surge in cases of the coronavirus. Hospital admissions for patients infected with Covid-19 have been falling for almost two weeks. As of yesterday, 380 patients were in hospital with the coronavirus and so far there have been 299 deaths linked to it, in a country with a population of around 5.6 million.
The tough and decisive lockdown almost five weeks ago, on March 12, has paid off so far. People have trusted the government's decisions and adhered to social distancing rules and gatherings of less than ten people. We have still been able to enjoy the country's bike lanes, beaches, forests and parks without restrictions. The next stage is a step into the unknown - it's walking a tightrope, as the prime minister put it. It's testing the country's nerve and level of trust in authority. Trust is something that is high here in Denmark and it's something we hope remains intact.
Think your friends would be interested? Share this story!
The statements, views and opinions expressed in this column are solely those of the author and do not necessarily represent those of RT.
You can share this story on social media: