'Cities will burn!' If Sanders loses, how many Bernie Bros will entertain radical fantasies?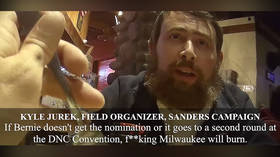 Video of a Bernie Sanders field organizer ranting about burning cities and imprisoning dissidents has emerged. But should anyone take a Bernie Bro's bravura seriously, other than his boss?
Controversial investigative outlet Project Veritas Action released a video, shot by an undercover reporter, on Tuesday featuring a Sanders field worker named Kyle Jurek, as part of its #Expose2020 series that will apparently uncover Democratic Party campaign secrets.
Project Veritas founder James O'Keefe promised a subsequent video in which even more "shocking" statements from Jurek were apparently captured.
Also on rt.com
Democratic Party insiders are now calling Bloomberg 'dream candidate' to defeat Trump (because he'll spend $1bn). REALLY?
This video focuses solely on Jurek, who brags gleefully about beating cops and torching cities – beginning with Milwaukee – if Sanders loses the Democratic nomination.
Asked about a second Sander's loss in the Democratic primary race, Jurek, the wannabe Che Guevara, exclaims: "If Bernie doesn't get the nomination or it goes to a second round at the DNC convention, [expletive] Milwaukee will burn."
Asked about what to do with those who resist "the revolution" after a Sanders' victory, the canvasser says there's "a reason Joseph Stalin had gulags, right?… That's kind of what all Bernie's whole [f***ing] like 'hey, free education for everybody' because we're going to have to teach you not to be a [f***ing] Nazi."
The fate of others might be worse. Jurek says: "The billionaire class. The [f***ing] media, the pundits. Walk into that MSNBC studios, drag those motherf***ers out by their hair, and light them on fire in the streets."
"[Liberal] guys like that. What are we going to do with them?" the undercover reporter asks.
Also on rt.com
Hollywood actor Vince Vaughn has just been cancelled for shaking hands with Trump. Or has he?
"Gulag," Jurek answers. "Liberals get the [f***ing] wall first."
While there's little reason to consider Jurek as anything more than a LARPer gone viral thanks to a media outfit that thrives on getting "gotcha!" moments from the left, he is a clown with revolutionary pretentions that have no basis in reality. He is a member of Antifa, and has a recent criminal record which includes drunk driving and drug arrests.
But many in an America which is inherently suspicious of socialism will wonder how many other such Bernie supporters entertain similar fantasies. Even if they know that Jurek and his ilk have neither the resolve nor the means to carry them out.
So far Bernie's campaign team has resisted making a show of firing Jurek, perhaps for fear of giving credibility and attention to Project Veritas. But keeping his more radical acolytes on-message – yes to universal healthcare, no to purges of the bourgeoisie – will continue to be a key challenge if Sanders wants to win, rather than just send a message to the establishment.
Also on rt.com
'Even Hillary and Trump shook hands': Warren snubs Sanders handshake after tense Democratic debate (VIDEO)
The statements, views and opinions expressed in this column are solely those of the author and do not necessarily represent those of RT.
You can share this story on social media: