'Independent' Royals… really? Why don't Harry & Meghan go all the way and quit the family?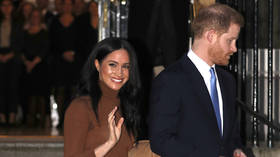 Harry and Meghan, the Duke and Duchess of Sussex, are quitting their 'senior roles' within the firm also known as the British Royal family and starting a new life – apparently because they want the benefits but not the drawbacks.
"After many months of reflection and internal discussions, we have chosen to make a transition this year in starting to carve out a progressive new role within this institution," the couple said in a post on Instagram, adding that they want to be financially independent, "while continuing to fully support Her Majesty the Queen."
You can't really blame them for wanting to fly the nest – or in their case, their gilded, perpetually ridiculed cage, surrounded by stuffy tradition, granny, grandad, a cohort of toffee-nosed family members and scandalous Prince Andrew.
Let them be free of royal burdens, while paying their own way, finding their feet in the land of opportunity.
Oh no, wait – they want to cherry pick from their privileged bubble. They want royal perks and freedom on their terms. (Well, Meghan's terms. Ex cheeky chappie, happy-go-lucky Harry looks shell-shocked since wedding his pant-wearing feminist wife.)
It's like when you go to a fancy buffet: We'll keep the titles and Frogmore cottage, the couple's official residence, which cost £2.4 million of public funding to do up last year, and keep the income from the Duchy of Cornwall, Prince Charles' private estate, but we want privacy when it suits and will avail of security on royal business, which will also be paid for by taxpayers.
The couple will kindly be giving up a slice of the Queen's Sovereign Grant, a payment they get for official duties, which covers the upkeep of their home. But they'll be doing fewer duties, so that's fair enough. It's as independent as Marie Antoinette creating the peasant village of Hameau de la Reine in 1783.
Just like Meghan, she was sick of the perpetual structure and demands of the title, and created a little rustic retreat in the park of the Palace of Versailles in order to feel free and peasant-like.
Marie Antoinette sought refuge dressing up as a milkmaid or a shepherdess, strolling around in peasant garb, milking cows which were cleaned by hired hands, while still enjoying the privileges of royal life and keeping the masses out of the gates.
In the Harry and Meghan version, it's 'we will only travel by commercial air carriers, local trains, and fuel-efficient vehicles.'
In Mary Antoinnette's case, her oblivious, seemingly innocuous, unintentional mockery of the French poor didn't go down too well and was followed by a brutal beheading during the French revolution.
How it will work out for Harry and Meghan remains to be seen, but historically denouncing your royal duties like a spoiled rich kid hasn't always worked out.
In 1995, Diana, Princess of Wales, stepped back from 50 charities in an 'emotional interview' citing that the pressures were too much. Just like Meghan and Harry, she was a victim and therefore didn't consult her employers either before going public.
Also on rt.com
'Spiteful treachery': Piers Morgan brands Harry & Meghan 'spoiled brats' after they retreat from royal life
Talking to BBC Radio 4's Today program, Hugo Vickers, a royal biographer, likened Harry and Meghan's circumstances to those faced by [UK Prince] Edward VIII and [his wife, American socialite] Wallis Simpson in the 1930s.
"They're very likely, if they're not careful, to end up as sort of slightly tarnished celebrities. If you set up an alternative court, it's not going to work. It's very sad actually," Vickers said.
The Queen clearly isn't impressed. "Discussions with the Duke and Duchess of Sussex are at an early stage."
"We understand their desire to take a different approach, but these are complicated issues that will take time to work through," the palace said.
Royal commenter Penny Junor said the couple's actions to not inform members of the Royal Family were "beyond bizarre," stating that they are working for the palace and not self-employed.
You'd wonder why not, if you don't like Royal life, just denounce your titles? As an empowered post #MeToo feminist, why is Meghan seeking special treatment based on an accident of the birth of her husband?
Ditch Frogmore House, and those 'stiff upper lip royals' who didn't understand you. Move to Banff. Go fishing. Hide from public life.
If Harry were to become a US citizen, he'd have to "entirely renounce and abjure all allegiance and fidelity to any foreign prince, potentate, state or sovereignty."
But they probably don't want to do that. By 'they' I mean Meghan.
She said: 'Girls with dreams become women with vision,' and she's staying true to her word.
Well – Plan C of her vision. Plan A was to make the royals more woke, which didn't pan out, Plan B was playing the victim in a recent ITV documentary about the couple, describing motherhood as a 'struggle' due to intense media interest. 'Not many people have asked if I'm OK,' she said.
Also on rt.com
Buckingham Palace reacts to woke eco brigade but elsewhere allows Prince Andrew PR disaster to undermine the entire royal family
That didn't go too well either, what with the castles, the hired help and the privileges the rest of us could only dream about.
Now, there's nowhere else to go but the US to be independent, while keeping her husband's title – what's feminist about that? The self-serving narcissistic hypocrisy is thundering.
You can only admire her, though. Most women have to put together flat packs and go Dutch on dinner in the name of female empowerment. The 'Duchess' gets her man to leave the House of Windsor on her terms because the family didn't take to her post-MeToo Hollywood feminism.
The problem is by keeping the titles and the perks, the couple are also keeping the relentless critique. If they renounce the title, and the taxpayer no longer pays any part of their lives, then everyone should officially butt out.
But the question is – do they have the courage to be truly independent or do they just want to conquer and divide?
That remains to be seen.
If you like this story, share it with a friend!
The statements, views and opinions expressed in this column are solely those of the author and do not necessarily represent those of RT.
You can share this story on social media: