What foreign skullduggery! Britain shows superiority complex demanding Cyprus quash verdict of girl convicted for fake rape claim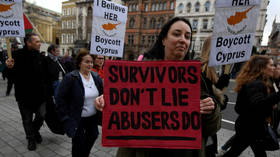 Feminists and chest-beating xenophobes have formed an odd alliance to freely cast doubt on a court verdict for seemingly no other reason than the involvement of 'foreigners' in the case.
Unlikely as it might seem, the case of the young British girl facing sentencing on Tuesday in a Cypriot court following her conviction for making a false accusation of rape against 12 Israeli men has echoes of the Meredith Kercher murder in Italy in 2007 and even the disappearance of Madeline McCann in Portugal that same year.
Not in the circumstances, as the cases were clearly miles apart on facts, but in the reaction from the UK where a deeply-ingrained, and totally unjustified, belief is held that trials involving British nationals accused or victims of crimes abroad are automatically flawed, the foreign police work deemed totally hopeless and justice cruelly denied to innocent victims.
Also on rt.com
Fake GRU agent with crush on last Tsar detained over weapons & accused of raping own daughter he fathered with cousin 'wife'
This attitude creates a highly emotional clamor that then accommodates, in fact, insists upon, political intervention from the British foreign secretary of the day in the domestic justice system of the host country, applying subtle diplomatic pressure with a not-so subtle message of: "You got it wrong. We do not accept that verdict. Make it right."
Just imagine the howls of outrage if this xenophobic shoe was on the other foot! There would be summoning of ambassadors who would be instructed in less-than-diplomatic language to back off and keep their know-nothing noses out of the sanctified British justice system.
And so to Ayia Napa, where a 19-year-old girl alleged that she was raped by a group of holidaying Israelis after having consensual sex with one of their party. On the face of it, not an unlikely scenario at all.
When she brought the matter to the police however, the facts get a bit fuzzier. According to the Cypriots, she withdrew the rape allegations after admitting she made the whole thing up. The girl told the court she was coerced into signing a confession, while the police said she acted voluntarily.
Also on rt.com
Her last wish was to live & see her attackers punished: Indian govt promises fast-track trial after rape victim succumbs to burns
She now faces a year in prison or a hefty fine after being convicted of public mischief.
Not having all the facts, not knowing the full run of events leading up to the alleged assault, and not having any real idea of due process in the Cyrpriot justice system proved no barrier to know-all and self-appointed legal experts screeching that either the British girl, or the 12 Israeli men were victims of a heinous miscarriage of justice and something must be done!
They have been egged on by the might of the UK press of every stripe, which has covered the story daily to tide itself over during a quiet post-election holiday period.
The girl's mother has been her mouthpiece throughout and spoken with understandable horror of the alleged, at the very least, insensitive treatment of her daughter, and says the girl has PTSD and would need to be on suicide watch if the court decides to jail her.
The mother says her daughter's university dreams are in tatters and hopes of joining the police force dashed, following her conviction.
All emotional stuff.
And while campaigners for an end to violence against women are expected to flock to the courthouse tomorrow from Cyprus, the UK, and Israel, and British Foreign Secretary Dominics Raab urges Cyprus to "do the right thing," it has to be asked, how will all this interference help?
Projecting all sorts of campaigns and causes onto this case is not only unfair to the girl involved, who has not signed up to any of this as far as we know, it is also wrong.
Cyprus, maybe somewhat ironically, is one of only a handful of EU nations, which have ratified the Council of Europe's convention on preventing and combating violence against women, to have also adopted into legislation the agreement's definiton of rape as any non-consensual act of a sexual nature, regardless of whether physical violence was threatened or used.
Also on rt.com
4th rape trial collapses as Oxford student cleared of charges before trial
It is a significant move in the direction of rape victims, most would agree, but the UK government chose not to adopt this clear-cut and unambiguous definition, despite the fact that in the year to March 2019, there were 58,567 allegations of rape but only 1,925 convictions.
Hypocrisy, however, is no friend of introspection so the self-righteous politicians and crusaders won't be giving this any thought as they book flights for this latest, miserable media circus.
Subscribe to RT newsletter to get stories the mainstream media won't tell you.
The statements, views and opinions expressed in this column are solely those of the author and do not necessarily represent those of RT.
You can share this story on social media: