Nike-hawking irony-free zone Colin Kaepernick attacks 'American imperialists' for 'plundering non-white world' after Iran hit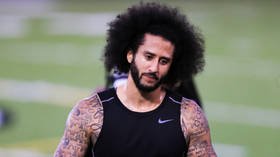 There is almost no discussion in US politics that gains in clarity and common sense after one of Colin Kaepernick's famed Twitter interventions. Even the ones where he might have a point.
The NFL's favorite social lightning conductor must have come across a 1960s Cuban primary school textbook – or the writings of Angela Davis – in a Bay Area bookshop to provide source material for his latest social media outburst.
Following the US drone attack which decimated a three-vehicle convoy outside Baghdad International Airport and led to the death of Iranian military leader Qassem Soleimani, Kaepernick found time in his busy schedule of selling his personally branded shoes for Nike to post: "America has always sanctioned and besieged Black and Brown bodies both at home and abroad. America militarism is the weapon wielded by American imperialism, to enforce its policing and plundering of the non-white world."
There is nothing new about American terrorist attacks against Black and Brown people for the expansion of American imperialism.

— Colin Kaepernick (@Kaepernick7) January 4, 2020
That Kap, as his adoring supporters call him, saw the hugely controversial strike against the Tehran hierarchy as something the world was just waiting for him to comment on, says a lot about the size of his ego. Though not anything new.
The fallout predictably made all sides – including the readers caught in the crossfire – immediately seem stupider than they already did.
Also on rt.com
Trump says US will strike 52 Iranian sites 'VERY FAST & VERY HARD' if Tehran moves to avenge general's death
Actress Mindy Robinson, best known (somewhere) for her sterling work in 'Mantervention', 'King of the Nerds' and the not to be forgotten music video for 'Sexy and I know it' felt caffeinated anough to remind Kap that "We're killing terrorists here bud," and invited him to move to the Middle East "if you're seriously going to defend Islamic terrorism."
Then there were the redoubtable female conservative commentators like Candace Owens lecturing that Iran was formerly Persia, a ruthless imperial empire that ruled for 900 years, and then Megyn Kelly, who took the bait responding, "Because everything is racist. Everything. Even fighting back against terrorists who kill Americans."
Also on rt.com
'Get out! Un-American loser': Colin Kaepernick's workout met with mixed reaction from NFL fans
Kaepernick is not the first well-known face to venture off-piste in the mistaken belief that he is a central player in determining US actions at home and abroad.
We had Dennis Rodman's bizarre relationship with North Korean man-child Kim Jong-un and his celebrated visits to Pyongyang where he behaved like some crazed head of state.
Then we had Sean Penn's hilarious adventures in Mexico where he naively met up with fugitive murderous drug lord Joaquin 'El Chapo' Guzman, and was, in any real understanding of the situation, lucky to escape with his head, let alone his life. All in the name of some mad escapade which was imagined to result in 'journalist' Penn heroically emerging from El Chapo's jungle hideout with the cartel leader in handcuffs.
Also on rt.com
Selling soles: $3k for a pair of Nike 'Jesus Shoes' with holy water was meant to be satire, but they were all snapped up
Is this where we are now in the second decade of the 21st century? Where the loudest, brashest, looniest voices are given far too much oxygen to hold forth on issues they know nothing about and the rest of us simply go along with them because, hey, they have 2 million followers on Twitter so they must know something, right?
Wrong.
Maybe we are over-reacting, maybe this is just another tributary from the river of entertainment that eventually leads nowhere and is simply, as actor Dean Cain (who played Superman, so obviously speaks with some authority) said: "Dumbest tweet of the year so far!!!"
Those three exclamation marks are his own work, not mine.
The statements, views and opinions expressed in this column are solely those of the author and do not necessarily represent those of RT.
You can share this story on social media: