US body wants to take India to cleaners over citizenship bill, but what about America's dirty linen?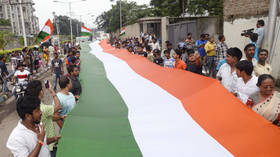 As the treasury benches of India's Parliament thundered in applause on Monday with the Citizenship Amendment Bill (CAB) clearing the Lower House, a press release was being drafted 12,000km away in Washington DC.
The United States Commission on International Religious Freedom (USCIRF), a habitual basher of the one of the world's most ethnically vibrant democracies, proposed to the US government sanctions against Indian Home Minister Amit Shah over CAB.
India cannot shrug off the USCIRF as an uninformed, loony outfit. It's a commission created by the International Religious Freedom Act, 1998, and American taxpayers pay for it.
The USCIRF put India on the Countries of Particular Concern list in 2001, 2002, 2003, 2004, 2009, and 2010. It tried to pass off the mass murder of 58 Hindu pilgrims in Godhra by a Muslim mob as a mere train fire. It has failed to criticize the ethnic cleansing of Kashmiri Pandits in the 1990s. It also successfully made the US government revoke Indian PM (then chief minister) Narendra Modi's visa.
So, USCIRF is not fringe. It's very much part of the State.
USCIRF is deeply troubled by the passage of the Citizenship (Amendment) Bill (CAB) in the Lok Sabha. The CAB enshrines a pathway to citizenship for immigrants that specifically excludes Muslims, setting a legal criterion for citizenship based on religion.https://t.co/E8DafI6HBH

— USCIRF (@USCIRF) December 9, 2019
Tone deaf to India's reality
Does the USCIRF understand or acknowledge the geopolitical reality of the Indian subcontinent?
In the backdrop of nearly 1,000 years of repeated Islamic invasions and then British colonial rule, West and East Pakistan (now Bangladesh) were created out of India in 1947 because Muslims wanted their Islamic nation.
After Independence, India and Pakistan signed the Nehru-Liaquat pact in which both nations agreed to protect their minorities.
India kept its promise. Five presidents of India, several chief justices, army and intelligence chiefs and other top posts have been occupied by persons from the minorities. India's Muslim population grew from 9.8 percent in 1951 to 14.2 percent in 2011 and Hindus slipped from 84.1 to 79.8 percent.
However, in Muslim-majority Bangladesh, minority Hindus dwindled from 22 to 8.5 percent and in Pakistan from 12.9 to 1.6 percent in about the same period. In these nations, minorities have faced wanton murders, rapes, forced conversions, temple destruction, disappearances and largescale land grab.
CAB has been brought solely to address the persecuted refuge-seeking minorities from Muslim-majority Pakistan, Bangladesh and Afghanistan –– Hindus, Christians, Sikhs, Buddhists, Jain, and Parsis.
Persecuted Muslim denominations are not included because these populations scripted their destiny by actively asking for the Partition of India on religious lines.
We regret the inaccurate and unwarranted comments made by USCIRF on #CAB. They have chosen to be guided by their prejudices and biases on a matter on which they have little knowledge and no locus standi.Read our full statement below ⬇️ pic.twitter.com/BLajy03MtZ

— Raveesh Kumar (@MEAIndia) December 10, 2019
America lives in a glass house
What is the US' own record on promoting religious tolerance and global harmony? It is a very long tale of double standards and dark alliances.
In 2017, US President Donald Trump said that persecuted Christians would be given priority over other refugees seeking to enter the US since they had been "horribly treated." America has been criticized for ethnicity-based visas and green cards and brazen racial profiling.
The US also continues to separate Latino children from their families — 4,000 so far by some estimates — to punish their parents for illegally immigrating.
It allowed Saudi Arabia to be chosen to head the UN human rights panel. It regularly looks away from egregious rights violations by Saudi and other Arab allies. Its robust weapons and logistical support to Saudi's war in Yemen has reduced that nation to rubble, with hundreds of children dying in air raids.
Also on rt.com
'Guided by prejudices & biases': India hits back at US after it threatened sanctions over citizenship bill
The US also looks the other way when Israel denies Palestinians the Right to Return, yet its institutions lecture India on Kashmir.
It is widely alleged that the CIA had trained Osama bin Laden while building a bulwark of militias against the Soviet Union in Afghanistan.
Then there are reported instances of the US' support for genocidal regimes.
In the late 80s, Somali dictator Siad Barre's men massacred an estimated 200,000 members of the Isaaq tribe. Reports say that to counterbalance Soviet influence in the African political theatre, the US backed Barre after making him switch sides.
Whether it is alleged involvement in the little-known 1965-66 massacres in Indonesia or silence during the 1971 genocide by Pakistani forces in Bangladesh, or reportedly being in touch with the architect of Darfur genocide, Sudanese President Omar al-Bashir, the US has not exactly built itself a pulpit to preach from.
Sanctions as tool of supremacy
So, what makes the US and its institutions carry out sanctions on other sovereign nations with such impunity?
The US sometimes uses these curbs to genuinely rein in rogue regimes like North Korea or Venezuela. But often, it uses sanctions to cut rivals down to size while imparting a moral ring to the act.
Recent trade sanctions against China are an example. Or more than 60 rounds of sanctions against Russia in the last seven years over Ukraine, allegedly not complying with North Korea sanctions, or meddling in US elections.
The 2017 Countering American Adversaries Through Sanctions Act (CAATSA) and the 2018 'oligarch sanctions' provide little clarity on steps needed to lift these.
Sanctions have doubtful outcomes. An India determined to secure itself and make civilizational changes is not going to cower from the threat of sanctions.
It has already hit back.
"The position articulated by USCIRF is not surprising given its past record. It is, however, regrettable that the body has chosen to be guided only by its prejudices and biases on a matter on which it clearly has little knowledge and no locus standi," read an External Affairs Ministry statement.
The US and India have developed a warm relationship in the last few years. But the talk of sanctions by the friend's attack dog will put it in the freezer.
Subscribe to RT newsletter to get stories the mainstream media won't tell you.
The statements, views and opinions expressed in this column are solely those of the author and do not necessarily represent those of RT.
You can share this story on social media: