'Guided by prejudices & biases': India hits back at US after it threatened sanctions over citizenship bill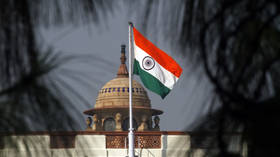 New Delhi slammed the US state-run religious freedom watchdog after it claimed that India's new citizenship bill is discriminatory towards the country's Muslims and threatened India with sanctions.  
The criticism of the citizenship bill by the US Commission on International Religious Freedom (USCIRF) is "neither accurate nor warranted," India's Ministry of External Affairs said in a statement on Tuesday.
The position articulated by USCIRF is not surprising given its past record. It is, however, regrettable that the body has chosen to be guided only by its prejudices and biases on a matter on which it clearly has little knowledge.
We regret the inaccurate and unwarranted comments made by USCIRF on #CAB. They have chosen to be guided by their prejudices and biases on a matter on which they have little knowledge and no locus standi.Read our full statement below ⬇️ pic.twitter.com/BLajy03MtZ

— Raveesh Kumar (@MEAIndia) December 10, 2019
The Citizenship (Amendment) Bill, or CAB, was approved on Monday by the Lok Sabha, the lower house of the Indian parliament. The legislation simplifies the process of acquiring citizenship for Hindus, Christians, Sikhs, Buddhists, Jains and Parsis who have arrived from Pakistan, Afghanistan or Bangladesh.
Attacking the bill, the USCIRF called it discriminatory because it "excludes" India's Muslim community. The commission further stressed that the US government should consider sanctioning Indian top-ranking officials if the bill becomes law.
The legislation was also criticized by the opposition parties in India and sparked protests among Muslims.
Also on rt.com
US knows best? Washington threatens India with sanctions over citizenship bill for persecuted religious minorities
Home Minister Amit Shah, however, said that the CAB is simply aimed at protecting persecuted people coming from countries where Muslims are the majority. He assured Muslims that the bill is not directed against them and they "have no reason to fear."
The Ministry of External Affairs reiterated that "the CAB does not affect the existing avenues to all communities interested in seeking citizenship from doing so."
Think your friends would be interested? Share this story!
You can share this story on social media: