British fish & chip shop embroiled in election bribery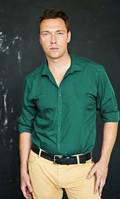 Martyn Andrews
is a British television presenter, broadcast journalist, professional actor, and singer. Follow him on Twitter @martynandrews
is a British television presenter, broadcast journalist, professional actor, and singer. Follow him on Twitter @martynandrews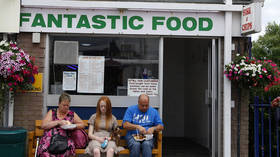 Whoever said that British cuisine is bland might have to think again. It seems that one of the nation's most popular dishes is proving to be a winning recipe for scandal.
A crisp and crunchy batter over a light and fluffy fried white fish – just add some hot chunky chips (or fries) and a dollop of green mushy peas and you have the quintessential favorite of British cuisine. Yum.
In a recent poll fish and chips still came out as the UK's preferred meal as it was revealed that almost 20 percent of Brits visit their local chip shop once a week, while 30 percent enjoy a meal from the local chippy every month. Want some salt and vinegar on that?
Krispies in Exmouth recently won Fish and Chip Shop of the Year 2019. Co-founder Kelly Barnes says their success is all about the delicate culinary stages: "The process which creates our crispy and golden, battered national treasures also develops grease, and other elements our customers wouldn't want to experience".
Also on rt.com
The rise of 'Seaganism': As another diet fad enters the market so does food propaganda
Fish and chips also hit the headlines this week for another reason. Heading over to Barnsley in the north of England and something smells suspicious (and it's not just the cooking oil that needs to be replaced).The owner of Woody's Fish & Chips has alternative ideas regarding the upcoming general election. The reason? Promising FREE food if people vote for his beloved Brexit Party. Shock horror!
Posting on its Facebook page in true gastronomic election bribery, fishy fryer David Wood urged locals to support his favorite party candidates. "Election Promise! Help Woody's to remove our two current Labour MPs from their seats in Westminster in favor of Jim Ferguson for Barnsley East and Victoria Felton for Barnsley Central. Our promise to the electorate of Barnsley is to offer free Cod Bits & Chips to everyone that visits our shop on December the 13th in celebration of turfing Labour MPs out of Barnsley. You can count on us to deliver. Promise.
"Seems there's no "place" for that in the UK – South Yorkshire Police were called following complaints and Wood's social media post has since been removed.
Police order chippy owner to stop free fish and chips for Brexit Party votersDavid Wood, owner of Woody's Fish and Chips in Barnsley, South Yorkshire, posted on Facebook he would treat voters to the free meals in return for turfing Labour out of Barnsley https://t.co/jSsaHklmDx

— Socialist Voice 🌐 (@SocialistVoice) November 26, 2019
Fishing around the take away and issuing a slap on the wrist Yorkshire Police reminded the owner of text from the Electoral Commission website: "A person is guilty of treating if either before, during or after an election they directly or indirectly give or provide any food, drink, entertainment or provision to corruptly influence any voter to vote or refrain from voting." Obviously this includes the nation's favourite fish and chips!
Also on rt.com
Like or hate the turkey, but don't spoil the fest!
Although such "freebies" would be banned under the Representation of the People Act 1983, eager to gain fishy followers David Wood states that if the Brexit Party wins the local election the following day his offer will still stand.
So among Facebook data scandals, election meddling and Russian hacking – you "batter" be prepared for what lengths people will go to for a free portion of fish and chips.
As for the social bribes, fake promises, political scandals and lies regarding the upcoming UK general election – now that's a whole other kettle of fish.
Like this story? Share it with a friend!
The statements, views and opinions expressed in this column are solely those of the author and do not necessarily represent those of RT.