Rip-off Black Friday? Most deals are just not worth the hype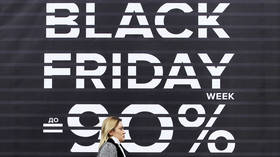 Throw in 235 screaming people, 14 security guards, 47 frazzled shop assistants, 67 wrapped televisions, the odd assault and a partridge in a pear tree – and you have something that resembles the horrors of Black Friday.
It's not just relentless sales in department stores or on the high street, Black Friday online shopping in the US alone last year reached $6.2 billion. From the UK to India many other countries have also embraced the trend in recent years (much to the delight of popular retailers and to the horror of our bank accounts!)
Also on rt.com
Alibaba Singles Day sales smash another record
The phrase Black Friday originated in Philadelphia in the 1950s as the local police would describe the vast traffic and chaos on the day after Thanksgiving. But it's not all smiling shoppers, deals and bargains – since 2006, the day has seen 12 deaths and 117 injuries throughout the United States.
But hold everything there, put down your smartphones and switch off the computer! Black Friday might be the biggest con since the Brexit Leave campaign. According to UK consumer group Which? just one in 20 Black Friday deals are genuine and can be found cheaper (or the same suspicious price) at other times during the year.
Amazon confidently states: "We seek to offer our customers great value thanks to low prices all year round as well as a number of fantastic seasonal deals events."
Looking closer and Black Friday just becomes a huge consumer rip-off. Last year every single item from online monster Amazon was the same price (or cheaper) at least once in the six months after the famous Friday.
Natalie Hitchins, head of home products and services from Which? isn't impressed: "Time-limited sales can be a good opportunity to bag a bargain, but don't fall for the pressure tactics around Black Friday. Our investigation indicates that this popular shopping event is all hype and there are few genuine discounts."
Consumer rights are still covered by Black Friday such as returns on faulty goods to time frames and return policies on unwanted gifts, but maybe it's best not to buy anything in the first place.
Is Black Friday worth all the hype? It seems not... and as we are constantly plagued by scams, fake sales, sneaky promotions and dodgy deals, I say it's thumbs down to Black busted Friday.... and avoid it altogether.
Happy commercial Christmas. Scrooge would be proud!
Like this story? Share it with a friend!
The statements, views and opinions expressed in this column are solely those of the author and do not necessarily represent those of RT.
You can share this story on social media: