Bloomberg's decision 'not to investigate Mike' is no surprise — corporate media never antagonizes its owners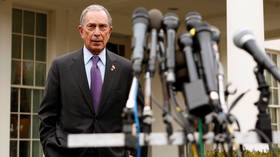 The decision by Bloomberg News not to investigate its now-presidential candidate owner Michael Bloomberg was met with much pearl-clutching online — but why the fuss? It is just admitting how corporate media works.
In a note to staffers, Bloomberg Editor-in-Chief John Micklethwait announced that the organization's editorial board would be suspended and that a handful of its members would take a leave of absence to work for Bloomberg's campaign. Most importantly, Micklethwait said, Bloomberg will continue the "tradition of not investigating Mike." In the interest of fairness, the same policy will be extended to his Democratic rivals. Phew!
The statement was "extraordinary" according to a tweet from Washington Post writer Paul Farhi. Yet, the only extraordinary thing here is that Bloomberg said the quiet part out loud — and only because they didn't really have any other choice.
It's best not beat around the bush like many in mainstream media are: Michael Bloomberg is simply another billionaire attempting to buy a presidential election — and while most billionaires don't have their own name-branded news networks, many have still been buying up struggling media companies for years. Why? Control the media and you control the narratives — about yourself, your business interests and virtually anything else that you have a stake in. It's almost like the US is governed by a billionaire oligarchy and not 'of, by and for' the people. Who knew?
Also on rt.com
Corporate media outlets 'part of the US power structure,' journalist Ben Norton tells RT
While Bloomberg's candid admission produced a wave of feigned shock among blue-ticked tweeters, many in mainstream media have consistently defended this exact state of affairs as normal and acceptable — particularly as it pertains to the Washington Post and its own billionaire owner Jeff Bezos (who, by the way, personally asked Bloomberg to run months ago).
While Post executive editor Marty Baron has denied that Bezos exerts any influence whatsoever over the newspaper's coverage of himself or Amazon (with its hefty Pentagon contracts), one would need to be utterly deluded to believe him. How else can WaPo explain the fact that it published 16 negative articles on Bernie Sanders — one of Bezos's biggest critics — across a 16-hour period in 2016? How can it defend the fact that in 2017, it disciplined a reporter for publishing an op-ed critical of Bezos in the Huffington Post, accusing him of an "egregious violation" of the paper's freelancing policy? The Post even prohibits its employees from posting anything on social media that "adversely affects" its advertisers, so Bezos himself is hardly up for grabs.
For an indication of how delicately the topic of billionaire owner influence must be treated by the Post, note that the newspaper's reaction to the news that Bloomberg won't investigate 'Mike' or his Democratic rivals was that this is bad because it might interfere with its coverage of… Donald Trump. Priorities, priorities.
Yet, you can't criticize good liberal media like the Washington Post in polite society, for fear of being accused of attacking the free press, unleashing the wrath of other corporate-owned media entities like CNN — and ultimately finding yourself branded a Trumpian deplorable out to destroy journalism. There is, of course, an exception to this rule. Bashing the media is perfectly acceptable if done in defense of a centrist, billionaire class-protecting candidate like Hillary Clinton. Come on, keep up.
Things work in much the same way when it comes to mainstream reporting on US foreign policy — but this is even less polite to admit, because in addition to US forever wars being a financial boon for corporate media owners, the pro-war stance is also rooted in flag-waving patriotism and thus completely untouchable.
Also on rt.com
Former MSNBC journalists expose the channel's 'pro-establishment bias'
Pro-war guests are the norm on mainstream networks like CNN, Fox News and MSNBC — and the stats back this up. A FAIR study on media coverage of US military action in Syria and Iraq in 2014 found that out of 205 guests over a certain period, only 6 voiced opposition to US military action.
The best example of corporate financial interests directing war coverage is Phil Donahue's firing from MSNBC for his anti-war views in the run up to the Iraq war — a time when the network's reporters were required to be as gung-ho for the invasion as possible, lest they upset then-owner General Electric, which stood to profit handsomely from the war.
Corporate press, naturally, has a vested interest in pretending that owners never influence coverage or muzzle reporters. CNN incredibly even praised billionaires for "saving journalism"earlier this year. But censorship does not always take the form of a Bezos or a Bloomberg calling an editor and making direct demands. Journalists who are likely to challenge the status quo at mainstream outlets simply don't get hired. The rest self-censor. Or, as Noam Chomsky put it to a BBC reporter: "I'm sure you believe everything you're saying. But what I'm saying is if you believed something different, you wouldn't be sitting where you're sitting."
Bloomberg is there not to do journalism without fear or favor, but primarily to serve its owner's interests. That's how corporate media works. In a sense, we should be grateful that Micklethwait said it out loud. Instead of faking surprise, perhaps mainstream reporters should apply their outrage over corporate influence on journalism a little more broadly and treat it like the democracy-damaging issue that it really is.
That is, if they are willing to risk getting in trouble.
Like this story? Share it with a friend!
The statements, views and opinions expressed in this column are solely those of the author and do not necessarily represent those of RT.
You can share this story on social media: