Imagine a green world without Coldplay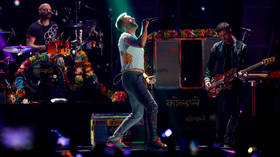 Coldplay have announced that they will no longer tour unless their concerts can be carbon neutral. While a world without Coldplay may sound great, is the move a green PR stunt? Or is the future one without live music?
In a newsflash that will excite absolutely nobody, Coldplay are releasing a new album on Friday. The band, however, will not be touring the record, due to the environmental impact of taking a rock band on the road.
"We're taking time over the next year or two, to work out how our tour can not only be sustainable [but] how can it be actively beneficial," frontman Chris Martin told the BBC. "Our next tour will be the best possible version of a tour like that environmentally," Martin said. "We would be disappointed if it's not carbon neutral."
Also on rt.com
'Carbon neutral' rock? Coldplay say band won't tour until they can ensure concerts are 'environmentally sustainable'
Martin's "dream" would be a tour that avoids air travel, made up of solar-powered shows without the single-use plastic beer cups that litter the ground at gigs the world over.
Dismissing Coldplay's self-imposed grounding as environmental posturing would be an easy knee-jerk reaction, in the age of Greta Thunberg and 'flight shame,' and that may be the case. After all, Martin has a net worth of over £100 million ($129.6 million). It's not like they need the money.
But they aren't the only band to wholeheartedly embrace environmentalism. Fellow British rock icons Radiohead have also tried to clean up their tours, and are the single largest donor to Extinction Rebellion, the eco-activist movement whose members managed to ground flights at London City Airport last month. The 1975 have stopped producing new merchandise, and donate a sliver of every ticket sale to a tree-planting initiative.
Also on rt.com
While Greta Thunberg hitches another top-dollar yacht ride to Europe, plebs will live with 'flight shame'
Others have preached and pontificated but done little to back up their words. U2's Bono – a man who defines ivory tower liberalism – has exhorted fans to empty their pockets for starving children in Africa, called a Swedish crowd "Nazis" for voting nationalist, and most recently kicked off the band's Australian tour by urging the crowd to "act together as one" to fight climate change. A week earlier, the Dublin group unveiled a giant image of Greta Thunberg behind the stage in Auckland, New Zealand.
Thunberg would go into cardiac arrest if she saw U2's carbon footprint though. The band travels in a decked-out Boeing 757, while their 390-ton stage is transported in a separate Emirates Boeing 777. Carbonfootprint.com estimates that the band's current tour will produce 65,000 tons of carbon; 40 times more than Madonna's most recent jaunt around the world, and the same amount produced by a town of 6,000 homes in a year.
That's also the equivalent of using an electrical device to listen to U2's 1988 album 'Rattle and Hum' on repeat for 150,000 years, truly a fate worse than a slow death on a carbon-choked planet.
Also on rt.com
Doom-mongering scientists now warn that climate change will kill thousands. Cutting out fossil fuels will kill MILLIONS
Martin is optimistic that more bands will take a leaf from Coldplay's book in future. "Everyone will catch up if you prove that it's easy to do it the right way," he told the BBC. But what is the right way? Until someone invents a means of intercontinental transport as time- and cost-efficient as the airplane, are we going to see the death of the arena rock tour?
Who knows? Perhaps we could embrace a simpler time, when bands of bards and minstrels traveled from town to town in horse-drawn wagons, regaling the peasants with songs of lute and lyre. After all, the hardline measures proposed by Thunberg and Extinction Rebellion would deprive us of air and car travel, and see the meat in our diets replaced with vegetables and soy-slop. Medieval music would be a welcome respite from eking out a peasant's life in the ruins of post-civilizational society.
And at least we wouldn't have to listen to Coldplay.
By Graham Dockery, RT
Like this story? Share it with a friend!
The statements, views and opinions expressed in this column are solely those of the author and do not necessarily represent those of RT.