People's SEXIEST MAN ALIVE is John Legend – but would you dare to vote for anyone else in 2019?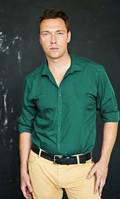 Martyn Andrews
is a British television presenter, broadcast journalist, professional actor, and singer. Follow him on Twitter @martynandrews
is a British television presenter, broadcast journalist, professional actor, and singer. Follow him on Twitter @martynandrews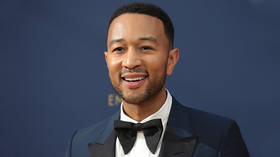 Voting can be a tumultuous affair, dividing people and causing anxiety even if it's not about Brexit or Trump – like in the case of picking the sexiest celebrity, which these days isn't necessarily about choosing with your heart.
Various glossy magazines, internet sites and television shows like to poll and rate different actors or singers every year. In other words, those zeitgeist celebrities that add ratings, sex appeal, higher advertising revenue and real currency and branding to the world of showbiz.
When it comes to People magazine's popular "Sexiest Man of the Year Award", we've seen the familiar known white faces for decades. The magazine started this madness in 1985 and the first known male celebs to win the title included Mel Gibson, Tom Cruise, Brad Pitt, George Clooney and Harrison Ford. What a list. Let's call in the SJWs, the social justice warriors!
Also on rt.com
Trump, John Legend and 'filthy-mouthed' Chrissy Teigen spar about US criminal justice reform
With change in order..... last year Idris Elba won the award. Elba's parents were married in Sierra Leone and later moved to London. Skip 12 months later, and this year's race (voted by a percentage of the 3.3 million readers) also proved a different result than the expected. Drum roll please.
This week the 2019 coveted title was given to the American "man of the moment" – John er... Legend (he currently features as a coach on The Voice television shows). Social media exploded. Has the bar been lowered, are voters now just ticking the "woke box" or is style and taste simply changing? Idris surrrrre... but John Legend? Many readers said that overblown political correctness needs to look in the mirror. The "All of Me" singer himself was.... also rather surprised at the recognition.
The 40 year old Grammy winner says he now feels under "pressure" and said he is "excited," yet a "little scared" about receiving the famous title. "Everyone's going to be picking me apart to see if I'm sexy enough to hold this title. I'm [also] following Idris Elba, which is not fair and is not nice to me!"
Fellow celebrities to mocking fans were less than friendly.....
Debatable appearances pushed to the side, Legend is still one of the few musicians to have an Emmy, Grammy, Oscar and Tony each. So high five to that, but without sounding like Scrooge meets the Grinch, I dare question the motivation behind this year's winner. Talented he might be - but a heartthrob?
People Magazine chooses its Sexiest Man Alive for various reasons; as former People Magazine Editor Larry Hacket explains:
"We know it has to be a mix of someone who's hot but well-known. Not too young, not too old and somebody who, frankly, maybe we haven't thought of... Sexy certainly has to do with someone being good-looking, and has to do with a certain kind of romantic, flirtatiousness physical appeal that may be beyond just academic appreciation of the way they look. We want some mystery in our sexiness."
Meanwhile, Hollywood actor and winner from last year, Idris Elba, was full of praise and proud to pass on the baton; "My G Congratulations brother!!! You deserve it. DO NOT TELL @TheRock He still thinks he's got the title, I didn't have the heart to tell him when I took it."
Seems having a chiselled jaw is soooooo 1993 and with the WOKE crowd all alert to racial or social discrimination and injustice – it seems that times have changed. Was Mr John Legend another tick in the PC box or do you think he really is the sexiest, smartest, most romantic man alive?
I'm sure his wife thinks he is!
Like this story? Share it with a friend!
The statements, views and opinions expressed in this column are solely those of the author and do not necessarily represent those of RT.