Glamorous travel blogger girls who edit all dirt & danger out of their extreme voyages jeopardize real-life women traveling solo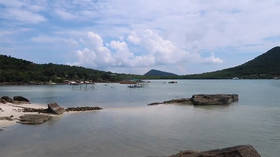 Young female travelers are being encouraged to seek out off-the-beaten-path places by luscious photos and blogs that gloss over any negatives. But encouraging green travelers to strike out on their own doesn't always end well.
​The body of 21-year-old Amelia Bambridge was found near the border of Cambodia and Thailand, a week after she disappeared following a beach party on Cambodia's Koh Rong island, on Thursday. It was Bambridge's first solo trip, and while it's not clear why she chose Cambodia, it's a country that has come a long way in its ability to attract tourists since the Pol Pot regime inspired the Dead Kennedys' sarcastic "Holiday in Cambodia."
But the stunning photos of Cambodia's beaches and temples that populate social media don't come with warning labels, and a single female traveler who arrives there expecting all the comforts of home is in for a shock. I've traveled in Cambodia both solo and with a partner, and the first thing I saw after checking into my hotel in Phnom Penh was a young British girl chasing a man on a motorbike down the street, screaming "He stole my bag!" I've had to jump out of a moving pedicab when the driver ignored repeated requests to stop. Awareness of one's surroundings is critical.
The temples of Angkor Wat are without equal in the world, and driving through the jungle on a motorbike is an experience everyone should have. It's easy to see why young female travelers are drawn to the place. But the difficulties – from sickness (seriously, don't drink raw water anywhere in Southeast Asia) to police shake-downs and theft and, yes, the occasional serious crime – don't make it onto the Instagram stories of the popular female travel bloggers. And they're luring other young travelers to these destinations by the planeful – travelers who sometimes don't come back.
Slickly-produced videos and blogs beckoning solo female travelers to Pakistan, Yemen, and other dangerous places have triggered a backlash from those who find such enticements irresponsible. An article on Forbes.com about one well-known Instagram travel blogger, touting Pakistan as potentially the world's top tourist destination, came in for particular derision, but websites like HostelWorld have also gotten the side-eye for promoting solo female tourism in places like Tanzania, South Africa and Saudi Arabia.
Traveling solo has exploded in popularity among women over the past few years, with bookings made by single females up 88 percent in four years, according to HostelWorld. Many women surveyed point to another traveler's stories as the inspiration for setting out on their own.
Others are merely lured overseas by pictures. Many female travel bloggers include safety tips on their own websites, but the Instagram format doesn't exactly lend itself to long explanations or warnings. The term "travel porn" was coined to describe this heavy on visuals, light on explanation format. It's perfect for people who never plan to travel to the place they're looking at, but not so great for anyone with plans to visit.
There's something to be said for seeking out authentic experiences at the far ends of the earth – i.e., places without thriving tourism industries. But such journeys take careful preparation and precautions, especially for a young woman traveling alone. And the average Instagram travel blogger glosses over all of this in favor of the breathtaking snaps they know their subscribers really want to see.
It's up to solo female travelers to do their research before they visit a country, and travel bloggers can't be blamed for the deaths of unfortunate tourists. But they can help by not encouraging inexperienced young people to go off on their own to dangerous places – at least, not without a full understanding of what they might encounter at the ends of the earth.
By Helen Buyniski, RT
The statements, views and opinions expressed in this column are solely those of the author and do not necessarily represent those of RT.
You can share this story on social media: