California nightmare: Insult to injury as fires and power cuts turn Golden State into dystopia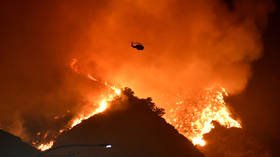 The million-plus Californians affected by power outages and wildfire evacuations can surely rest easy knowing that their governor has just formed a new working group to focus on getting "messaging" to "de-energization areas."
California has long been what the rest of the world imagines the US looks like. The movie and TV version of California, that is. The real-life Golden State is literally a hot mess these days, with massive wildfires – Kincade in the north, Tick and Getty in the south – displacing close to 200,000 people.
The fires add insult to injury for nearly three million people whose power has been turned off by the PG&E utility. Officially, this was done as part of an effort to prevent wildfires, as damaged or sparking transmission cables can ignite the undergrowth.
Also on rt.com
'Completely unacceptable': Anger as power company shuts off supply to 800,000 over California wildfire fears
Indeed, PG&E equipment was blamed for 19 major wildfires in the past two years, most notably the 2018 Camp Fire that killed more than 80 people and destroyed the town of Paradise. The company is now saying blackouts could go on for a decade, as it struggles to repair the transmission lines.
Instead of focusing on keeping the lights on, however, Governor Gavin Newsom announced over the weekend that he was creating a special interagency working group to "coordinate messaging and outreach to individuals who are dependent on life-saving medications and medical devices."
Also on rt.com
California fires: 50k people ordered to evacuate, 1 mln face planned blackout as winds threaten to intensify inferno
As part of the project, California's Health and Human Services Agency (CHHS) will partner with Service Employees International Union (SEIU) and United Domestic Workers (UDW), to provide in-home caretakers with "information." This will no doubt involve lots of meetings, paperwork, teleconferences, websites, more meetings, and then meetings on how to have fewer meetings – all at the expense of California's long-suffering taxpayers, of course.
The crowning achievement of the entire effort is a "resource" website for those in what the governor euphemistically termed "de-energization areas." How are these people going to access the internet without electricity? No doubt that will require another interagency working group and millions of dollars more to figure out.
Meanwhile, the fires will be blamed on "climate change," or maybe even US President Donald Trump, depending on the "coordinated messaging."
OTOH "de-energization" perfectly describes California's dystopian strategy for dealing with the environment, housing, homeless, schools, infrastructure, etc so there's that going for it https://t.co/bgLwAF2oil

— Mike Shellenberger (@ShellenbergerMD) October 28, 2019
Providing basic utilities to Californians is literally less of a priority for Newsom than setting up a training program to prevent inadvertent insensitivity towards transgender voters (no, really). Besides, actually providing power would require effort, and wouldn't line the pockets of either state bureaucrats or the union machine on which they depend on for re-election.
Instead, the long-suffering Californians get to pay for the privilege of being on the receiving end of "messaging" by the state that has failed them.
On TV and movie screens, California is still the land of eternal sun and surf, where dreams come true. Actual Californians are abandoning the state in droves, if they can afford it. Those who stay seek solace in dark humor about problems the government simply refuses to address: an epidemic of homelessness, human waste drowning the streets of major cities, or medieval diseases making a comeback.
There is little they can actually do to hold their politicians accountable. Thanks to a series of tweaks over the years, California is at this point a one-party state, where a glass of water labeled "Democrat" is guaranteed to get elected.
Newsom styles himself a "progressive" and a leader in the fight against inequality, racism, climate change, etc. Yet under his leadership, the state has regressed into a dystopia, self-destructing under the weight of incompetence, corruption and downright lunatic political ideas.
You have to give him credit, though – not even Greta Thunberg could have come up with an expression such as "de-energization" to describe the post-technological world of her hopes and dreams. Or would that be nightmares?
Subscribe to RT newsletter to get stories the mainstream media won't tell you.
The statements, views and opinions expressed in this column are solely those of the author and do not necessarily represent those of RT.
You can share this story on social media: