Lack of alternatives, broken electoral system delivers 'win' for Trudeau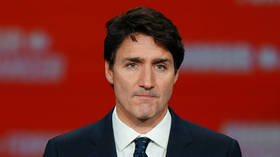 Canada's Prime Minister Justin Trudeau celebrates his narrow election victory as a success. Yet, in fact, he managed to stay in power largely thanks to the complicated Canadian electoral system … and a lack of competition.
"You have sent us back to Ottawa, you have given us a clear mandate," Justin Trudeau told a crowd at his campaign headquarters in Montreal, Quebec.These aren't the words of a man who recognizes that voters stripped him of a majority, including a net loss of 30 seats in his home province.
Judging from the mood and words at Trudeau's 'victory' party, one could be forgiven for not knowing that his Liberals lost over 1 million votes compared to 2015, or that their share of the popular vote around the country plummeted by over 6 points.
Also on rt.com
Trudeau's Liberal Party set to cling to power after tight general elections
It would be nearly impossible to know you were celebrating the win for the party that actually got the second largest number of votes!The numbers obviously tell a different story, in addition to numerous other indications from election night that show Canadians are not happy with JT.
Jody Wilson-Raybould, Trudeau's former attorney general who quit Trudeau's cabinet due to their attempts to interfere with her office's investigation into a criminal case against Quebec-based construction company, SNC-Lavalin, ran and won as an independent. She left the Liberals in protest, and was rewarded by the electorate for her move.
The reasons behind the disenchantment with the image-obsessed Trudeau are many, well documented and often discussed. Pundits from all political stripes on election night acknowledged that Trudeau's appeal had "lost its luster," but in spite of this, he will be returning to 24 Sussex Drive to serve a second term as Canada's prime minister.
So how is it that Canadians can be simultaneously pissed off at someone, and vote them back in? In short, the Liberals didn't exactly get voted back in.
In Canada's flawed electoral system, the Liberals won 33 percent of votes, but 46 percent of the seats. The Conservatives won 34.5 percent of the popular vote, but 37 percent of the seats and the center-left NDP, obtained just 7 percent of seats with 16 percent of votes.
Also on rt.com
Losing majority with hysterical dignity? Trudeau's 'victory speech' turns into scandal, as he jumps on stage interrupting rival
Such figures, which might look confusing, are indeed a result of the Canadian electoral system dubbed 'first past the post'. The country is divided into one-candidate constituencies known as ridings. A candidate with the highest number of votes in a riding gets a seat in parliament – and they do not even need to gain an absolute majority of votes (more than 50 percent).
Back in 2015 Trudeau said he would do away with the 'first past the post' system, but reneged on his pledge, precisely because it disportionately reinforces the Liberals position atop Canada's political landscape.Beyond the limits this system already puts up for people seeking alternatives to the ruling party, the other options also failed to inspire.
Sure, NDP had a good, left-populist program and a strong social media presence, especially in the later part of the campaign. However, most activists I spoke with before the election were pretty unmotivated given the party spent much of the year on the sidelines.
On the right, the Conservatives under Andrew Scheer weren't able to capitalize on a weakened and scandal-marred government in large part because much of the country doesn't want either the austerity or the sort of social policies that some conservatives push.
This played into the Liberals tried and true election fail-safe – calling for 'strategic voting'.It works like this: Liberal activists and politicians drum up fears about the impact of Conservative policies to scare non-rightwing voters.
Also on rt.com
The end of Trudeaumania: Canadians are over PM's image obsession, lack of substance & broken promises
'Anything But Conservative' is then presented as a pragmatic way to ensure that a Tory government does not get elected. The votes of those swayed by the ABC mantra defaults Liberals as the most 'viable' option to achieve the objection of keeping out the Conservatives, in spite of the Liberals own track record or policies.
For years and at various levels of government, the Liberal Party has insidiously but successfully invoked 'lesser-evilism' to their benefit, and it certainly helped push the Liberals ahead in a number of key areas.
The numbers of those who couldn't be bothered to vote – due to apathy or no appealing option – also increased considerably.
So no, Justin Trudeau did not win these elections. He did not regain the trust of the voters, nor did he shed the baggage he has accumulated over the last few years.
He lost just enough to keep his job by playing the system and his opponents in spite of the obvious dissatisfaction of the populace, many of whom held their nose while they cast a ballot for him.
Think your friends would be interested? Share this story!
The statements, views and opinions expressed in this column are solely those of the author and do not necessarily represent those of RT.
You can share this story on social media: