Millennial men – stop sending unsolicited dick pics! And not because they are now illegal in Texas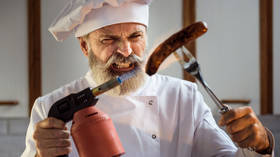 It's not the $500 fine you'll pay. Or that females faint at the sight of male genitalia. It's that sending out a hopeful, unwanted dick pic immediately qualifies you as socially inadequate with no understanding of women.
Legislation has been passed in Texas to make sending an unsolicited pic a public misdemeanor.
I support it, regardless of how enforceable it is. Not least for the sake of hapless men, who might now think twice before pulling down their waistband and looking for a flattering angle.
When she opens that photo of badly-lit, engorged, decontextualized appendage, she will not think you are a stud. This will not turn her on. She will not send you one back. This will not take your relationship into a new erotic realm. And if she ever does sleep with you, this won't be the moment that swung it.
Also on rt.com
From teen-sexting to pot sales? Anthony Weiner wades into weed business after early release – report
Also, your penis will be seen by other people. And I don't mean investigators.
Flirtation is not an I-show-you-mine-you-show-me-yours exercise. Just the sheer idea that because you'd like to see her naked she'd like to see you naked, and once you both see each other naked you will get naked together betrays a pre-adolescent understanding of gender relations.
It's not that women don't like penises. It's that they like them on a man they otherwise find attractive. If you are not attractive to her, or you can't move from innocent chatting to a date to sex, a penis is not going to bridge the gap.
Also on rt.com
1,000 teens charged with child porn distribution via Facebook
Think about it. Every time you adventurously press send, you literally become the digital version of that local public park flasher. He had a penis he was only too ready to show. Was that guy popular with women?
Don't take my word for it.
Forty-one percent of women between 18 and 36 told researchers last year that they have received an unsolicited genitalia pic from a man. Only 14 percent said they'd found it sexy.
One would assume that such an obviously ineffective seduction tactic would have died out, but apparently not. Other ones are available.
By Igor Ogorodnev, senior writer at RT
The statements, views and opinions expressed in this column are solely those of the author and do not necessarily represent those of RT.