Visas for Kosovo? No trade for Serbia? EU still acting like it's 1999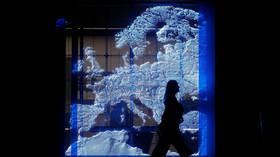 From talking visa-free travel with the renegade Serbian province of Kosovo to demanding Serbia renege on a free-trade pact with Moscow, the EU keeps acting as if the impending Brexit will not shatter its illusion of inevitability.
Federica Mogherini, the EU's current foreign policy czar, argued on Thursday that Kosovo should be granted visa-free travel privileges, as "all the requirements for the abolition of visas have been met." How exactly would this work in the five EU member states that haven't recognized Kosovo, she did not say.
Cyprus, Greece, Romania, Slovakia, and Spain have refused to recognize the renegade Serbian province ever since the ethnic Albanian provisional government declared independence in 2008. Serbia has likewise refused recognition, officially because it violates the UN Security Council Resolution 1244 that authorized a NATO peacekeeping presence in the province in 1999, following an illegal air war on behalf of the Albanian separatists.
Also on rt.com
Kosovo: A decade of dependence
Serbian FM Ivica Dacic has already protested the presence of 'Kosovo' FM Behgjet Pacolli at the informal meeting of EU foreign ministers in Helsinki, where Mogherini made her pitch. Serbia is a candidate for EU membership, while Kosovo is not.
The European Commission responded that Pacolli's presence was "necessary and useful" because Mogherini wanted the "participation of all Western Balkan countries to discuss important topics aimed at improving regional cooperation."
While every Serbian government since the October 2000 "color revolution" has spoken of EU membership as the foremost foreign-policy objective, Brussels has repeatedly made clear that the precondition for this is for Belgrade to "reckon with reality" and recognize Kosovo. That has been a step too far for even the most ardently pro-EU politicians.
Also on rt.com
NATO, church & brotherhood of arms: Vladimir Putin visits Belgrade
Attempts by President Aleksandar Vucic to gain leverage with the EU by romancing the Kremlin have only hardened the position of both Brussels and Washington. The unwillingness of the US and EU to open any kind of loophole for Vucic to squeeze the recognition through – in exchange for even the tiniest empty gesture he could spin as a win – has, ironically, stalled the whole process.
Stuck in the EU's waiting room, Vucic has sought short-term gains by signing a free-trade pact with the Eurasian Economic Union, a bloc led by Russia and China. The treaty will be formalized on October 25, the Russian ambassador to Belgrade has announced.
Needless to say, Brussels is not happy. While Belgrade is of course free to make any treaties with anyone right now, "in the context of accession talks, Serbia is obligated to withdraw from all bilateral trade agreements on the day of its accession to the EU," the European Commission said this week, while other high-ranking EU officials told Belgrade the treaty ought to have an "exit clause."
If all of this sounds familiar, that's because it is: Brussels offered the exact same terms to Ukraine back in 2013, leading President Viktor Yanukovych to choose a trade deal with Russia instead – whereupon he was overthrown in a bloody coup that plunged the country into chaos and civil war.
Also on rt.com
Ukraine's association deal bittersweet with no real hope for EU integration
While EU positions on the 'Western Balkans' haven't changed a bit since then, circumstances have. The bloc's leadership now finds itself at odds with US President Donald Trump on Iran and trade. Brussels has also had to contend with millions of migrants, political drama in Catalonia, and the UK decision in 2016 to leave.
All of these present an existential challenge to the bloc whose key selling points since the end of the Cold War have been inevitability and a promise of prosperity. Yet how has that worked out for Romania, Bulgaria, or even Greece? Then there is the Yellow Vests movement in France, and the rise of alternative parties in Italy and Germany…
October 31 is the hard deadline for Brexit. It is also the day Mogherini's mandate runs out, along with the rest of the current European Commission. The day after could be more than just the beginning of a new EC mandate, but an entirely new leaf for the EU as well – a chance to reckon with reality, if you will.
Nebojsa Malic
Nebojsa Malic is a Serbian-American journalist and political commentator for RT America, based in Washington, DC.
The statements, views and opinions expressed in this column are solely those of the author and do not necessarily represent those of RT.