'Color revolution' comes home? Democrats target Trump with regime-change tactics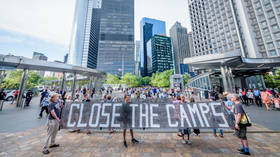 Congresswoman Ilhan Omar calling on Americans to "take back our democracy" by emulating Hong Kong protests is just the latest episode in Democrats' slide towards "color revolution" tactics to get power they lost at the ballot box.
"Could we take back our democracy if 1.7 million Americans marched for it?" asked Omar (D-Minnesota) on Sunday, retweeting a video allegedly showing that many Hong Kongers on the march.
The protests shaking the Chinese semi-autonomous territory began at the end of March, over a proposed extradition bill, but have continued long after it was withdrawn, with demonstrators carrying US and UK flags while demanding democracy, freedom and human rights. This has led the Chinese authorities and much of the public to believe the protests amount to Western-backed "color revolution."
To Omar, however, the protesting Hong Kongers are just a prop: her actual target is US President Donald Trump. Nor is this the first time a Democrat has called for radical tactics to oust Trump. The self-styled "Resistance" has been at it from the moment he won the 2016 presidential election.
Also on rt.com
'World is watching': US reaction points to Hong Kong as a 'color revolution'
We're not talking celebrities like Alec Baldwin calling for overthrowing the US government in the "orderly and formal way and lawful way," either. Hillary Clinton's running mate, Senator Tim Kaine (D-Virginia) said as early as January 2017 that Democrats ought to "fight in the streets" against the new president, as well as in Congress and the courts.
Eight members of Congress literally did that in June 2018, blocking a street in Washington, DC in a protest against "family separations" at the US-Mexico border. Though they tried hard to get arrested, police refused to do so. One of the lawmakers was Rep. Joe Crowley (D-New York), who even passed out from heat exhaustion at one point. That did not help him a month later, when he was primaried by Alexandria Ocasio-Cortez – who would go on to become a leading Democrat firebrand, part of a self-styled "squad" with Omar and two others.
Also on rt.com
AOC says 'fascist' Trump running 'concentration camps' on border
AOC, as she is known, took the protests against Trump's immigration policies to the next level, calling detention facilities "concentration camps" and demanding the abolition of the government agency enforcing immigration laws.
"Marginalized" communities have "no choice but to riot," Ocasio-Cortez said on a radio program last month, adding that she meant "all over the world" including "communities of poverty" in the US.
Meanwhile, Rep. Rashida Tlaib (D-Michigan) – another AOC "squaddie" – declared that movement for change in the US starts with "you all who are on the streets" supporting their work in Congress.
Again, the "squad" are not the only ones advocating for this sort of behavior. Rep. Maxine Waters (D-California), once famously incited public confrontation with members of the Trump administration, and never disavowed her comments – nor has the media asked her to.
Just about every Democrat protest against every Trump policy has been accompanied with hyperbolic rhetoric and public performances playing entirely to the media, seeking to browbeat – rather than persuade – the president and his party to back down. This is not actual democracy, as envisioned by the Athenians, or even a republic developed in Rome that the US founders sought to replicate. Instead, it looks more like the tactics concocted by the US government for "color revolutions" abroad.
Also on rt.com
October 5, 2000: Flashback to Yugoslavia, West's first color revolution victim
Once described by a sympathetic Guardian reporter as "engineering democracy through the ballot box and civil disobedience" and a "template for winning other people's elections," color revolution tactics were first rolled out in Belgrade in 2000. Less than 18 months after failing to force regime change through war, the US was able to achieve that objective through "suitcases of cash" funneled to co-opted opposition activists, staging mass demonstrations, and propaganda.
It now seems that this virus, developed as a political weapon for overseas use, is now infecting domestic US politics with the same toxic effect. That the people pushing it are doing so in the name of "saving our democracy" is just one of those great ironies of history.
By Nebojsa Malic
Nebojsa Malic is a Serbian-American journalist and political commentator, working at RT since 2015
The statements, views and opinions expressed in this column are solely those of the author and do not necessarily represent those of RT.
You can share this story on social media: