Echoes of WWII: Pompeo goes on South Pacific blitz to 'counter China'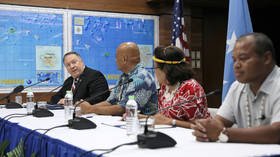 US Secretary of State Mike Pompeo paid a historic visit to three South Pacific island nations, hyping fears of Chinese influence to extend their protectorate treaties with Washington in what looks like a return to WWII thinking.
Landing on the island of Pohnpei on Monday, Pompeo became the first US secretary of state to visit Micronesia. Meeting with the leaders of the Federated States of Micronesia, Marshall Islands and Palau, he called the little island nations "big strongholds of freedom" and urged them to side with the US rather than China in the current jockeying for power over the Pacific Ocean.
"We know China seeks to engage and to influence this region," Pompeo said, adding that the Compacts of Free Association the three archipelagos have with Washington "sustain democracy in the face of Chinese efforts to redraw the Pacific."
His remarks come as the US and China are engaged in a tariff war, as well as a maritime Cold War in the South China Sea, where Beijing has sought to reinforce its claim to crucial sea shipping lanes by building permanent habitats and military installations on a number of islands.
Though the Marshall Islands, Micronesia and Palau have tiny populations, they stretch over the vast oceanic expanse between Australia and Hawaii, representing a strategic link between the US and its allies on the other side of the Pacific.
The islands became a bitter battleground of major powers during the Second World War, when the US targeted them in a campaign of "island-hopping" against imperial Japan. All three archipelagos were Japanese possessions at the time, and the site of some of the most bitter battles during 1944, such as Kwajalein and Peleliu.
After the war, the US displaced thousands of Marshall Islands residents to conduct atomic bomb tests on Bikini and Enewetak atolls through 1958, with consequences being felt to this day.
Also on rt.com
'A total lie': US never bothered to secure its Pacific nuclear waste 'coffin' from leaks
It took almost five decades for the US to relinquish "trusteeship" of all the islands, with Palau formally ratifying the Compact of Free Association (CFA) with Washington in 1994. Micronesia and the Marshalls had already done so in 1986. Under the provisions of the CFA, the three nations rely on the US for economic, security and defense policies.
The compacts are expiring in 2024, however, and Pompeo's visit was in part intended to kick-start the talks about renewing them. All the talk about a Chinese "threat" appears to be part of this negotiating process.
Beijing's "crime" seems to consist of daring to make development loans to territories Washington considers its own sphere of influence. According to Reuters, however, Chinese investments and loans appear to be focused on island nations that have recognized Beijing's claim to Taiwan – namely Fiji, Tonga, Samoa, Vanuatu and Papua New Guinea – rather than the US-aligned territories like Palau, Kiribati and the Solomon Islands.
Also on rt.com
'Sooner rather than later': US seeks to deploy mid-range missiles to Asia as it ditches INF Treaty
Such distinctions are lost on the State Department and the Pentagon, however, as Washington appears to regard China through the same lens as it did Japan in the 1940s: an Asian power whose rise cannot be tolerated by the US.
The obvious and major trouble with this paradigm is that China is not an aggressive imperial power, as Japan arguably was. Moreover, it was one of the first victims of Imperial Japan – and has neither forgiven, not forgotten that fact. By needlessly injecting scaremongering about China into relations with long-term Pacific protectorates, Pompeo may have only made the ongoing US dispute with Beijing that much worse.
By Nebojsa Malic
Nebojsa Malic is a Serbian-American journalist and political commentator, working at RT since 2015
The statements, views and opinions expressed in this column are solely those of the author and do not necessarily represent those of RT.
You can share this story on social media: