Trump accuses Iran over nukes, all the while risking Saudi regime acquiring the bomb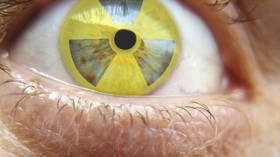 The Trump administration appears to be on a reckless path of sharing sensitive nuclear technology with Saudi Arabia, which could lead to this notorious regime acquiring weapons of mass destruction.
This is while President Trump has been assailing Iran with military threats, over claims that Tehran is secretly trying to develop nuclear weapons.
The duplicity is staggering. The Trump administration is posing as a policeman in the Middle East purportedly to prevent nuclear proliferation. In reality, it is fueling a potential nuclear arms race and heightening the danger of war.
It is no secret that Saudi Arabia has ambitions to build nuclear power plants to meet its civilian energy and water needs as the future of its oil wealth faces strategic challenges. The US and several other international players, including Russia and South Korea, are vying for the contracts to build these multi-billion-dollar power stations.
It is now emerging that the Trump administration has been pushing ahead with licenses to its nuclear companies to share sensitive technology with the Saudis. What is alarming is that the White House has been doing so in a secretive manner, which overrides Congressional oversight rules based on national security protocols.
A further cause for concern is the Trump administration appears to be giving the Saudis nuclear knowhow that could lead to the weaponization of technology. For their part, the Saudis have pushed back on standards ensuring that civilian energy applications are kept strictly separated from weapons programs. Disturbingly, the Trump administration does not seem bothered by the ambiguity. It is forging ahead with licensing the technology to the Saudi rulers.
Saudi Arabia's impetuous Crown Prince Mohammed bin Salman (MbS) last year told US media that his country would race to obtain nuclear weapons "if" Iran were to do so. Given that MbS is close to the Trump administration and to the Israelis in terms of viewing Iran as an arch-enemy, it can be fairly assumed that the Saudi rulers already believe that Tehran is secretly pursuing a nuclear weapons program.
Iran has consistently rejected claims that it is building nuclear weapons. Its compliance with the 2015 international nuclear accord banning any such application has been verified in more than a dozen reports by UN inspectors from the International Atomic Energy Agency.
Also on rt.com
If Iran wanted nukes 'America couldn't do anything about it' – Ayatollah Khamenei
But that hasn't stopped the Israelis and Trump administration continually asserting the opposite. That, in turn, probably means that the Saudi rulers have decided to go for making the bomb.
There are several other reasons to fear a nuclear arms race is on the way in the Middle East.
The Trump White House has been enabling the sharing of sensitive nuclear technology with Saudi Arabia despite mounting criticism of the kingdom's human rights record. That record was always notoriously grim but during the Trump administration, it has plumbed new depths.
The horrendous Saudi air war on Yemen and its death toll among civilians has prompted the US Congress to ban weapons sales. But just last month, Trump bypassed the restriction by declaring a multi-billion-dollar arms sale to Saudi Arabia, because it was "an emergency" allegedly owing to a regional security threat from Iran.
Even more galling are reports that the White House approved of the nuclear technology transfers in the weeks and months after the journalist Jamal Khashoggi was brutally murdered in the Saudi consulate in Istanbul last October. That is in spite of the American CIA then concluding Crown Prince MbS was complicit in the killing.
Also on rt.com
CIA says MBS ordered Khashoggi hit, but don't expect Saudi-US relations to change – John Kiriakou
If none of these harrowing concerns have paused the Trump administration's indulgence of the Saudi regime, then the latter is entitled to think it has a blank cheque to do anything it wants, including acquiring nuclear weapons.

President Trump's enabling of the Saudis to get the bomb is, of course, fraught with illegalities. It would be a gross violation of the 1970 Nuclear Non-Proliferation Treaty which bans nuclear powers from spreading access to such weapons.
There is also the issue of American law. The Trump administration seems to be blindsiding Congress in its murky dealings with the Saudis, in breach of the Atomic Energy Act, which mandates the president to keep lawmakers informed of any international nuclear cooperation.
Trump's feckless regard for nuclear proliferation and arms controls should not be surprising, however. This administration unilaterally trashed the Iran nuclear deal last year, and it has walked away from the 1987 Intermediate-Range Nuclear Forces treaty with Russia. Russian President Vladimir Putin said last week that the Trump administration appears ready to also let a second major arms control treaty, New START, collapse.
So, despite Trump's expressed desire to get rid of nuclear weapons on a global scale, all the indicators suggest that he has a reprehensible disregard for inciting arms races.

There is founded alarm among US lawmakers from both parties that Saudi Arabia is on the path towards obtaining nuclear weapons. Recent reports indicate it has expanded its ballistic missiles capability with technology transfers from China. If confirmed, then the next step could be to fit these missiles with nuclear warheads. The Trump administration appears to be paving the way for the Saudi regime to achieve that.
Also on rt.com
Saudi arms sales may be at center of the next showdown between Trump and Congress
President Trump's incorrigible kowtowing towards the Saudi royal family has raised suspicions that he is looking beyond his presidential office to future years of expanding the Trump family business empire in the Middle East. His sycophancy towards the Saudis transcends so many boundaries of decency and basic morals.
There are two other possible motives. Trump and his son-in-law Jared Kushner want to go down in history for their "Deal of the Century" settling the Israeli-Palestinian conflict. The overrated and overdue "deal" is seen as a grubby sell-out of Palestinian rights. But to get acceptance in the wider Arab world, Trump and Kushner need the Saudis to give it a stamp of approval. That could be one factor in why the Trump White House may be soliciting the Saudis with the "big bomb prize".
Another motive is Trump using the Saudis and their visceral hatred of Shia Iran as the ultimate "pressure tool" on Tehran. If the Iranians see the Wahhabi potentates getting nuclear weapons, Trump may be calculating that it will bring Iran to the negotiating table and make strategic concessions, as he has long been pushing for.
There again, Iran may go another way. It may repudiate its long-standing disavowal of nuclear weapons and determine that it has no choice but to also build the bomb to avert an existential threat from the Saudi regime.
Either way, it all makes a mockery of the Trump White House's pretensions for peace and security in the region. This administration is criminally fueling a potentially catastrophic war.
Think your friends would be interested? Share this story!
The statements, views and opinions expressed in this column are solely those of the author and do not necessarily represent those of RT.
You can share this story on social media: