Trump arrives in the UK: God help the NHS

John Wight
John Wight has written for a variety of newspapers and websites, including the Independent, Morning Star, Huffington Post, Counterpunch, London Progressive Journal, and Foreign Policy Journal.
John Wight has written for a variety of newspapers and websites, including the Independent, Morning Star, Huffington Post, Counterpunch, London Progressive Journal, and Foreign Policy Journal.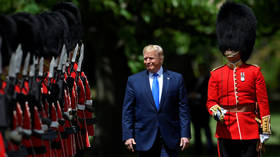 President Trump has arrived in the UK on a state visit, one of the few countries he hasn't brought sanctions against – yet.
With this in mind, no expense has been spared, no stone left unturned by his hosts when it comes to ensuring that the president's every whim – and that of his wife and entourage – are catered-to.
And never one for missing an opportunity to wade into the internal affairs of other countries, prior to his arrival in the UK the leader of the free world endorsed Boris Johnson as his preferred candidate to replace Theresa May as prime minister, recommended Nigel Farage be included as part of the UK's Brexit negotiating team with the EU, and derided the current Mayor of London, Sadiq Khan, as a vertically challenged 'stone cold loser'.
And this was just before breakfast.
Watching the President descend the steps from Air Force One onto the tarmac at London's Stansted Airport alongside his wife, Melania, was to be reminded that in America anybody can still make it. Indeed, he arrived with the air of a man expecting to be crowned King of England, though rumours that he intends to make the Queen an offer for Buckingham Palace with the intention of renaming it Trump Palace have yet to be confirmed.
Also on rt.com
'Stone cold loser': Trump lashes out at London Mayor Sadiq Khan as Air Force One lands in UK
Oh, and by the way, it is categorically untrue that the President shook the Queen's hand and told her, "It's a great honour for you to meet me, ma'am." This is not something Trump would ever say, simply because it goes without saying.
The three-day itinerary includes a state banquet hosted by the Queen (so cheeseburgers by royal appointment), a meeting with outgoing Prime Minister Theresa May and her advisers to discuss the prospects of a post-EU bilateral trade deal between both countries, and a D-Day commemoration to tie in with the 75th anniversary of what is a momentous event in the history of both countries.
On this last point, British soldiers returned home from the Second World War determined that the grim reality of life in the 1930s for working class communities, whose sons had done the bulk of the fighting, would give way to a 'land fit for heroes'. The result was the election of a Labour government, replacing the wartime coalition government led by Churchill, and the rolling out of a welfare state that transformed the lives of millions with modern housing, state benefits for the unemployed, family allowances, protections for workers and, most famous and significantly, the establishment of a universal, comprehensive and free at the point of need National Health Service (NHS).
This historical detour is relevant, because Trump has made known that, in any future bilateral trade deal between the US and UK, the NHS must be on the table as a potential prize for US healthcare providers and insurance giants, thus killing it as a single payer, state-owned entity and resurrecting it as a privatised, pay-as-you-go business entity.
In this scenario doctors across the UK would switch from reaching for a patient's pulse to reaching for their wallet first before treating them. But that's fine; all part of the Brexit dividend, we are told, a tangible benefit of the UK being freed from the shackles of Brussels.
What they didn't tell us is that being tied to the shackles of Washington will be even worse, though perhaps the pill could be sweetened if Trump and his wife were afforded the honor of riding down the Mall in the Queen's gold carriage with Sadiq Khan up front driving the horses, suitably attired in top hat and tails.
Also on rt.com
'Trump is poster boy for far-right': London Mayor Sadiq Khan hits back at US leader
The operation involved in bringing Trump across the pond is the modern day equivalent of Hannibal crossing the Alps with an entire army, including elephants, way back when. According to reports, the three-day state visit will cost in the region of £18 million (over US$22 million). That's a lot of money to pay for a no-sanctions guarantee from a US president (joking, of course).
Anyway, Trump would be best advised not to attempt a carriage ride through central London, not with a mass protest scheduled to take place in the middle of his visit by tens of thousands of people who happen to think World War III is a very bad idea.
As for Britain, all the pomp and ceremony in the world will not be able to compensate for the loss of empire, prestige and standing in a world that has moved on from the days of Rule Britannia. In fact, the way things have gone south with Brexit, maybe the Queen should give serious consideration to a Trump offer for Buckingham Palace. The 45th US President could turn it into a casino, complete with flashing neon lights and showgirls dancing on the roof.
If he doesn't win the race to become the next leader of the Tory Party and new prime minister, Boris Johnson could manage the place in conjunction with Nigel Farage, while the UK's hapless former defence secretary Gavin Williamson could do a regular comedy turn under the stage name 'British Lethality.'
Nobody does state visits like Trump.
Think your friends would be interested? Share this story!
The statements, views and opinions expressed in this column are solely those of the author and do not necessarily represent those of RT.