Theresa May wanted to save her legacy despite Brexit chaos, but it was far too late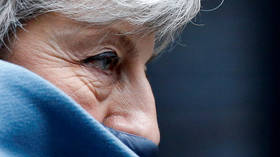 British PM Theresa May's name will forever be synonymous with Brexit. Her long-awaited resignation now is a far too late attempt to preserve her own legacy, but there is scarcely anything left to preserve.
May's last-ditch attempt to push her hated Brexit deal through parliament on Tuesday was swiftly met with renewed calls for her to — finally — hang up her hat. When they start referring to you as the "squatter in No. 10," maybe it's time to bow out ungracefully.
The embattled PM saw off an attempt by Tory MPs to force her to announce a plan for her resignation on Wednesday night, but she could only hold on for so long. Andrea Leadsom's resignation as Leader of the Commons marked the 36th ministerial resignation during May's troubled tenure.
Also on rt.com
The day the UK left the EU – not: March 29 brings another Brexit vote instead of Brexit
It's hard to believe May assumed the office of British prime minister only in July 2016. With Brexit exhaustion having already set in months ago, it feels like we've been watching her try and fail at her job for much longer. May promised Britons "strong and stable" leadership, but as many have rightly noted, gave them "weak and wobbly" instead. By the end, it was more like "anemic and rickety" as her leadership became more ridiculous and untenable by the day.
May's choices in the lead-up to her resignation were limited and unenviable — and ultimately, her 10-point 'compromise' offer was something that MPs just were not buying. Of all the pieces of the compromise deal, it was the suggestion that MPs could vote to open the door to a second referendum that really sent her party colleagues into an all-out revolt. Even MPs who had previously refused to demand her resignation had finally had enough.
Having lost the confidence of the parliament and the people, May's mandate was no more. Arguably, she had lost her mandate months ago, when it became clear that she was unable to reach a deal with Brussels that would satisfy the House of Commons. When MPs voted in March to take the Brexit process out of her hands and to assume control of the parliamentary timetable themselves, it was already clear that her days at 10 Downing Street were numbered.
Theresa May 2017: I will serve only as long as you want meTheresa May 2019: barricades herself in no. 10, unplugs phones, stockpiles food to stop her own ministers dragging her out to resign #TheresaMayResign

— dave M ❄️ 🥕 (@davemacladd) May 22, 2019
But no one should feel sorry for her. While May was originally a 'Remainer' who campaigned against Brexit, she dutifully adopted the cause of the Brexiteers as PM and promised to deliver on the 2016 referendum result. But triggering Article 50 without any plan or solid negotiating position in place, aside from her 'Brexit means Brexit' mantra, she failed in spectacular fashion.
When May confidently called for a 'snap' election in April 2017, she suffered a humiliating setback just weeks before Brexit negotiations were due to begin. Instead of solidifying her power with an easy victory, as she expected, May lost her overall parliamentary majority and handed a meaningful victory to Labour leader Jeremy Corbyn who used the election outcome to energize his party.
Also on rt.com
Theresa May just kicked the Brexit can right into Corbyn's allotment (by George Galloway)
Some wondered back then whether or not the PM would have to resign, but she persevered and was praised for her grit, determination and ability to stay afloat in the face of massive political pressure — but the loud praise she once enjoyed dampened to a whimper as she faced historic defeats in parliament and the chaotic Brexit drama dragged on to become a major national embarrassment.
While it is true that May's approach to Brexit — which involved drawing red lines she had to walk back and trying repeatedly to ram a deal no one wanted through parliament — angered almost everyone, it's equally true and important to say that no one would in her place would have had an easy time delivering Brexit to such a deeply divided country and parliament. Particularly after a referendum campaign during which the 'Leave' side made promises about Brexit that turned out to be almost impossible to keep. Scarcely any thought, for example, was given pre-referendum to the disaster that could be unleashed in Northern Ireland if Brexit resulted in a border being re-imposed on the Emerald Isle.
The Brexit chaos has changed the face of British politics, fuelled hatred in society on both sides and emboldened lunatics — one of which tragically murdered Labour Party MP Jo Cox a week before the referendum in June 2016.
Absolving herself of any responsibility of the mess she has made over #Brexit@theresa_may tells the nation "I'm on your side"!Tell that to...❗️Nurses accessing foodbanks ❗️4.5m kids in poverty ❗️4000 youth workers losing their jobs❗️Schools not able to afford the basics

— Richard Dunbar (@rdunbar83) March 20, 2019
On social media, frustrated and divided Brits shouted for months that May could preserve her legacy by doing exactly opposite things. Some argued that the only way she could save her bacon was to stop kowtowing to the most extreme Brexiteers like Jacob Rees-Mogg and Boris Johnson, to revoke Article 50 and call a fresh referendum. Others told her the only way to recover her legacy was to deliver the hardest Brexit possible, even a 'no deal' Brexit, if need be.
While May will overwhelmingly be remembered for the chaotic mess she made of Brexit, there are a few other failings that deserve an honorable mention. May leaves 10 Downing Street seemingly oblivious to the fact that 4.5 million British children are living in poverty. She has presided over cuts to education funding and social benefits. "Baby banks" are springing up to help struggling families cope. Food bank use in general has also risen – when asked about that, a completely out-of-touch May claimed there are "many complex reasons" why. Cuts to public spending have also likely driven the rise in knife crime across Britain. This has all happened while May and her party have essentially denied the problems even exist.
Also on rt.com
UK Prime Minister Theresa May 'welcomes' news of Assange's arrest
On the international stage, May hyped the Russia threat, adopting all the standard lines about how Moscow was seeking to "sow discord" in the West, using it as a distraction to cover for her own suffering approval ratings — and as a pathetic attempt to recover some of Britain's own international standing, which has been steadily slipping away. In the aftermath of the Skripal poisoning in March 2018, May prompted a coordinated mass expulsion of Russian diplomats from across Europe, the US and Canada without a shred of solid evidence that Moscow was behind the incident.
May also presided over illegal British airstrikes in Syria which she claimed were "morally right" and definitely "not" carried out on orders from US President Donald Trump. She continued Britain's cozy relationship with Saudi Arabia, selling weapons to Riyadh as it carried out a slaughter in Yemen, where 14 million people are on the verge of famine — all while her husband reaps the profits and she then lectures the world about British "values" and "human rights."
Theresa May is finally leaving 10 Downing Street, but Britain is still staring down the barrel of a no-deal Brexit — and Britons still don't know when, how or even if they will be leaving the EU at all.
Think your friends would be interested? Share this story!
The statements, views and opinions expressed in this column are solely those of the author and do not necessarily represent those of RT.
You can share this story on social media: