Despair or distraction? Pompeo's 'push for peace' in Libya does not pass smell test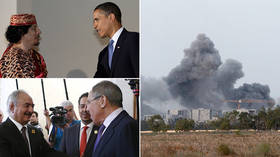 The US Secretary of State Mike Pompeo may have called for peace in Libya but his lack of credibility makes one suspect something else is going on.
"There is no military solution," warns West Point graduate, former CIA chief and waterboarding defender, Mike Pompeo.
"We have made clear that we oppose the military offensive by Khalifa Haftar's forces and urge the immediate halt to these military operations against the Libyan capital," Pompeo's statement read.
There is something not right about Pompeo's call. Otherwise, it would seem to mark a major U-turn in US foreign policy. But the record of this and previous administrations does not corroborate such an assumption.
Also on rt.com
'No military solution!' US demands immediate halt to Haftar's march on NATO-ravaged capital of Libya
Libya is a great case study when it comes to the gap between US leaders' public statements and their underlying intent.
In his address to the nation on March 28, 2011, Nobel peace prize laureate Barack Obama framed the mission as one "to protect the Libyan people from immediate danger and to establish a no-fly zone… Broadening our military mission to include regime change would be a mistake." Roger that.
During a Senate hearing, Hillary Clinton's deputy, James Steinberg said, "President Obama has been equally firm that our military operation has a narrowly defined mission that does not include regime change."
During the months that followed, however, the US provided rebels with $25 million in assistance and reportedly allowed advanced weapons to be delivered by Egypt and Qatar.
NATO ships stationed in the Mediterranean to enforce an arms embargo under Section 9 of Resolution 1970 let go a rebel tugboat with small arms, 105mm howitzer rounds, and "lots of explosives."
Also on rt.com
VIDEO shows US forces retreating as eastern Libyan troops close in on Tripoli
On the day Vice Adm. William Gortney, director of the Joint Staff, "guaranteed" the press that Muammar Gaddafi is "not on a targeting list," bombs hit the presidential compound.
Clinton's eventual "we came, we saw, he died" is the most striking giveaway that regime change was the White House's goal right from the start.
The US action under the guise of a peace and humanitarian narrative resulted in the collapse of a once rich and stable country that has since turned it into a playground for extremist forces, with spillover effects for the entire region. It has been a de-facto failed state for eight years now.
Need more examples of Washington's hypocrisy? Promoting peace in Yemen and Syria on paper did not preclude the US from launching airstrikes against Damascus and exporting weapons that kill civilians in the protracted Saudi-led war on Yemen's Houthis.
The US is clearer on Venezuela but again not everything is said in public. Remember National Security Advisor John Bolton's hand-written reminder to send 5,000 troops to Colombia captured on camera?
Also on rt.com
US threatens 'secondary sanctions' against those who refuse to back its Venezuela coup
Going back to Libya, there is another detail that is adding flavor to the story.
It is common knowledge that Haftar's military experience helped topple the Gaddafi regime in 2011 following his return to Libya from the US where he gained American citizenship. Other than being a skilled commanding officer, he is said to have become a CIA asset and was trained in guerilla warfare by the agency's paramilitary arm. This was after Washington saved him from a prison in Chad following a botched Libyan campaign and abandonment by Gaddafi in 1987. In March 1996, Haftar took part in the uprising against the Libyan leader.
However, Haftar has also been building ties with Russia. He's flown to Moscow and has met several times with Defense Minister Sergey Shoigu.
If the general has made up his mind, he could run his homeland on his own terms. The US is just trying to buy time to figure out his and its own next move.
Also on rt.com
Libya's military strongman Haftar to meet Russian FM Lavrov in Moscow
But the timing of the general's offensive – just days ahead of a major UN conference – might indicate he may have been directed by the US to thwart European and broader international efforts. The goal would be to show who the real powerbroker is, to scare the Europeans with potentially more refugees, and punish the EU for seeking greater autonomy from the US.
So, what's truly behind Pompeo's statement – a distraction to prove their alibi while a special CIA op is underway or a signal to a former asset gone rogue in a geopolitical tug of war over who defines Libya's future?
Also on rt.com
ICYMI: Civil war in Libya? NATO's freedom bombs have created a real geopolitical pickle (VIDEO)
Whatever the case, make no mistake: Pompeo is no peace dove and the US will have no qualms about issuing secret orders to advance their strategic interests that run counter to their publicly stated objectives.
Alex Benley, RT

Think your friends would be interested? Share this story!
The statements, views and opinions expressed in this column are solely those of the author and do not necessarily represent those of RT.
You can share this story on social media: