Trump Doctrine? Peeving allies & trashing US empire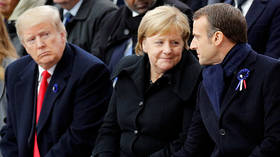 As with all US presidents, the incumbent will one day be assigned a "Trump Doctrine" – a grandiose title meant to encapsulate a key feature of foreign policy during his tenure at the White House.
The foreign policy wonks haven't yet come up with a defining policy feature for a Trump Doctrine. But we may suggest the following: scoring own goals to unwittingly alienate allies and undermine US global power.
Trump's presidency stands out for the rapidity with which supposed allies have become leery of, if not outright peeved by, American power. That, in turn, has served to erode Washington's global standing as a presumed leader.
The latest own goal is Trump's plan to ramp up demands for allies to pay the cost of hosting US troops on their territories. The new accounting arrangement has not yet been officially announced by the White House, but allies have got wind of the changes in store.
The president reportedly wants to charge nations the full cost of accommodating American military personnel, plus a 50 percent surcharge. Trump calls it the "cost plus 50" formula.
The idea is said to have "struck fear in the hearts of US allies who view it as extortionate."
Also on rt.com
'Toxic mixture' of Trump, Pence & Bolton endangers Europe's security – top German MP
Japan, Germany and South Korea are particularly concerned about being hit with massive bills for hosting large American bases. Japan has some 54,000 US troops on its territory. Germany and South Korea have over 20,000 military personnel. Those countries already pay part-expenses for running the US bases, but if Trump's "cost plus 50" formula is implemented, their bills could be multiplied five-fold, amounting to billions of extra dollars.
German Chancellor Angela Merkel is already known to be irritated with the Trump administration over its perceived bullying regarding demands on Berlin to boost military spending on the NATO alliance. Trump wants Germany and other European members of the military bloc to double annual expenditures.
His relentless browbeating and sniping at European allies for "freeloading" off American military protection has been a major impetus behind Merkel's government gravitating towards the idea of setting up a "European Army" independent of Washington.
Again, this is a classic illustration of how Trump's transactional – even boorish – attitude is ending up being counterproductive to US interests.
In Trump's reductionist worldview, he considers American forces as some kind of chivalrous defense service to allies who don't appreciate Washington's "generosity." 'Get those feckless allies to cough up for our protection' is Trump's attitude.
More sophisticated US planners know, however, the real purpose of American bases in countries like Germany and Japan is all about imperial power projection against geopolitical rivals Russia and China. That's why for decades, Washington was more than willing to foot the costs of its overseas installations. It was viewed as a normal expense for running an empire and occupying foreign soil.
Trump, as a real estate money-grubbing type, doesn't get the geo-strategic picture. He just sees ballooning costs for spreading US forces all over the globe in more than 150 countries. And, naturally in his transactional brain, Trump wants others to pay for "American protection." But the arrangement under Trump is starting to resemble too closely a protection racket akin to a mafia.
Also on rt.com
US may demand 'allies' pay 150% for privilege of hosting troops
In shoving his policy of "America First" and "Making America Great Again," Trump is ending up alienating countries which tolerated US military occupation under the pretense of defense. If they begin to receive hiked-up bills for stationing Pentagon legions, the already latent demands for US withdrawal from those countries will grow.
Many Germans are not happy that their country more closely resembles an occupied colonial regime under Washington's tutelage since the end of the Second World War. It's the same too for Japan and South Korea. In Japan, the people of Okinawa have for years been campaigning fruitlessly to get US forces off their ancestral lands. If those countries start to be inundated with "extortionate" fees for hosting US forces, the result will certainly be irrepressible popular demand for shutting down the bases.
Typically, the arm-twisting by the Trump administration is done without any acumen or decorum.
It was recently reported that Vice President Mike Pence "leaned on" Germany's Merkel to send a naval force to Crimea in support of the Kiev regime. Both Germany and France rebuffed the White House, saying that it was an "unnecessary provocation" to Russia.
Pence made additional high-handed demands on Merkel and other Europeans during the Munich Security Conference held in February, according to Bloomberg. He called for European NATO powers to do more to secure Syrian stability following the planned withdrawal of US troops from that country.
As with the Crimea force expedition idea, the Syrian contingency plan was "brushed off, as were demands for EU nations to follow the US decision to abandon a hard-fought Iranian nuclear accord."
The arrogance and stupidity of the Trump administration seems to know no bounds.
Trump is threatening Germany with secondary sanctions if it proceeds with its strategically important Nord Stream 2 project to import natural gas fuel from Russia. This week, US Energy Secretary Rick Perry reiterated that the US was actively considering imposing sanctions over the Nord Stream 2 Baltic seabed pipeline. Those threats have reportedly rankled Merkel, as have Trump's warnings about imposing tariffs on German auto exports, which are deemed to be a national security risk for the US.
Also on rt.com
US sanctions against Nord Stream 2 gas pipeline 'under consideration' – energy czar
This week, too, Richard Grenell, the American ambassador to Germany, who has done a fine job of infuriating Berlin with his meddling in its internal affairs, went even further by admonishing his host country about pursuing any telecoms deals with Chinese tech giant Huawei.
Washington is flagrantly using security claims to undermine the Chinese rival in the telecoms market – in a way analogous to Russia's Gazprom in the natural gas market. Arguably, that's Washington's business if it wants to use duplicitous means to warp market forces. But what is really insufferable is Washington then demanding that its allies must also comply with its dubious dictates, even when economically disadvantageous to those allies.
Another area where the Trump administration's purblind policymaking has alienated allies is its revocation of the Intermediate-Range Nuclear Forces Treaty. That landmark 1987 Cold War accord kept the European continent free of nuclear weapons for three decades. With Trump's cancelation of the treaty, and Russia responding in kind, European security could be once again thrown under a Cold War shadow of nuclear war.
In countless ways, the Trump presidency is pursuing policy goals with such a selfish and myopic misunderstanding of strategic issues, it is leading manifestly to increasing tensions and isolation from supposed allies.
The erstwhile global arrangement for American hegemony is being unraveled by Trump, not from any tacit treasonous agenda to undermine US global power, and certainly not due to Trump being a "Putin puppet" as his domestic detractors preposterously assert.
Trump is crashing American global power because his penny-pinching profiteering mentality is too idiotic and selfish to even realize the damage it is causing to US strategic interests.
The Trump Doctrine is the grandiose name for historic American failure due to its foreign policy being run like a TV reality show.
Like this story? Share it with a friend!
The statements, views and opinions expressed in this column are solely those of the author and do not necessarily represent those of RT.
You can share this story on social media: