Munich Security Conference: Gavin Williamson strikes again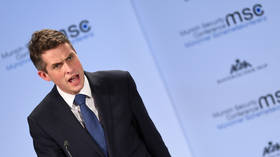 The 55th Munich Security Conference confirmed that the planet inhabited by your average Western ideologue bears scant relation to Planet Earth.
This annual conference, held in the city that will forever be associated with the Allies' craven appeasement of Hitler and Nazi Germany in 1938, brings together under one roof political leaders, ministers, and diplomats to discuss and share analyses of the security challenges of the day.
It was here in 2007 that Russian President Vladimir Putin delivered a speech whose prescience has, all too sadly, been validated by events.
I consider that the unipolar model is not only unacceptable but also impossible in today's world… What is even more important is that the model itself is flawed because at its basis there is and can be no moral foundations for modern civilisation… Today we are witnessing an almost uncontained hyper use of force – military force – in international relations, force that is plunging the world into an abyss of permanent conflicts… We are seeing a greater and greater disdain for the basic principles of international law… One state… the United States… has overstepped its national borders in every way. This is visible in the economic, political, cultural, and educational policies it imposes on other nations.
This year's conference took place between 15 and 18 February, and like the proverbial gift that keeps on giving, UK Defence Secretary Gavin Williamson regaled the assembled delegates on the opening day with the speech of a man who won't be satisfied until he's sitting in a nuclear bunker in Westminster eating corned beef sandwiches and sipping acid rain from a Union Jack mug – comforting himself, no doubt, with thoughts of a Brexit dividend.
READ MORE: Britain's Gavin Williamson places Russia & China on notice, I'm not joking
He began on a laudatory note: "very proud," he proclaimed, "of our [Britain's] deep friendship with Germany."
This will come as a surprise to the distant relatives of the over one million British soldiers, airmen and sailors who died fighting Germany in two world wars. But then nobody should underestimate Mr Williamson's historical memory, not when he went on to remind his audience that despite the inconvenient blip of two world wars, the Anglo-German alliance was never stronger as when "260 years ago we fought side-by-side at the battle of Minden."
At this juncture, the clacking of teeth was rumoured to have resounded in the chamber, as delegates fought a losing battle to keep a straight face.
Mr Williamson was just getting started: "NATO," he warned, "must remain the bedrock of our security in Europe. Since 1949 it has stood the test of time. It is combat proven. It deters the most serious threats."
Also on rt.com
Munich brawl: Pence clashes with Merkel and Mogherini over Iran deal, Russian pipeline
Contradicting this somewhat fatuous assertion is the 'actual' track record of the Western military alliance in Yugoslavia, Afghanistan and Libya. It is a track record which dictates that, rather than deter the most serious threats, NATO has been and is the most serious threat.
No shock to learn that from here, Britain's Defence Secretary painted an ominous picture of a world that exists under the shadow of imminent invasion by Russia: "NATO matters more than ever because an old adversary is back in the game. 30 years since the Berlin Wall fell and five years since the illegal annexation of Crimea – Russia remains a threat to our security."
The "illegal annexation of Crimea" he refers to was, in fact, Crimea's liberation in the teeth of a violent coup that unfolded in Kiev at the beginning of 2014. Spearheaded by fascist thugs and anti-Russian ideologues – and actively supported by Britain and its allies – it was a coup that succeeded in toppling Ukraine's elected government in violation of the country's then-national constitution.
Only in a parallel universe could the aforementioned set of events, culminating in Russia intervening to forestall the danger they posed to a majority population of ethnic Russians and/or Russian speakers in Crimea, be construed as annexation. On the contrary, the referendum held to determine Crimea's future on March 16, 2014 was triggered by the vote taken in the Crimean Parliament 10 days earlier for the region to reunite with Russia.
Thus what took place in Crimea was not annexation, it was the restoration of democracy.
The rest of Mr Williamson's jeremiad against Russia, talking up Moscow's supposed threat to global security, lacked anything resembling geopolitical context – the fact that US-led Western hegemony has and continues to be the root cause of instability and conflict around the world, leaving Russia no option but to draw a line. Here, Putin's 2007 Munich Security Conference speech, cited above, makes it impossible for Mr Williamson and his confreres to claim they weren't warned.
In his own remarks to the conference the following day, Russian Foreign Minister Sergey Lavrov's put down of Gavin Williamson as Britain's 'minister of war' rather than secretary of defence was wholly apt.
Also on rt.com
West 'starts listening to Russia': Lavrov says Europeans want better relations after Munich talks
The most important speech at the conference was arguably that given by Iranian Foreign Minister Mohammad Javad Zarif, who, like his Russian counterpart set the record straight: "The U.S. and its local clients in our region are suffering from the natural consequences of their own wrong choices. But they use this and other fora to revive the hysteria on Iran's foreign policy and obscure its reality. But did Iran force them to make all those wrong choices as some of them ridiculously claim? Are we to blame because we were on the right side of history, fighting Saddam Hussein, Al-Qaeda, Taliban, ISIS, Nusrah and the like, while the US and company were financing, arming and supporting them?"
US Vice President Mike Pence was also present in Munich. He delivered a speech that wasn't so much received as suffered by the delegates in attendance: "The struggle in Venezuela is between dictatorship and democracy. Nicolas Maduro is a dictator with no legitimate claim to power, and Nicolas Maduro must go."
This was by no means the most outrageous section of his address, but it is indicative of the intellectual and ideological malaise that has blinded Washington to the consequences of its callous disregard for reality. Suffice to say that every empire is predicated on the basis of might is right, and therefore can only be sustained and justified on a set of untruths – central to which is that it exists to serve rather than colonise and dominate, if not enslave.
Under such conditions, the Munich Security Conference is an annual reminder of Fidel Castro's unflinching declaration: "The history of Cuba is but the history of Latin America. The history of Latin America is but the history of Asia, Africa and Oceania. And the history of all these peoples is but the history of the most pitiless and cruel exploitation by imperialism throughout the world."
Like this story? Share it with a friend!
The statements, views and opinions expressed in this column are solely those of the author and do not necessarily represent those of RT.
You can share this story on social media: