Oil tycoon, CIA chief, President: George H.W. Bush was the epitome of American empire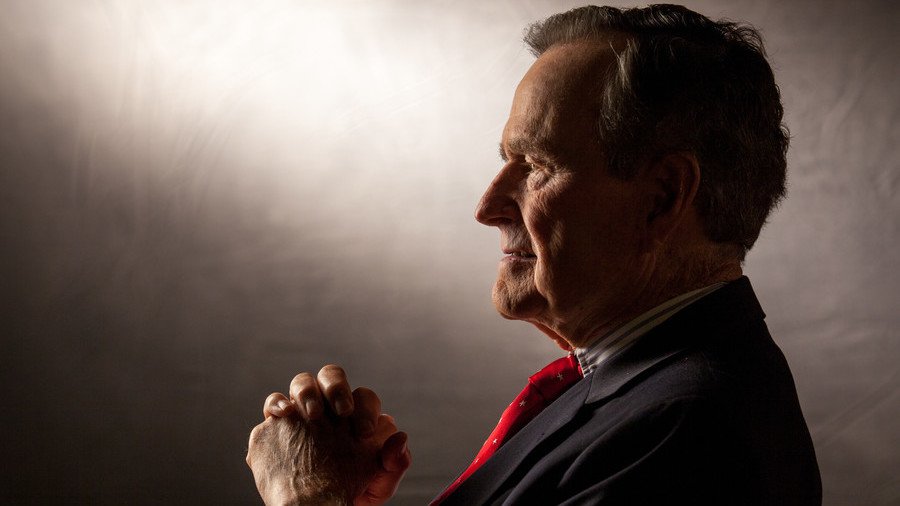 The late US President George H.W. Bush, a luminary of America's most powerful family, was the personification of a nation addicted to oil, obsessed with secrecy and war, and self-assured of its exceptional qualities.
When considering the life and times of George Herbert Walker Bush, one is forced to enter into a well-guarded mansion that is steeped in so many accumulated layers of wealth, power and secrecy that just scratching the surface requires a pickaxe and dynamite. For here we are dealing with no ordinary politician, but rather the scion of a dynastic clan who had a profound hand in shaping America into the country it is today.
George H.W. Bush was not necessarily predestined for a life of politics in the same way that career politicians, like John F. Kennedy, for example, or Bill Clinton were. Conquering a chunk of the global monopoly board took priority in the Bush household; political power came – like an after-dinner mint – more as a complement to the wealth obtained, and perhaps as a way to acquire more.
George's father, Prescott Sheldon Bush, went on to become, among other things, the vice president of the investment bank A. Harriman & Co. At the age of 60, after making a respectable fortune, he tossed his hat into the political ring and was elected Senator from Connecticut.
Also on rt.com
Late George H.W. Bush valued 'constructive dialogue' with Russia – Putin
Like his father, George H.W. devoted the early years of his life to the pursuit of Mammon, not politics. Upon graduation from Yale University, he headed south with his family to Texas to become an oil man. By 1964, at the age of 40, he was already a 'self-made' millionaire.
All the dirt and oil in Texas, however, could never conceal the 'aristocratic' blue blood that ran thick through his veins, betraying the East Coast lineage behind the slick 'Texas oilman' imagery.
From oil to eternity
The male members of the Bush family, from Prescott Bush (1895-1972) all the way up to George 'Dubya' Bush, shared much more in common than a passion for making money and playing golf, as important as those pastimes were.
All three attended prestigious Yale University, where 'Dubya' Bush, his father and grandfather were members of the secret fraternal order known as Skull and Bones. Founded in 1832, this society has been the source of numerous conspiracy theories, far too many to discuss here. Let's just say that, despite the group's small composition, a large number of its members have gone on to fill top government positions.
Membership in the same university and same fraternity over three consecutive generations does not necessarily prove, of course, that anything untoward was happening. However, it does show how the Bush clan, through traditions that run back centuries, was able to cultivate intimate connections to some of the world's most powerful people and families. In other words, people and families just like them.
Such intimate ties forged behind closed doors harks back to President Kennedy's famous 'secret society' speech where he warned that such shady alliances have no place in a democracy. Yet for George H.W. Bush, such alliances certainly did him no harm as he transitioned from the world of business to the world of politics and intelligence.
Power politics
Capitalizing on his powerful family name, Bush, despite losing a bid for a Senate seat in 1970, was appointed by President Nixon the following year as Ambassador to the United Nations. From here, Bush's political star began to take off. Shortly after serving as chief of the Republican National Committee, Bush was nominated by President Ford in 1976 to lead the CIA.
The most significant episode that stands out during Bush's one-year stint as CIA Director involved Operation Condor, a brazen, cold-blooded campaign to prop up right-wing military dictators throughout South America, like that of General Augusto Pinochet in Chile. In order to achieve this end, no violence was spared.
Spurred on by then Secretary of State Henry Kissinger, who blocked efforts to stop the slaughter, Condor organized assassination teams that tracked down and killed at least 13,000 dissidents. Hundreds of thousands of others were held in prison camps where many suffered torture and eventual death.
Also on rt.com
George H.W. Bush, last Cold War-era US president, dead at 94
George H.W. Bush, as Director of the CIA, was in the position to halt the right-wing carnage, much of which was being orchestrated through his agency, but he chose not to, leaving one of many regrettable footnotes on his legacy.
Fast forward past Bush's relatively uneventful 8 years as Ronald Reagan's Vice President (1981-1989), and we find George H.W. Bush in the White House as the 41st President of the US.
With regards to Bush's one-term presidency, US political strategist Zbigniew Brzezinski summed it up nicely in his book Second Chance:
"In fairness to Bush, no US president since the end of World War II had to confront such intensive and extensive global turmoil."
Indeed, 1989 alone witnessed the Tiananmen Square protest, the death of Iranian spiritual leader Ayatollah Khomeini, and the dismantling of the Berlin Wall. Then, on Dec. 3, 1989, Bush and Soviet leader Mikhail Gorbachev declared the end of the Cold War.
Above all, however, Operation Desert Storm, the military offensive to liberate Kuwait from an Iraqi invasion, marked the defining event of the Bush presidency. Yet once again the Republican leader came up short.
Publicized as the first major war that Americans could watch from the comfort of their living rooms, Desert Storm began in earnest on January 16, 1991. US-led forces subjected Iraq to 42 consecutive days and nights of one of the most intensive aerial campaigns in military history, laying waste to military and civilian infrastructure with wanton abandon.
Once again, American military overkill was in the driver's seat.
There was no need to send Iraq back to the Stone Age in order to punish Hussein for his belligerence. But that is exactly what George H.W. permitted to happen. Even Brzezinski ventured to ask why Bush didn't give Hussein an ultimatum to "step down and go into exile or your forces will be wiped out as they flee."
Meanwhile, it is difficult to commend Bush, as many have done, for deciding against an attack on the capital Baghdad, which would certainly have resulted in a humanitarian crisis of epic proportions. That's because his son, George W. Bush, took care of that task a little over a decade later with his own invasion of Iraq, explaining at least part of his motivation was because Saddam Hussein "tried to kill my dad at one time."
Also on rt.com
Russian diplomacy is winning the New Cold War – Stephen Cohen
To consider that a modern military conflict was partially triggered by a personal vendetta is disturbing, to say the least.
In any case, George H.W. aspired to the belief in American exceptionalism that has come to dominate US foreign policy. For example, when asked if the US should apologize to Japan for dropping atomic bombs on Hiroshima and Nagasaki in 1945, he responded: "No apology is required, and it will not be asked of this President, I can guarantee you."
A similar response was given when asked about the downing of Iran Air Flight 655 that was shot down in July 1988 by the US Navy, resulting in the death of 290 people, including 66 children.
When asked if the US owed Tehran an apology, Bush shot back: "I will never apologize for the United States — I don't care what the facts are... I'm not an apologize-for-America kind of guy."
In conclusion, it seems fair to say that George H.W. Bush was one of those American leaders who was so aligned with the 'elite' – since birth – that he was unable to appreciate the cares of ordinary people, both at home, abroad and on the battlefield. This description comes close to explaining Washington's approach to foreign policy.
Much like the 41st president, Washington feels no compulsion to explain its increasingly erratic behavior to a world that has suffered so much destruction on its behalf. That's because, in its twisted vision of reality, America believes it is beyond doubt, beyond explanation, beyond apologies. It will continue to stake out its interests in foreign lands and pursue military conflicts as it deems necessary.
In that sense, George H.W. Bush was certainly the quintessential American leader.
The statements, views and opinions expressed in this column are solely those of the author and do not necessarily represent those of RT.
You can share this story on social media: