Labour Conference 2018: Some good policies but will Corbyn's compromises cost the party dear?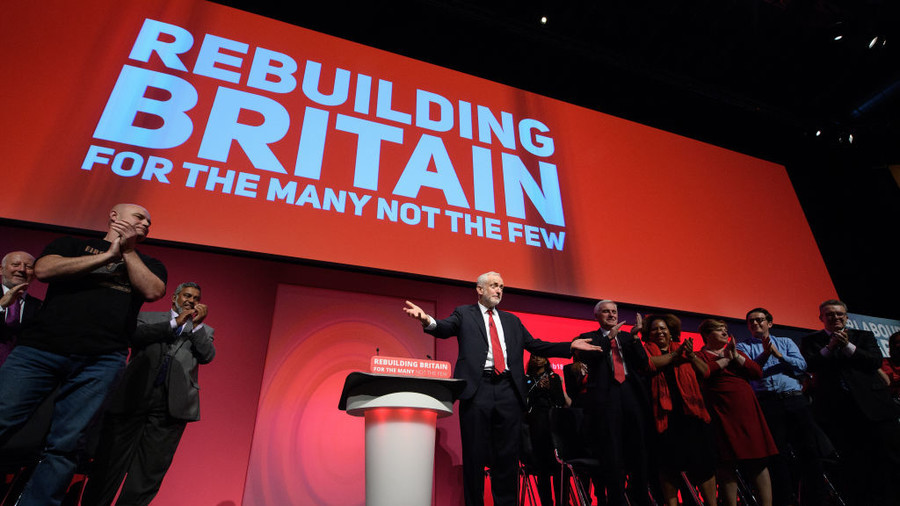 At this week's Labour Party Conference policies were outlined to repair the damage cause by forty years of neoliberalism, but the party's chances of electoral success could be wrecked by 'centrist' sabotage.
Bringing water back into public ownership. Renationalisation of the railways, the postal service and the energy companies. A requirement for all major companies to hand over 1 percent of their ownership a year to workers via inclusive ownership funds. Ending the 'hostile environment' disabled people experience and rebuilding Britain's social security system. The creation of 400,000 new 'green' jobs.
These policies are vote winners and are proof that under leader Jeremy Corbyn and his Shadow Chancellor John McDonnell, Labour is offering something very different than the Tory-lite policies they put forward under Tony Blair and Gordon Brown. However, all the good work could be undone by Corbyn making too many compromises with those on the right of his party who really don't want things to change too much at all.
Step forward, one Sir Keir Starmer QC, Shadow Brexit Secretary. I was reminded of the old music hall song and popular participation dance "The Hokey Cokey", as I watched Sir Keir's speech on Brexit in Liverpool.
Remember how it goes: 'You put your left arm in, your left arm out, in, out, in, out. You shake it all about. You do the Hokey Cokey and you turn around. That's what it's all about… Woah…!'
In, out, in, out? Does anyone know now if Labour wants the UK in or out of the EU? Jeremy Corbyn was a lifelong Euroskeptic but he campaigned for Remain in 2016. When Leave won he said Article 50 should be sent off straight away. But as on other key issues, he's been shifting his stance since then.
He seemed to have found a sensible position based on support for the referendum result but with the UK staying in some form of customs union, but now he's signed himself up to supporting a second referendum. What would that involve though?
According to some Labour figures, it would only be on the terms of any deal Theresa May managed to get. But to others, including Sir Keir, it would include an option to stay in the EU. Confused? You're not the only one. By even suggesting that the British public might be asked again if they want to stay in the EU, just two years after they voted to leave, Labour have allowed the Tories to present themselves as the only party who will stand up for Brexit.
The loss of patriotic working-class support in key marginals in the north and the midlands would cost Labour dear should Theresa May be tempted to call an early 'Khaki' election, and beyond that too, as it would be regarded as a great betrayal.
Keir Starmer has just sent a very clear message to the people of this country: the British establishment is above democracy. In doing so, he's not just treating the people who elected him with disdain, he's enabling the far right. https://t.co/1CKWJIN0CL

— Grace Blakeley (@graceblakeley) September 25, 2018
Having failed to dislodge Corbyn in the 'anti-Semitism' witch hunt, the 'centrists', who are really pro-war, pro-Israel neoliberals, have latched on to the campaign for a 2nd referendum to try and destroy the prospect of a left-wing government coming to power in Britain and changing the UK's foreign policy, particularly in relation to the Middle East.
You'd have to be as blind as a bat not to notice that the most prominent cheerleaders of a 'People's Vote' on Europe are enemies of Corbyn, both inside and outside the party. But does Jeremy himself have eyesight problems? Why else is he caving in on Europe to those who don't really want to see him become Prime Minister?
Starmer's speech wasn't the only discordant note of the week. There was the intervention of Shadow Foreign Secretary Emily Thornberry. Jeremy Corbyn is a former Chair of Stop the War Coalition. He is a veteran supporter of the Palestinian cause and has, at least up to now, called for more dialogue with Russia. But it seems Thornberry, who Corbyn appointed to the role of Foreign Affairs spokesperson, isn't on the same page as her boss.
In her speech to conference she seemed to imply that Theresa May and the Tories weren't being tough enough on Russia, lamenting that Russia was able to act with "impunity not just in Syria but in Salisbury". Is that official Labour policy, Jeremy? Were you happy with what Thornberry said? I wasn't, and I know other anti-imperialist campaigners weren't either.
.@EmilyThornberry condemned Russia, Iran & Saudi Arabia, but only mentioned "the Netanyahu govt." in passing while passionately denouncing supposed antisemitism in Labour. Nothing about arms trade to Israel because she supports it. pic.twitter.com/S7j6Mb7qZh

— Asa Winstanley (@AsaWinstanley) September 25, 2018
Even worse than Thornberry's was the speech to a fringe event by fellow 'Labour Friends of Israel' member, the Party's deputy leader Tom Watson, in which he peddled full-on Russophobia. Conjuring up images of the Nazis invading the Low Countries, Watson said Britain was facing a "Blitzkrieg for the digital age" from Russia, and called for a US-style inquiry into alleged Russian interference in UK democracy.
Watson's hypocrisy when it comes to foreign powers intervening in UK politics is truly off the scale. He has no problem it seems with proven Israeli interference (as documented in the al Jazeera documentary 'The Lobby' ), saying he is "proud to defend Israel", but is paranoid about unproven Russian interference.
Despite being the least supportive deputy that any leader of a political party in Britain has ever had, Watson remains in position. It is a sobering thought that were, heaven forbid, anything to happen to Jeremy Corbyn, Watson would become acting leader. The day he is replaced by a supporter of Corbyn, such as the wholly admirable Chris Williamson, MP for Derby North, who has been touring the country with his 'Democracy Roadshow', can't come soon enough.
Labour has undoubtedly made considerable progress under Corbyn which we have to acknowledge. It is unthinkable for instance that a motion calling for the freezing of arms sales to Israel would have even been allowed in the past, let alone passed, with the hall of the conference being transformed into a sea of Palestinian flags.
On renationalization, the party is returning to its radical roots, appropriately enough on the centenary of 'Clause Four'. But so much more needs to be done. If Corbyn has a fault it is this: he has been keener, since becoming leader, on trying to placate his enemies than he has been to reward his friends and ideological allies.
Just look at the way two of his old comrades from the anti-war movement, George Galloway and Ken Livingstone, have been hung out to dry. Galloway was unjustly expelled by the Blairites from Labour in 2003 for his vociferous and principled opposition to the 'crime of the century', the blatantly illegal and utterly immoral Iraq war.
One million people lost their lives following George W. Bush and Tony Blair's invasion, which was sold to the public on a pack of lies about Iraq possessing WMDs, and Galloway had every right to expect that with his old chum Corbyn, who agreed with him on Iraq, would invite him publicly to rejoin the party when he became leader. But despite Galloway's tireless work in rallying support for Corbyn on social media, his loyalty standing in stark contrast to the disloyalty of many of Corbyn's own MPs, who have been stabbing him in the back, front and sides, no such invite has been forthcoming.
Ken Livingstone too could have expected Corbyn to show him more support when he was wrongly accused of 'anti-Semitism'. But Corbyn allowed Ken, a lifelong anti-racist campaigner, to be thrown overboard to appease a pro-Israel lobby which never takes 'yes' for an answer.
Colin Monehen's outstanding passionate speech in support of the Palestinians only confirms that it is no longer feasible for a political party to embrace both those who stand with an oppressed people and those who stand with their oppressor. #Lab18https://t.co/864sWHTC0e

— John Wight (@JohnWight1) September 25, 2018
To win the next election, whenever it comes, Labour must convince the public that things will be very different from the last time the party held power. But it won't be able to do that if Blairites and Brownites and so-called 'Friends of Israel', still hold prominent positions from which they'd be able to sabotage a democratic socialist project, which offers the prospect of jobs and greater equality at home, and peace and genuine internationalism abroad.
Follow Neil Clark @NeilClark66
Like this story? Share it with a friend!
The statements, views and opinions expressed in this column are solely those of the author and do not necessarily represent those of RT.
You can share this story on social media: