Former MI6 spy v WikiLeaks editor: Who really deserves 1st Amendment protection?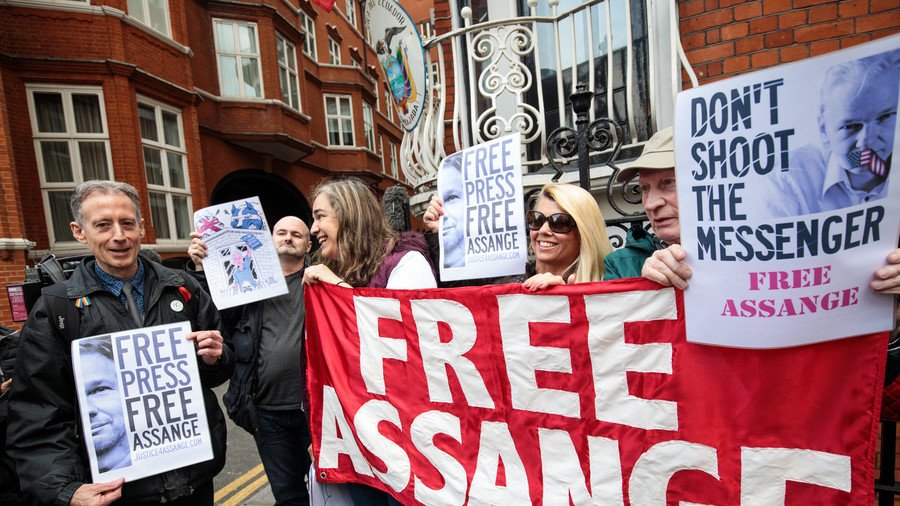 If 'Dirty Dossier' author Christopher Steele deserves protection under the 1st Amendment but WikiLeaks' Julian Assange doesn't, then the concept of a free press is merely a distant memory.
While it is all too easy to become frustrated and annoyed by what passes for news in the legacy media these days, this article in the Daily Mail did arouse my particular ire earlier this week – and in this instance no particular blame attaches to the newspaper, it is simply reporting some unpalatable facts.
The gist of it is that former British MI6 intelligence officer and current mercenary spy-for-hire, Christopher Steele, author of the discredited 'Dirty Dossier' about Donald Trump, has been accorded First Amendment rights in a court case in the USA.
You might wonder why this article caused me so much spluttering annoyance over my breakfast? Steele's treatment is in marked contrast to that accorded to WikiLeaks Publisher and Editor-in-Chief, Julian Assange, and the hypocrisy is breathtaking. Allow me to expound.
Steele is a British intelligence officer of pretty much my vintage. According to what is available publicly, he worked for MI6, the British overseas intelligence gathering agency, for 22 years, serving in Russia in the early '90s and in Paris at the end of that decade – around the time that MI5 whistleblower, David Shayler, was imprisoned in that city pending a failed extradition case to the UK. It is probable that Steele would have been monitoring us then.
After being outed as an MI6 officer in 1999, allegedly by his former colleague Richard Tomlinson (something Tomlinson had threatened to do at the time but has apparently since denied doing), he was pretty much desk-bound in London until he resigned in 2009 to set up, in the way of so many former spooks, a private consultancy that can provide plausibly deniable services to corporations and perhaps their former employers.
Steele established just such a mercenary spy outfit, Orbis Business Intelligence, with another ex-colleague Chris Burrows in 2009. Orbis made its name in exposing corruption at the heart of FIFA in 2015 and was thereafter approached as an out-sourced partner by Fusion GPS – the company initially hired to dig dirt on presidential candidate Trump in 2016 by one of his Republican rivals and which then went on to dig up dirt on behalf of Hillary Clinton's DNC.
The result is what has become known as the 'Dirty Dossier,' a grubby collection of prurient gossip with no real evidence or properly sourced information. As a former MI6 intelligence officer, Steele should be hanging his head in shame at such a shoddy and embarrassingly half-baked report.
On a slightly tangential note, there has been some speculation, suppressed in the UK at least via the D Notice censorship system, that MI6 informant and Russian traitor Sergei Skripal, the victim of the alleged Novichok poisoning in the UK earlier this year, remained in contact with his alleged handler Pablo Miller, who also is reported to work for Orbis Business Intelligence. If this were indeed the case, then it would be a logical assumption that Orbis, via Miller, might well have used Skripal as one of its "reliable sources" for the Dossier.
UK government sent out a media suppression instruction ("DMSA notice" aka "D notice") for Skripal's MI6 handler living nearby according to UK's Channel 4. Skripal's handler was historically reported to be "Pablo Miller"--more recently connected to Orbis and Christopher Steele. https://t.co/70ZPJdZtRP

— WikiLeaks (@wikileaks) April 29, 2018
Despite all this, Steele has won a legal case in the USA, where he had been sued by three Russian oligarchs who claimed that the 'Dirty Dossier' traduced their reputations. And he won on the basis that his report was protected by First Amendment rights under the constitution of the USA, which guarantees US citizens the right to freedom of expression. Despite the fact that Steele is British.
"But Judge Anthony Epstein disagreed, writing in his judgment that "advocacy on issues of public interest has the capacity to inform public debate, and thereby furthers the purposes of the First Amendment, regardless of the citizenship or residency of the speakers."
This is the nub of the issue: Steele, a former official UK intelligence officer and current mercenary spy-for-hire, is granted legal protection by the American courts for digging up and subsequently leaking what appears to be controversial and defamatory information about the current US president as well as various Russians, all paid for by Trump's political opponents. And Steele is given the full protection of the US legal system.
On the other hand, we have an award-winning journalist and publisher, Assange, whose organization WikiLeaks has never been found to report anything factually incorrect in more than 10 years, being told that if he were to be extradited from his current political asylum in the Ecuadorian embassy in London to face the full wrath of a vengeful American establishment, he is not entitled to claim the protection of the First Amendment because he is an Australian citizen, not an American.
It has been an open secret for years that the US government has installed a secret Grand Jury in Virginia (the home of the CIA) to investigate Assange and bring him to "justice" for publishing embarrassing US government documents as well as evidence of war crimes. There have been calls from US politicians for the death sentence, life in prison without parole, and even assassination. The US has been scrabbling around for years to try to find any charge it could potentially throw at him – hell, it will probably make up a new law just for him, so desperate as it is to make an example of him.
However, the fake 'Russiagate' narrative gave the US deep state an additional spur – against all evidence and Assange's own statements – it alleges that Russia hacked the DNC and Podesta emails and Assange was the conduit to make them public. This is seen as a win-win for the US establishment, apparently if erroneously proving that Russia hacked the US presidential election and confirming that Assange runs a "non-state hostile intelligence agency," according to former CIA Director Mike Pompeo.
Except he does not. He is an editor running a high-tech publishing outfit that has caused embarrassment to governments and corporations around the world, not just America. If he can be prosecuted for publishing information very much in the public interest, then all the legacy media feeding off the WikiLeaks hydrant of information are equally vulnerable.
This being the case, surely he, of all people, requires the protection of the First Amendment in the USA. Otherwise the concept that free media can hold power to account is surely dead.
Think your friends would be interested? Share this story!
The statements, views and opinions expressed in this column are solely those of the author and do not necessarily represent those of RT.
You can share this story on social media: