McCarthyism 2.0: Real skill of US 'disinformation experts' is spreading disinformation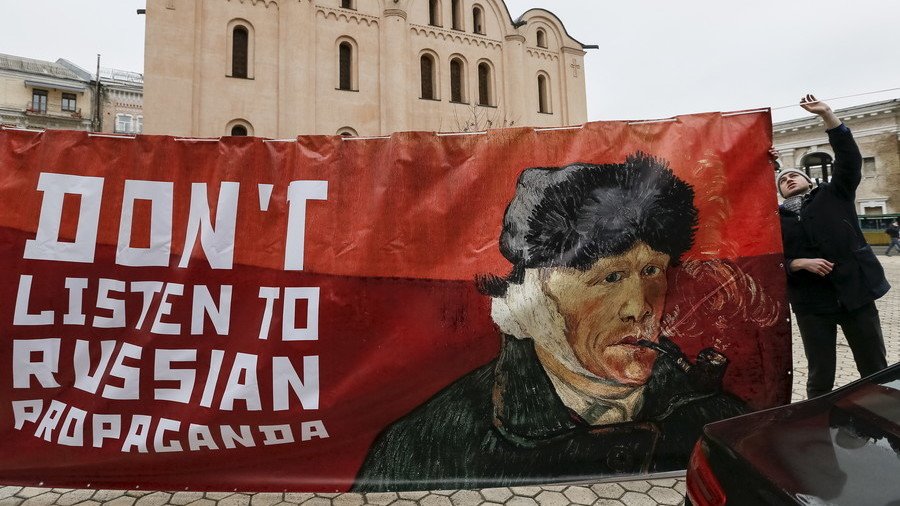 An obscure bloggers hit-job on an American writer and his associates amounts to small beans. In the bigger picture, however, it exposes a cancer spreading through present American discourse on Russia and the wider world.
MOSCOW – Once again it was Molly McKew. "Putin is waging an information assault on Americans – yet many supposedly anti-Putin experts want you to believe there's nothing you can do to stop it," she tweeted. "Why? Stellar wknd (sic) longread by @JamesFourM (Jay McKenzie) on understanding how the Kremlin takes down its critics."
And with that, a group of American thinkers and writers with no obvious sympathies towards Russia, had their reputations attacked.. Some days later, Medium, which hosted the smear, took the piece down – but the damage had been done.
Now, you'd need a heart of stone to take satisfaction from the current Russia hysteria in the United States. Because it's genuinely sad to see the political and media elite of a great country tear themselves apart over poltergeists that most rational people assumed had evaporated decades ago.
What's even more depressing is how the social media age, which promised a new dawn in expression and thought, is increasingly echoing the worst excesses of the 1950s: the period known as "McCarthyism."
Except the new smear artists are arguably even more uncouth and opportunistic than their predecessors from those two-tone times. And they have less justification: Russia is no longer a closed country, hidden behind an "iron curtain." In fact, contemporary Americans, if they so desire, can pick up a visa and bounce around from St. Petersburg to Vladivostok to their heart's content.
Fool's gold
However, the spy hunters and "disinformation warriors" aren't interested in first-hand experience, because their real motivation is to smear and silence the genuinely curious, who have invested the time and effort to acquire expertise. And what's thoroughly depressing is that Molly McKew, John Schindler, Eric Garland, and their fellow travelers boast tremendous influence on Twitter and many also have platforms on mainstream media.
McKew, for instance, is a Politico columnist, who appears on US national television and is frequently cited as an "expert" by the Washington Post. A paper which also publishes Max Boot. Indeed, only last week, he used its pages to ludicrously claim Trump couldn't have won the 2016 US election without Russian assistance. And, no, Boot didn't suggest Moscow had somehow convinced Hillary Clinton not to campaign in Wisconsin. Meanwhile, Schindler is a familiar face to Fox and CNN viewers.
Last weekend presented a vivid example of how these charlatans operate, when they used their Twitter accounts to promote a – subsequently deleted – "Medium" post designed to defame Dustin Giebel, an American writer who focuses on Russia. The diatribe, from one Jay McKenzie, appeared to be alleging that Giebel was some sort of Kremlin agent because he'd regarded the poet Yevgeny Yevtushenko as a mentor at college. Yevtushenko, who died last year, had been a supporter of reformist Soviet and Russian leaders Mikhail Gorbachev and Boris Yeltsin, who late-in-life, divided his time between Russia and the United States.
While the "gotcha" nonsense largely focused on attempting to trip up Giebel over old tweets (obviously uninterested in Edward de Bono's observation: "If you never change your mind, why have one."), it also took aim at buddies, online at least, of the writer. Thus, Nina Jankowicz, a think-tanker at the US government-funded Wilson Center, and Michael Colborne, a Canadian journalist hardly noted for Kremlin sympathies, ended up in the crossfire.
And it all seemed to be inspired by the shocking revelation that Giebel intended to take his wife to Moscow this June, during the World Cup, which was taken as clear evidence of his comprised credentials. Giebel later alleged that the fallout led to a "threat against my two-year-old daughter from one of your loony's (sic) so your cosplay and doxxing was a success. Thank Molly McKew and John for this, the great AMERICAN threat is sleeping with her blankie."
Sad times
He was referring to how McKew and former CIA agent turned TV fixture John Sipher had shared the smear job. And they were joined by Moscow-born neoconservative activist Max Boot.
Sipher tried to backtrack with a bizarre statement: "This seems to be a fight over people's credentials. We need to move past it. Yes, we need the voices of serious academics. We also need journalists, diplomats, practitioners, politicians and interested parties. What Russia and Trump are doing is obvious and damaging." But McKew was unrepentant, even after Jankowicz appealed to her directly.
"Molly, I don't want anyone to say anything bad about you, but I'd also prefer you did the same for me and didn't spread unfounded lies about me and my work," she wrote. "Our disagreements are intellectual, not personal. Do you stand by James' 'research' conclusion that I'm a Kremlin agent?" A few days later, McKew hasn't replied. Even though she's surely aware the article has been shut down.
Speaking of which, McKenzie wasn't deterred after it went dark. "The current Kremlin espionage offensive against the West bears [an] uncanny resemblance to the late 1940s," he told his 28K followers. "They will deny until they can deny no more, right until the unpleasant truth finally comes out. Read @20committee's (Schindler) latest and know our enemy." Meanwhile, an anonymous user claimed the Kremlin itself had the article deleted.
Of course, in normal circumstances, Twitter spats between lobbyists, writers and activists wouldn't merit the op-ed treatment. But these are not regular times.
Viewed from Europe, the United States media, academic and political elites appear to be tearing themselves apart over issues with Russia, which are relatively minor and don't touch a nerve with the general populace. And the standards of journalism right now are so low as to be almost beyond belief.
We have a situation where someone like Boot, alongside promoting fake slanders, is able to appear on CNN and allege Russia has "attacked" America, while the host, Anderson Cooper, doesn't even bother to challenge his views. Not to mention how CNN itself regularly presents analysts who have never even been to Russia as "experts" on the country.
Then there is McKew's presence across mainstream media and the huge Twitter traffic generated by folk like Eric Garland, Schindler and Seth Abramson.
However, while these chancers enjoy the limelight, genuine Russia specialists are ignored unless they are willing to betray reality and enthusiastically join in the madness. The former ambassador Michael McFaul is a case in point.
This is all very sad, worrying, troublesome and dangerous. Legitimate, sincere, inquisitive and equitable voices tossed to the margins, and defamed, while spoofers, quacks, carpetbaggers and blackguards take center stage. One wonders how sober historians will judge this lunacy.
*An earlier version of this article stated that McKenzie has "600-odd" followers. We apologize for the mistake.
Think your friends would be interested? Share this story!
The statements, views and opinions expressed in this column are solely those of the author and do not necessarily represent those of RT.
You can share this story on social media: