Labour's lynch mob leaves ex-London mayor hanging out to dry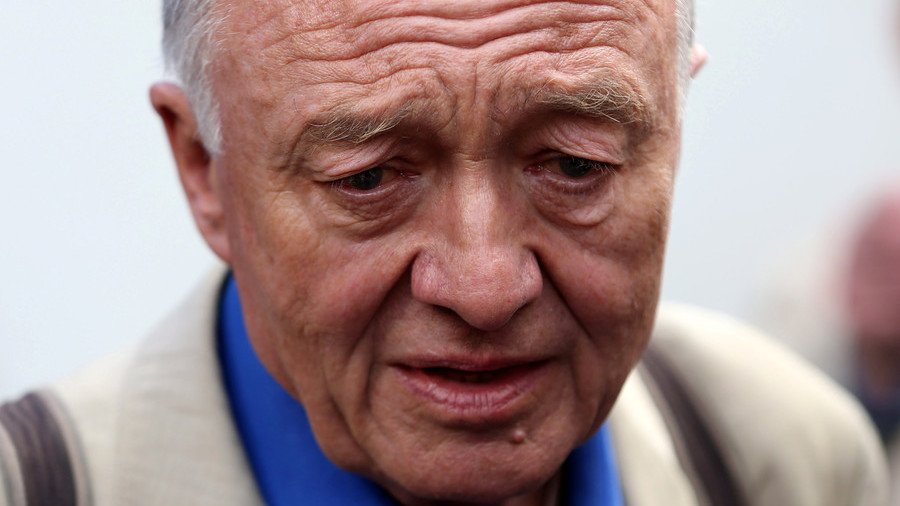 Ken Livingstone, whose political life ended this week, has been a figure of national and international significance for nearly 40 years.
Not bad for a man of no great education whose specialist subject is reptiles. He has tended newts and other cold-blooded creatures as a hobby since he was a teenager fifty years ago.
His resignation from the Labour Party – he jumped before he could be pushed – became inevitable as he continued to draw fire unto himself from friends of Israel everywhere.
Livingstone has forgotten more about politics than the teenage scribblers presently writing his obituary will ever know. But neither Labour nor London will ever forget him.
London Mayor Sadiq Khan will be hoping Ken doesn't have another go for a third term at City Hall. Livingstone knows how to beat Patsies wearing official Labour colours.
Tony Blair's rigging of London's first ever Mayoral election led to Ken running as an independent and thrashing the Blair-Labour Cabinet Minister put up against him. I won't say his name because he is mercifully long-forgotten.
But London had taken Ken Livingstone to its heart long before then.
As leader of the Greater London Council – precursor to the London Mayoralty – in the 1980s, Red Ken as he was known thrilled millions with his dash courage and élan in the teeth of virulent media misrepresentation. He drove Margaret Thatcher so mad she ended up abolishing the whole show as the only way to rid herself of this turbulent priest.
Innovative, endlessly progressive, Ken transformed London politics for black and ethnic minority communities, for the then just emerging gay tribes, for victims of police bigotry and racism, and for the London-Irish part of whose country was literally at war with the British state.
No wonder he walked it all the way in to City Hall. His New Labour opponent hadn't been fit to shine his boots.
Livingstone's victory over his former party, his triumph over the cold-blooded newspaper barons, contained within it, however, the seeds of later mistakes which have now brought him low.
That and faulty political judgments born of a level of self-belief which increasingly induced feelings of invulnerability, invincibility.
His passionate support of the Blair War on Yugoslavia was an early sign of error, now forgotten by most, but not those of us who struggled vainly against the error of his ways.
There was simply no telling Ken when he went off on one.
That those pointing out the real reason for the NATO destruction of Yugoslavia and how it would pave the way for endless further foreign adventures were his friends for decades was of simply no importance to him. Every one of us was out of step except our Ken.
And the same is true of the proximate cause of his downfall announced this week.
That Hitler and the new Nazi power collaborated for a short time with the leaders of the Zionist movement in Germany as a means of facilitating the fascist project of ridding Germany of Jews is not the same thing as "Hitler supported Zionism."
In any case, the shock value of Livingstone's claim was such that it was surely not something to be tossed into the final minute of a splenetic hostile BBC radio interview.
It was bound to be seized on by the vanguard of Corbyn's enemies – the Israel lobby – and so it was. Within minutes of leaving the studio, the claim was being weaponised against the Labour leader using Livingstone as a proxy.
And there it might have lain had Red Ken taken the advice of the same friends who'd told him he was wrong about the Blair bombing of Belgrade. But by then, Livingstone's obduracy had become iron-hard and downright foolish.
He went on endlessly repeating exactly the same formula in every interview. He was endlessly advised that bovine broadcast journalists had no actual interest in the finer points of the Haavara Agreement between the Nazis and the German Zionists; they merely wanted to endlessly hear a key Corbyn ally endlessly say the words Hitler and Zionism in the same sentence!
That he would be ruthlessly misquoted should have been obvious to such a veteran politician. Scorpions sting precisely because they are scorpions.
I personally implored him to stop doing media interviews until his disciplinary case with Labour was concluded. To no avail.
All of that notwithstanding, the leaving of Livingstone is a harbinger of great storms to come.
The taste of Red Ken's blood has created a frenzy in the water. This brings the incipient civil war within Labour between the Blairites (I can think of not a single Blairite who is not a 'Friend of Israel' or vice versa) and Corbyn right into the inner-sanctum. The real target of course being Corbyn himself.
Jeremy Corbyn has turned out to be much more loyal to his enemies than to his friends. Not only was Livingstone facing imminent expulsion (the cause of his preemptive act of Hara-Kiri this week) but last month, one of Corbyn's longest standing allies, the prominent black civil-rights leader Marc Wadsworth, was expelled on the flimsiest of pretexts after a Lynch mob of Blairite MPs literally marched upon the courthouse trying his case, metaphorically brandishing the rope.
Corbyn lifted neither a finger nor raised a whisper in Wadsworth's defence. Instead he bills and coos, sweet talks in the face of the mob.
This week, he elevated the hated former party general-secretary, Iain McNicol, to the House of Lords – a perverse rewarding of one of his own most destructive enemies in the same week he abandoned Livingstone to his fate.
Each act of such cowardly appeasement by the Labour leader has elicited merely further aggression by his enemies. And they are not going to go away now.
Livingstone has now been constricted and the political life crushed out of him by the snakes teeming in the media and political jungle. Still hissing loudly, the snakes slither forward, quickening, towards their ultimate goal.
The statements, views and opinions expressed in this column are solely those of the author and do not necessarily represent those of RT.
You can share this story on social media: