Libya: The true face of 'humanitarian intervention'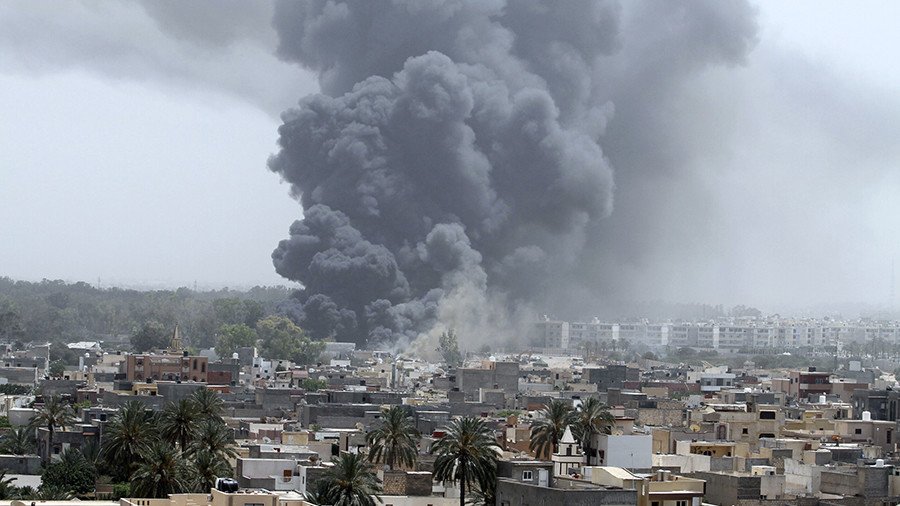 Seven years ago today, NATO began its "humanitarian bombing" of Libya. While "humanitarian bombing" is an oxymoron, many believe that a country is not truly advancing human rights if it's not bombing another back to the Stone Age.
As an initial matter, it must be said that while the UN had authorized a NATO fly-zone over Libya to protect civilians – all civilians, by the way – there was never authorization for the full-scale invasion which was carried out and which quickly became aimed at regime change. Therefore, the NATO operation which actually took place was illegal.
What's more, the Libyan invasion did more to undermine human rights than it did to protect them. According to Amnesty International's most recent report on Libya, there are now three rival governments vying for power in the country along with various militias, smugglers and other sundry armed groups. As Amnesty International explains, all participants in the armed conflict in Libya "carried out indiscriminate attacks in heavily populated areas leading to deaths of civilians and unlawful killings. Armed groups arrested and indefinitely detained thousands of people. Torture and other ill-treatment was widespread in prisons under the control of armed groups, militias and state officials." And, to top it all off, slaves are being sold in public markets in Libya – something not seen in the world for over a century.
And this is the aftermath of an intervention which, we were told, was supposed to improve human rights in Libya. Indeed, the intervention was spearheaded by Hillary Clinton, Samantha Power and Susan Rice – three self-described warriors for human and women's rights. Instead, they became three ushers of the Apocalypse. In addition, Italy and France, which also helped lead the charge for invasion, had their own reasons for intervening in Libya. For his part, French President Nicolas Sarkozy appeared to be singularly focused on killing Libyan leader Muammar Gaddafi, who allegedly gave him €50 million for his presidential campaign – a claim which was just coming to light and to which Gaddafi was the chief witness.
While Gaddafi certainly was no saint, he was a much better leader for his country than many of those the West supports, such as the monarchy of Saudi Arabia, the death squad state of Colombia or the coup government in Honduras. Indeed, Muammar Gaddafi, at the urging of his son, Saif, was attempting to democratize Libya at the time of the invasion, and the pair were willingly accepting the help of the US's National Democratic Institute to do so!
In addition, Gaddafi had taken Libya from being the least prosperous country in Africa to the being the most prosperous by the time of the NATO operation. Thus, as one commentator explains, before the intervention, "Libya had the highest GDP per capita and life expectancy on the continent. Less people lived below the poverty line than in the Netherlands."
Moreover, one of the main reasons, we were told, that NATO needed to intervene in 2011 was to save Benghazi from imminent harm from the government forces of Gaddafi. However, Hillary Clinton's own internal emails show that her team recognized that any humanitarian problems confronting Benghazi had passed by the time of the NATO bombing. For example, Clinton's assistant, Huma Abedin, in an email dated February 21, 2011 – that is, just a mere four days after the initial anti-government protests broke out in Libya – explains that the Gaddafi forces no longer controlled Benghazi and that the mood in the city was indeed "celebratory" by that time. Then, on March 2, just over two weeks before the bombing began, Harriet Spanos of USAID sent an email describing "[s]ecurity reports" which "confirm that Benghazi has been calm over the past couple of days."
Indeed, as explained to me by Khaled Kaim, Gaddafi's last foreign minister, who I recently met in Venezuela, he personally urged US representatives at the UN Security Council to hold off the planned bombing raid for one hour so that UN observers on the ground could confirm his claim that Benghazi was not under threat. Of course, his pleas were ignored. Kaim's warnings that the impending invasion of Libya would only unleash more chaos and terror on the world were also disregarded.
Meanwhile, Benghazi is now the site of a grave humanitarian crisis and a hotbed for terrorists post-intervention. Again, Amnesty International writes that "[a] number of mass graves were uncovered in Benghazi between February and October [2017]. On at least four occasions, groups of bodies were found in different parts of the city with their hands bound behind their backs, and in some cases blindfolded with signs of torture and execution-style killing."
In addition, during the early part of 2017, one armed faction laid siege to an apartment complex in the Ganfouda area of Benghazi, "cutting off all supplies to the area, including food and water, and had trapped civilians and wounded fighters [of another faction] without access to medical care and other basic services." And, when the same faction broke the siege by launching an armed assault on this area, it engaged in "indiscriminate" killings, with fighters from the faction posing for photos with the dead bodies.
And yet, where are the self-proclaimed defenders of human rights for Libya and Benghazi now? Where are their cries for humanitarian intervention? Of course, all of those responsible for this absolute disaster have moved on and remain silent about the tragedy they have wrought in that country.
Of course, the intervention in Libya was not truly about human rights, just as other similar Western interventions in countries like Iraq, Afghanistan and Syria have not been about either human rights or even fighting terror. And indeed, these interventions have only undermined human rights and further spread terror. In the case of Libya, the predictable havoc unleashed there has spread to neighboring states such as Niger, Tunisia, Mali, Chad and Cameroon. In addition, the refugee crisis created by the chaos unleashed by the NATO intervention in Libya is undermining the stability of all of Europe.
One can only conclude from this that the West, and especially the United States, is hell-bent on spreading instability throughout the world, despite its pretending to accomplish the very opposite. Indeed, the US continues to bomb Libya periodically in an effort to at least contain the very forces of chaos it helped unleash there.
In chaos, Western countries and their transnational corporations see opportunity for more domination and more profits. As with Little Finger in Game of Thrones, they see chaos not as a pit, but as a ladder. In the case of countries like Libya, the West goes in and bombs it to oblivion and then brings in companies which charge that country to rebuild it. And the West is not shy about this grisly strategy for money-making.
Indeed, as the New York Times explained in an article just after the NATO operation ended with the brutal killing of Gaddafi – an article accompanied by a photo of an oil terminal in Misurata, Libya, on fire and with black smoke billowing out – "Western security, construction and infrastructure companies that see profit-making opportunities receding in Iraq and Afghanistan have turned their sights on Libya… Entrepreneurs are abuzz about the business potential of a country with huge needs and the oil to pay for them, plus the competitive advantage of Libyan gratitude toward the United States and its NATO partners.
"A week before Colonel Qaddafi's death on Oct. 20, a delegation from 80 French companies arrived in Tripoli to meet officials of the Transitional National Council, the interim government. Last week, the new British defense minister, Philip Hammond, urged British companies to "pack their suitcases" and head to Tripoli."
But what is good for such corporations is not good for the rest of us. Simply put, the world cannot afford another war which wreaks havoc on entire regions of the globe, ushering in massive human misery and environmental destruction in its wake. As King Pyrrhus might have said, another "victory" like the one in Libya may be the undoing of us.
Daniel Kovalik for RT
Daniel Kovalik teaches International Human Rights at the University of Pittsburgh School of Law.
The statements, views and opinions expressed in this column are solely those of the author and do not necessarily represent those of RT.
You can share this story on social media: