If Navalny were able to enter Russia's election, it'd be better for everyone, except him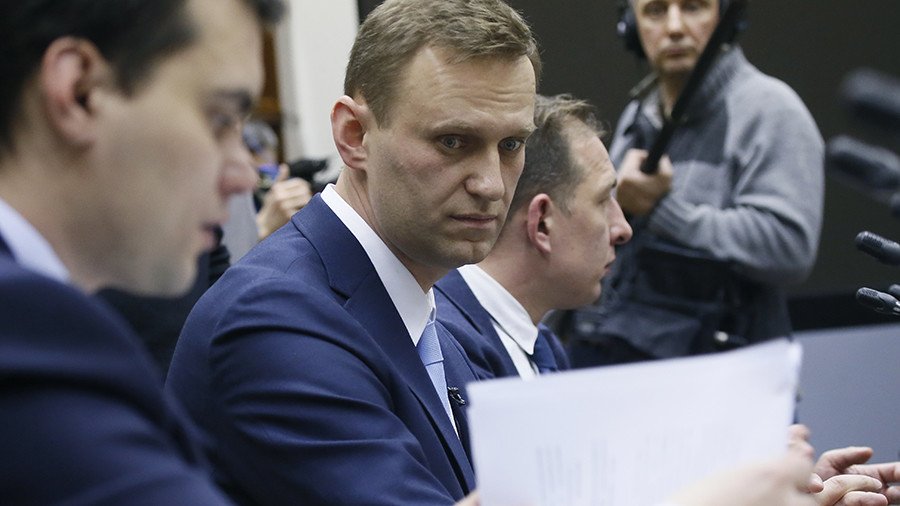 Alexey Navalny isn't the "leader of the Russian opposition" as many Western media outlets insist. Instead, he's the current figurehead of the protest movement, who in many respects is benefiting from his ongoing legal problems.
First off, let's be clear about something. If you consider Alexey Navalny to be the leader of the Russian opposition, then you have to believe Libertarian Gary Johnson is his equivalent in the United States. Because they are both the most popular figures in non-systemic movements with minor support in their countries. They equally have limited access to their respective mainstream domestic press, but boast fanatical followers who offer committed online support.
For instance, Johnson won 3.2 percent in the 2016 American Presidential Election and Navalny has consistently received a rating of around two percent in independent Russian opinion polls. Indeed, only this month, he tied with the Foreign Ministry's press secretary, Maria Zakharova, in a survey of the popularity of public figures. Which gives you an idea of how marginal he is in Russia.
Now, some will argue this point is redundant because America is a more competitive democracy than Russia, but scratch beneath the surface and you will find fewer differences between the two main US parties than the six outfits that currently sit in Russia's Duma (lower house of the parliament). And, when it comes to foreign policy, both the Duma and Congress have little difficulty finding unity these days.
Nevertheless, I believe the Russian authorities would be better off killing the nationalist with kindness and bending over backward to facilitate his participation in politics because his legal difficulties are giving him a legitimacy he wouldn't have otherwise. They are also fueling a Western narrative which seeks to discredit Vladimir Putin's genuine popularity in Russia.
Struck off
On Monday, the Russian Central Elections Commission ruled Navalny could not stand in the 2018 Presidential contest because of his criminal record. He's currently serving a five-year suspended sentence handed down in 2013 for a fraud scheme involving state timber company Kirovles, and he's also on probation for his role in a $500,000 embezzlement scheme around the French-based cosmetics company Yves Rocher. Navalny says both charges were politically motivated.
Whether they are or not, the continuing circus around Navalny is distracting from the real issues in Russia. For instance, just this weekend, the country's second most popular party, the Communists (KPRF), selected Pavel Grudinin as their candidate for 2018. Yet, Western media has barely reported on this because Navalny's fringe movement is more useful for their agenda of Russia-bashing.
But Grudinin is a really interesting challenger, with an astounding business track record. He runs the "Lenin Farm," outside Moscow, which provides its workers with free housing, healthcare, and attractive family benefits and also actively invests in local infrastructure. He wants Russia to withdraw from the World Trade Organization (WTO) and move to a sort of self-sufficient market socialism. This stands in marked contrast to the uber-capitalist system created by Boris Yeltsin (with American support) and largely continued by Vladimir Putin, even if the latter has rebuilt the social state to some extent.
Furthermore, Grudinin has a chance to revitalize the Communists after his predecessor Gennady Zyuganov allowed it to slide into a sort of puppet party. Make no mistake, the KPRF is potentially a very powerful grouping with huge appeal, which stands in contrast to Navalny's street movement, which even the Guardian concedes is largely supported by teenagers so young they mostly can't legally vote yet.
Poor policy
Thus, genuine politics is being overshadowed by the Navalny nonsense. Because the latter has no real political base, hardly helped by his past openly racist stances (which he has significantly toned down, but refused to apologize for in an interview last Spring) and a platform which seems to oppose everything Russians actually like. For example, the vast majority of Russians believe Crimea is Russian. Period. His suggestion to privatize/liquidate public companies reminds Russians of the wild '90s. Moreover, his proposal to cut military numbers runs contrary to how Russians see strength in a large standing army. That said, many Russians do respect Navalny for his anti-corruption investigations.
I want to make it clear that Russian law should be respected and I am not saying that it should be ignored "in order to placate someone's feelings or give the elections an apparent 'democratic' Western standard" as one Twitter user, reasonably, put it. Instead, I am merely suggesting that a Navalny retrial that would allow him to run in 2018, would benefit everybody, except him. Of course, I can't advocate for a parallel legal system being put in place for Navalny, but I think it's bad for the Kremlin that he's not on the list.
If Navalny's name ultimately fails to make the final ballot, he will become a spoiler for the next six years, and represent an excuse for foreign criticism of the Russian electoral system. Which, like it or not, at a time where sanctions are being used as a weapon, gives external actors an excuse to punish Russia. We already have the dubious "Magnitsky list," so is it really worth risking a "Navalny list" making things even worse?
However, the Western media also needs to look at itself here: Navalny's "campaign" is ultimately a sideshow within a sideshow. And his movement has even failed to unite the small liberal Moscow clique which appeals to the West but has little in common with Russian voters. Largely due to two factors: his nationalist leanings distress them, and the movement has too many chiefs and too few Indians. Because everyone wants to be the leader and nobody wants to play second fiddle to a "rival."
In reality, this is all great news for Navalny himself. Instead of actually being forced to fight a real election campaign, where he would be crushed by Putin, Grudinin, and even the veteran Vladimir Zhirinovsky, he gets to remain on the fringes. So watch him now organize more-and-more street protests and cause maximum disruption. Of course, if he really cared about changing the Russian government, he could throw down the gauntlet by backing a candidate who doesn't have a criminal record and is free to run. That could be Boris Titov or Ksenia Sobchak or another figure of his choice. But that would mean it would no longer be all about Alexey Navalny.
The fact is Russians overwhelmingly support Putin, and he will win the election easily. But I would, personally, rather see Navalny's name on the ballot, to finish him off politically, rather than endure another six years of him being falsely presented as "Russia's opposition leader" and endless coverage of his movements. But, then again, I am not Russian, and I can't even vote.
The statements, views and opinions expressed in this column are solely those of the author and do not necessarily represent those of RT.
You can share this story on social media: