'Huge pacifist sentiment in Germany supports removal of US nuclear weapons'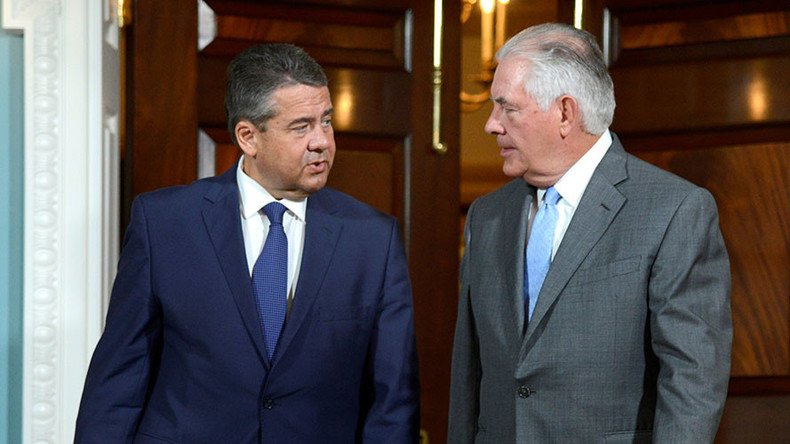 During elections, politicians talk peace, but later they don't follow that: this is election time maneuvering, and could be a part of a long SPD tradition of sometimes going against US wishes, says Elsa Rassbach from the German branch of War Resisters International.
Germany's Foreign Minister Sigmar Gabriel said he would like to see American nuclear weapons removed from his country during a visit to Washington.
The German minister has backed a suggestion from the Social Democrat (SPD) leader Martin Schulz, who has pledged to rid the country of US nuclear weapons.
"Certainly, I am convinced that it is important to finally talk again about the arms control and disarmament," Gabriel told the DPA news agency, as quoted by the Frankfurter Allgemeine Zeitung newspaper.
RT spoke to Elsa Rassbach, from the German branch of War Resisters International, to discuss the topic.
RT: What do you think the SPD's leaders are trying to achieve with this kind of talk?
Elsa Rassbach: Actually, I see some of what they are doing is genuine. There is a long tradition in the SPD of sometimes going against what the US wants. That was true in part with the Iraq war. That was true before with Willy Brandt in his détente attempts with Russia. They are playing to the huge pacifist sentiment in Germany that is against war, against atomic weapons. The SPD at the end of June did the same with weaponized drones. They decided to vote not to approve weaponized drones from Israel on the grounds that they had weapons on them, that they were going to purchase for the military. We don't know, of course, if this is election time maneuvering, but there could be more to it.
RT: Will the current chancellor ever change her approach toward military cooperation with the US?
ER: Chancellor Merkel has also on a few occasions said no to the US. For example, when former President Obama was talking about bringing weapons to the Ukraine situation, she said no. They didn't go along with strikes on Libya, for example. But I think she is less likely to do so than the Social Democratic Party (SPD) and then you have the two opposition parties, the smaller opposition parties: the Green Party and the Left Party. The Left Party is very firm in its position against war.
RT: Donald Trump has demanded that two percent of GDP should go to military spending angering many in Germany citizens. Could the issue impact the upcoming German elections?
ER: I think it will also be an issue. We never know whether peace issues are enough actually to change the vote significantly. We do know that during elections politicians all over the world and certainly in the US talk peace and later they don't follow that once they are elected. I think this is an issue most Germans do not want to spend that much on military.
RT: How difficult might the process of removing US nuclear weapons from Germany prove? American has maintained a high military presence in the country for decades.
ER: I would have to be a fortune teller to know that exactly. We don't know what kind of pressures the US would bring to bear. But the first step would be by the German government, of course, to say clearly "We want you to remove these weapons." We don't know what kind of things might go on, what kinds of threats even to German companies on Wall Street, some people would be worried here. I think it has to be tried. I think it is time to end the nuclear weapons development and to end the threat of nuclear war. And above all, also I hope the SPD will also join in the call to sign on to the nuclear agreement that has been negotiated in the UN. So far, Germany has not signed on to even enter those negotiations. It would also be a good signal if they did that.
The statements, views and opinions expressed in this column are solely those of the author and do not necessarily represent those of RT.
You can share this story on social media: