Charlottesville response: 'Trump's opponents would like this to be his end'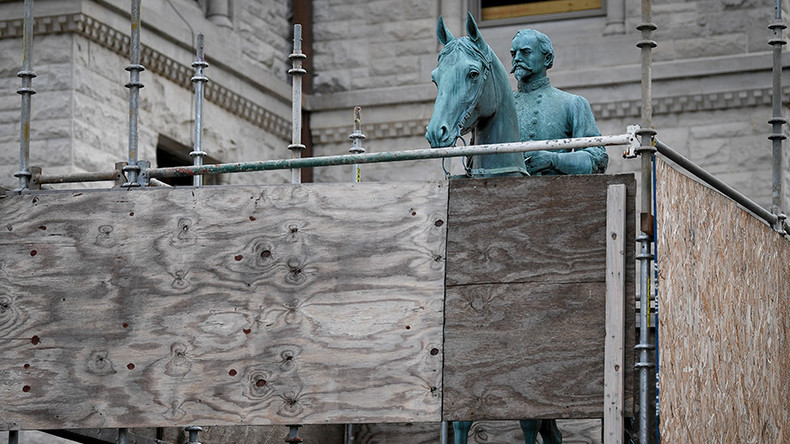 President Donald Trump said he has no regrets for his comments about the events in Charlottesville. Has he defined his presidency to the point of no return? Is it important to remove Confederate monuments and why?
US President Donald Trump said he was against the removal of Confederate monuments in the country.
In his tweets on Thursday, he wrote that "you can't change history, but you can learn from it."
Some cities across the US decided to remove Confederate statues following the violent conflict in Charlottesville, Virginia, between white supremacists and Antifa counter-protesters.
Meanwhile, support for Trump among the business community and moderates is disintegrating in the face of his widely criticized reaction to the tragedy.
Mitch Ceasar, former Florida Democratic State Party Chair, and Amy Tarkanian, former Nevada GOP Chair joined RT America's Ed Schultz for a debate on the continued viability of Trump's presidency.
Amy says she doesn't believe Trump has defined his presidency.
"Not only did the president make a very strong, bold, and very honest statement multiple times, he also had the vice president's backing. He had the RNC also come out and say multiple times what the president has said was honest; it was truthful. I don't think that this has defined his presidency. I think that what the left-wing media would like to do, and the elite leftists, and even some of the elite establishment of the Republican party, who want to see him fail – they would like to meet this, the definition for his presidency," she says.
Mitch Ceasar said it's "very important" Confederate statues are removed.
"In fact in this country, in this county, Broward County, in South Florida, there is an issue coming up in the next two weeks – not to remove statues, but to remove the names of streets in the city of Hollywood, Florida that are named after Confederate folks. Specifically, there is a street named after the head of the Ku Klux Klan in Florida. The city commission has already indicated a willingness to do it. There will be a final hearing on that in a few weeks, actually which I will be at," he added.
In his opinion, this is a part of a "growing trend."
"Look the alt-right, the neo-Nazis, and all the other groups, who said they are going to be in Boston, and doing other tours around the country – this is a very serious issue in our history. And I think Florida like anything else is always part of the national conversation," she said.
The statements, views and opinions expressed in this column are solely those of the author and do not necessarily represent those of RT.