'US & allies use sanctions to downgrade Iran's power in region'
The US keeps imposing sanctions on Iran because its allies, such as Saudi Arabia and Israel, want to put pressure on Tehran to prevent it from expanding its power in the region, says Kaveh Afrasiabi, a former adviser to Iran's nuclear negotiation team.
The US envoy to the United Nations, Nikki Haley, said the US is not beyond abandoning the Iran nuclear deal.
Tehran "cannot be allowed to use the nuclear deal to hold the world hostage," she said in a statement on Tuesday, adding that new US sanctions were not related to the Iran nuclear deal.
Read more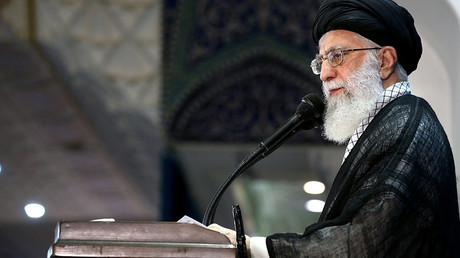 Iran's President Hassan Rouhani's has said that if the US imposes more sanctions on Teheran, "Iran would certainly return in a short time – not a week or a month but within hours – to conditions more advanced than before the start of negotiations."
Meanwhile, the UN insists the international community must do everything in its power to ensure the agreement holds.
According to Kaveh Afrasiabi, it wouldn't be wise for Washington to give up the nuclear deal at this point.
"It is in US's interest to make sure Iran does not retract itself to industrial scale nuclear activities, which was a major concern for the US and other Western nations," he said.
"Iran, as you know, is able to produce 20 percent enriched uranium, and has the capability to do even more than that. So it is up to Washington basically to avoid such unnecessary escalations," he told RT.
There are several reasons to explain why Washington keeps introducing new sanctions against Iran, despite acknowledging Tehran's compliance with the nuclear deal, says Afrasiabi. One of them is that US allies in the region, particularly Israel and Saudi Arabia, "want to pressure Iran and to prevent it from setting its power in the region," he explained.
READ MORE: 'Iran cannot hold world hostage, nuclear deal not too big to fail' – US envoy to UN
In other words, Afrasiabi says, the sanctions have become a kind of "channel" used to downgrade Tehran's power in the region and to escalate pressure on Tehran over activities that "the US deems destabilizing in countries such as Afghanistan, and Yemen." At the same time, these are exactly the areas where the US and Iran could have worked together "to resolve the regional crises."
"It depends basically on from which point of view you're looking at the situation," he added.
The statements, views and opinions expressed in this column are solely those of the author and do not necessarily represent those of RT.