Western media coverage of Russia gives journalism a bad name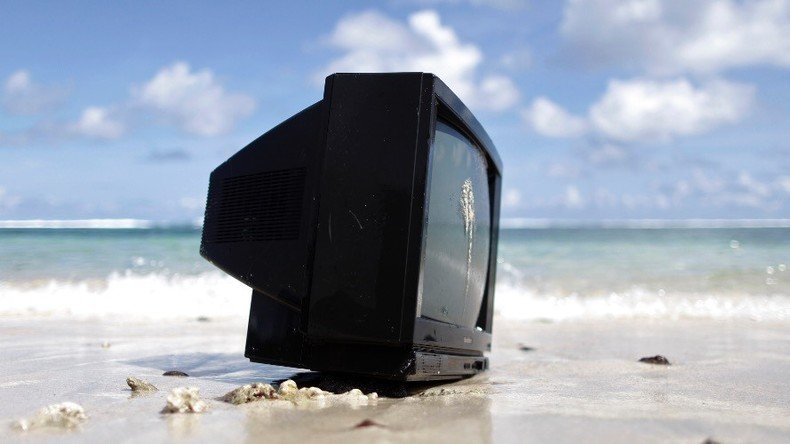 Sometimes, you have to wonder how some people become journalists. Because the quality of western reportage on Russia is frequently so poor you'd almost suspect the hacks concerned collected tokens off cereal boxes to win their positions.
You probably know the old truism about buses: you wait ages for one and then two, or more, come along at once. Well, if only it worked like that when it comes to mistakes and stereotyping on the Russia media beat. A world where you are rarely kept waiting long for the next example of sloppy reportage or unfounded hysteria.
This week is a case in point. We had Time Magazine with a, widely shared, anti-Putin article based on an entirely inaccurate pretext and the Wall Street Journal accusing Russian media of doing exactly what their US peers do. But somehow, of course, it's wrong when Russians do it but fine and dandy if Americans are involved.
Time's bizarre diatribe claimed: "Vladimir Putin Doesn't Understand the Limits of Donald Trump's Power." Written by one Simon Shuster, it's central hypotheses was that the Russian president believed Trump would be able to circumvent the US Congress in some way to deliver detente with Moscow.
This was based on his [Putin's] "confusion over the limits on executive authority" and hinged on an anecdote found in George W Bush's memoir. The author also drew on his experience as a reporter in Moscow, saying he felt "the Kremlin still holds out hope for Trump getting a grip on the American system and steering it toward an alliance with Moscow."
Now, I've been writing for years about how western correspondents in this city, not to mention assorted "Kremlinologists" farther afield, consistently make one crucial mistake: They project their own prejudices onto Russian politicians and officials, rather than listening to what they actually say. And it's easy to find interviews and statements from Putin, in particular, because most of his utterances are catalogued on his own personal website.
Words matter
Such as just over two months ago, when Putin told French newspaper Le Figaro about his feelings on the limits of US Presidential power. "I have already spoken to three US presidents. They come and go, but politics stay the same at all times. Do you know why? Because of the powerful bureaucracy," he said.
"When a person is elected, they may have some ideas. Then people with briefcases arrive, well dressed, wearing dark suits, just like mine, except for the red tie, since they wear black or dark blue ones. These people start explaining how things are done. And instantly, everything changes. This is what happens with every administration."

Now, this sound like the words of a man acutely aware of the limits of Trump's power, rendering Time's supposition completely redundant. And Shuster, or his editors, could have spared readers the nonsense just by simply keeping abreast of Putin's interviews and statements.
The Wall Street Journal had a different bugbear. Their Moscow correspondents dispatching a neurotic warning about how Russian media is portraying Washington as "mired in chaos." Which must surely have stunned all the folk who believed Trump's administration was smoothly running the show.
Like readers of The New York Times, who were told on July 30, in a front page story no less, how "Republicans worry that the White House disarray is undermining Trump," or those who prefer the Washington Post which, three days earlier, warned"incredibly the White House is spiralling further into chaos."
Broadcast media like CNN and NBC have been beating the same drum.
CNN's Andrew Hammond believes the "chaos in DC will cause concern in Eastern Europe" while NBC recently led with "Trump tries to stem chaos with a new chief of staff."
Not to mention how the holy mess in the White House has become such a trope for the American entertainment industry, that it's been a feature subject for practically all the late-night comedians on US TV.
Mutual feelings
Thus, it's fair to say we have a widespread consensus, across the mainstream, on how Trump's government is "mired in chaos." Which makes the Journal's attack on Russian outlets seem ridiculous. Unless, of course, they are really that short of copy to fill their pages these days.
The article castigated Maria Zakharova, spokesperson for the Russian foreign ministry, for writing "the current president does not have the support of not only the Democrats but also the Republicans. He's not part of the system." Which hardly seems like a big reveal. And the reporters also chide Margarita Simonyan, editor-in-chief of RT, for celebrating Trump's win over Hillary Clinton with a tweet.
Their beef is how "during last year's presidential campaign, Democratic candidate Clinton was portrayed in Russian media as an anti-Russian hawk." But, as anyone with half an interest in US politics could tell you, Clinton is an anti-Russia hawk. One who has compared Putin to Adolf Hitler.
So, the Russian press was merely reporting facts. And it's hard to see what is wrong with Simonyan, a Russian citizen, being relieved at the defeat of a candidate who was proposing policies which might have led to war between Moscow and Washington.
Here, for instance, is US state-broadcaster RFE/RL's take in October last year: "U.S. Republican presidential candidate Donald Trump and a top US intelligence official agreed on the potential for conflict with Russia if the United States adopts Democratic presidential candidate Hillary Clinton's plan on Syria," the portal noted.
"Trump charged that it would lead to open warfare – World War III – while National Intelligence Director James Clapper said Russia might shoot down a US aircraft if the United States attempts to enforce a no-fly zone as Clinton has proposed in parts of Syria."
Later in the piece, the Journal wheeled out Valery Solovei, a regular 'rent-a-quote' pundit for lazy western hacks in Moscow, to back up their contention. "For now, they can only use Washington for propaganda purposes, to show everyone how awful it is," he said. Because "Russia's depiction of the political infighting in Washington gives Mr Putin an opening to show he is firmly in charge."
These comments are as wacky as they are myopic. And betray the monomania befitting a lot of the one-track minds purporting to be "Kremlinologists." For the simple reason that every major news media outlet in the world right now is covering the turmoil in Washington, from Albania to Zimbabwe and Yonkers to Yakutsk. And to suggest there is something sinister about Russians reporting the pandemonium is absurd.
But these two examples are symptomatic of a wider malaise on this beat. Because, for some reason, Moscow seems to attract the kind of western journalists best described as a bunch of jabbering quacks, shameless half-wits and runtish, dogmatic, repugnant, choleric charlatans, who wouldn't be trusted to brew the coffee back home. And for those of us who've bothered to learn the craft before coming here, it's so far beyond depressing, it's thoroughly disheartening.
The statements, views and opinions expressed in this column are solely those of the author and do not necessarily represent those of RT.
You can share this story on social media: