'Absurd:' Kremlin slams reports on Putin's 'secret' meeting with Trump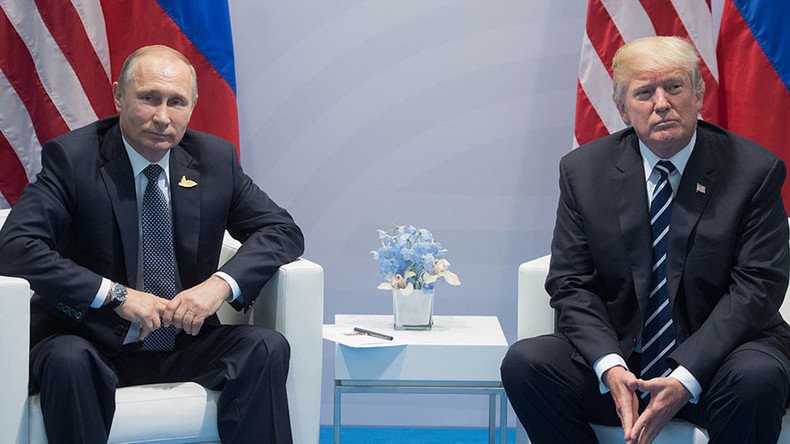 The Kremlin says media reports stating that US President Donald Trump held a second "secret" meeting with his Russian counterpart Vladimir Putin during G20 summit displays a "lack of understanding" and has prompted "astonishment" in Moscow.
"The use of such notion as "undisclosed" or "secret" meeting causes absolute astonishment and lack of understanding," Kremlin spokesman Dmitry Peskov told Russian state TV, Channel One.
Peskov said there was only one meeting between the two leaders on the sidelines of the summit and it was officially announced; and that Putin and Trump "repeatedly exchanged their opinions during the [summit]."
Putin's 's spokesman also said "there were no undisclosed or secret meeting," adding, that these claims are "absurd." Peskov told Channel One that the existence of such reports in the MSM demonstrates the "unhealthy attitude" of the US establishment towards Russia.
"Presenting something like this as a meeting that could be kept secret from anybody is a manifestation of… schizophrenia," he said.
His words were partly echoed by the Russian Deputy Foreign Minister Sergey Ryabkov, who said any meeting between any US and Russian official is immediately presented in the US media as something "criminal."
"It appears that the very fact of a contact [of any US official] with the Russian officials turns into a sort of a criminal [act]," Ryabkov told Channel One's Sixty Minutes program.
"Every leader has the right to communicate with whoever he or she wants in a way he or she see fit." Ryabkov added that "there are dozens of various contacts [between the world leaders] that are not being recorded."
He also assumed that the whole story about the alleged 'secret' meeting is nothing but an attempt to tarnish the reputation of the US president.
"Those, who raise an issue in such a way, are working on undermining the authority of President Trump and creating additional difficulties for him," Ryabkov said.
Earlier Wednesday, Trump also lashed out at what he called "sick" media reports about his alleged "secret" meeting with Putin at a state dinner during the G20 summit in Germany.
"The Fake News is becoming more and more dishonest! Even a dinner arranged for top 20 leaders in Germany is made to look sinister!" he said in one of his Tweets.
The first report about the alleged 'secret meeting' was apparently provided by Ian Bremmer, president of the Eurasia Group, a global political consultancy. In a newsletter to group clients, Bremmer reportedly said the meeting began "halfway" into the dinner and lasted "roughly an hour," according to the Washington Post.
Speaking to other outlets later on, he said there was no one else within earshot at the time, meaning that the conversation must have been private. Bremmer's reports made headlines both in the US and beyond as mainstream media speculated on the content of the 'private' Trump-Putin dinner chat.
You can share this story on social media: