'US and N. Korea should move from reaction to relationship'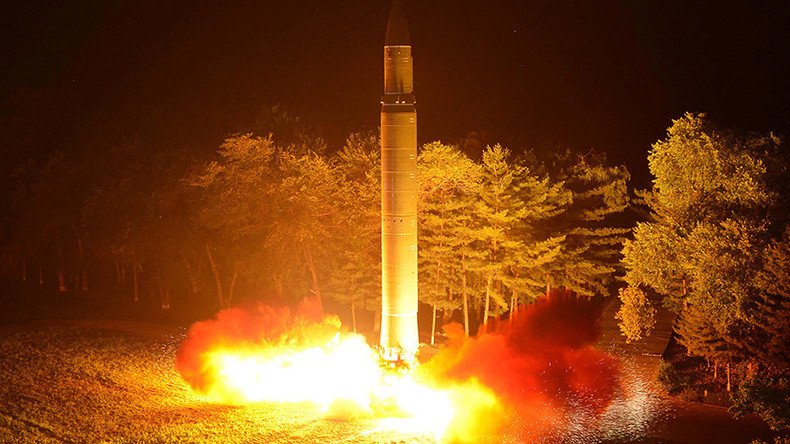 Caught in a circle of militarism, we have not tried anything new that would show there is creativity and engagement between the US and North Korea, author and human rights attorney Eric Sirotkin says.
North Korea conducted another missile test on Friday. However, the assessments being made about the missile have contradicted each other so far, with the Pentagon and South Korean military claiming it to be an intercontinental ballistic missile (ICBM) while the Russian Defense Ministry said that it was an intermediate-range ballistic missile (IRBM).
Military officials from the US claimed the weapon traveled for about 1,000km (621 miles) before splashing down into the Sea of Japan. The South Korean military said it reached an altitude of about 3,700km (2,300 miles).
Pyongyang claimed to have tested its first intercontinental ballistic missile earlier this month. This latest weapons test is the 14th Pyongyang has carried out this year, in violation of a UN ban.
The United States recently approved additional sanctions against North Korea in a bill that also targeted Iran and Russia.
RT: Despite attempts by the US and the UN to put pressure on North Korea, it conducted yet another missile test. What can be done to curb Pyongyang's weapons program?
Eric Sirotkin: This is something that seems perplexing to the administration or sometimes to people around the world, but really, we have not tried anything new yet. We have been caught in this entire circle of militarism, of one threat versus another and bolstering up. What I have tried to lay out for the last few years, and it has been pushed in my recent book 'Witness: A Lawyer's Journey from Litigation to Liberation,' is a 12-step model for peace. And the idea is that the parties need to get creative; they need to move from reaction to relationship. They need to listen deeply to themselves; they need to change their language, set up conversion strategies for the DMZ [Demilitarized Zone]. But in addition to that, we're at a unique time right now because what we need to do is listen to the will of the Korean people as led by South Korean President Moon, who is speaking out about engagement and relationship. What the US does not seem to get on an ongoing basis is the failure to engage, talk. It took hundreds of meetings to end the Vietnam War. It takes sitting and talking and a lot of effort to build relationships and rebuild this tattered trust.
RT: Will we now see a stronger reaction from the international community?
ES: I think the kind of international reaction needed is to enforce other UN regulations, which is the 1984 people's right to peace passed by every nation, that countries have to eliminate the threats to peace but they have to sit down and negotiate as well. They need to put pressure on supporting the Sunshine Policies of the South Korean government, they need to step forward and tell the US that there is no military solution. We know that nearly a million people are estimated to die in the breakout of a war in Seoul. This is nothing new. We are arguing about the size of the missile and will it go this far or this far. When in reality, we've really missed out the opportunity to engage and have some dialogue with some creativity.
RT: So far, the assessments about the missile differ. But does it really matter what range it is? It still poses a threat...
ES: It could pose a threat to the more than almost 30,000 US troops in South Korea right now, small, medium, or large. It could pose a threat to Japan and other places that are in the vicinity. This idea of militarism and this sort of bolstering… these types of situations have not led to anything more creative other than the rhetoric on both sides. I am a big supporter of non-proliferation of nuclear weapons, of peace, and otherwise we've just set up lawyers for disarmament and peace… We talk about disarmament on all sides to calm the waters. But what has to happen here is the will to engage, to do what one of the steps that I am advocating is, in a tug of war, the courage to let go of the rope. Because then, from that point in time there is not that battle, you can apply your creativity differently. Martin Luther King said "returning hate for hate only multiplies hate." And in reality, the same applies to militarism…


The statements, views and opinions expressed in this column are solely those of the author and do not necessarily represent those of RT.
You can share this story on social media: