What would be the impact of ISIS leader's death?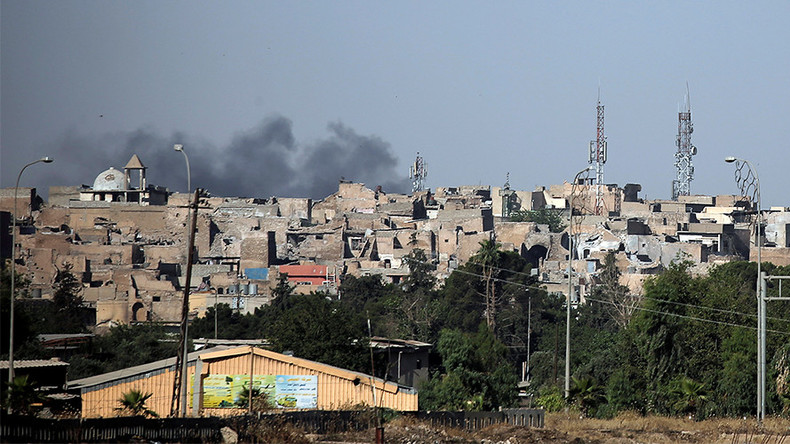 There shouldn't be euphoria if the leader of Islamic State was killed, as the terrorist group has changed dramatically over the past two years, says journalist Martin Jay. It's unlikely the group would be seriously affected by its leader's death, adds political commentator Marwa Osman.
Russia's Defense Ministry has released images showing the aftermath of airstrikes believed to have killed the leader of Islamic State (IS, formerly ISIS/ISIL), Abu Bakr al-Baghdadi, at the end of May in Syria.
The assault is believed to have killed up to 30 IS commanders, as well as hundreds of fighters, at the terrorist group's so-called 'Military Council'.
Martin Jay, a British award-winning journalist, told RT that IS will never be eradicated, as the situation in Syria is much more complicated than it seems.
RT: If it's confirmed that Baghdadi is dead, how would this impact on the fight against IS?
Martin Jay: We have to be cautious how we interpret the impact of that news. I personally feel that there shouldn't be the euphoria by the West or by Russia if indeed the Islamic leader has been killed. I think ISIS has changed quite dramatically in the last couple of years. Yes, if you killed him, you have removed the head of the 'Caliphate,' the so-called ISIS, which should have an impact. But ISIS as we know it, which stretched across Syria and into parts of Iraq, no longer exists - as Mosul is the last outpost there in Iraq to be taken. I think the impact will actually be limited towards how the group goes about its business. It is spread very thinly and it is expanding. I think we should never forget that in the last couple of years, ISIS has expanded right across reaching countries from the west coast of Africa, right across to Central Asia… More importantly we also need to think about what will the impact will be on countries around the world, who are part of that campaign to attack ISIS and to kill the leader – we have to assume there are going to be reprisals.
RT: Is there ever going to be a time when IS is diminished, or is this going to boil for years?
MJ: …I don't think ISIS will ever be eradicated. It is a little bit like the Americans in Afghanistan in the heyday – most of the generals there complain to me that the biggest problem, the biggest issue they had – which crushed the morale – was they were simply pushing insurgent groups around from one area to the other. I think this is what's going on in the Middle East now. Yes, we will more or less nail ISIS in Iraq – we can certainly tick that box – in the next couple of weeks Mosul is going to fall. But Syria is so much more complicated, so much more complex. I think what's happening with stories like this and the continued campaign, which is having some success, depending on your viewpoint. I think ISIS is really never going to go away. I think it's just going to be spread thinner and thinner. The ideology has now been enrooted in so many people, in so many various organizations around the world, and we're seeing it all the time... we've even seen it very recently in London.
Political commentator Marwa Osman claims that IS won't be much affected if its leader is dead, and might take on his ideology, becoming even more committed to take revenge and continue after Baghdadi.
RT: Do you expect IS followers to take revenge if he has been killed? Should Europe and Russia be more on alert than ever?
Marwa Osman: I believe so, yes. But if he actually is killed, I don't think they will be very much affected. Look at what happened to Osama bin Laden … After he was announced dead, Al-Qaeda just grew further more. Look at Al-Nusra – [it] is an offshoot, an affiliate of Al-Qaeda. So ISIS might just take on that ideology and become even more committed to take maybe revenge, or maybe to take message of Baghdadi and continue on after him. I don't know what kind of ideology they might have planted in their brains. But what I know is that even though at the time when ISIS is being heavily defeated – Mosul is entirely liberated; Syria is being liberated, as well – even at that time, when a lot of gains are on the ground being done across the world, the level of terrorism, the amount of terrorist attacks is rising and that is very risky.
The statements, views and opinions expressed in this column are solely those of the author and do not necessarily represent those of RT.
You can share this story on social media: