ISIS leader al-Baghdadi reportedly killed in Russia-led airstrike – MoD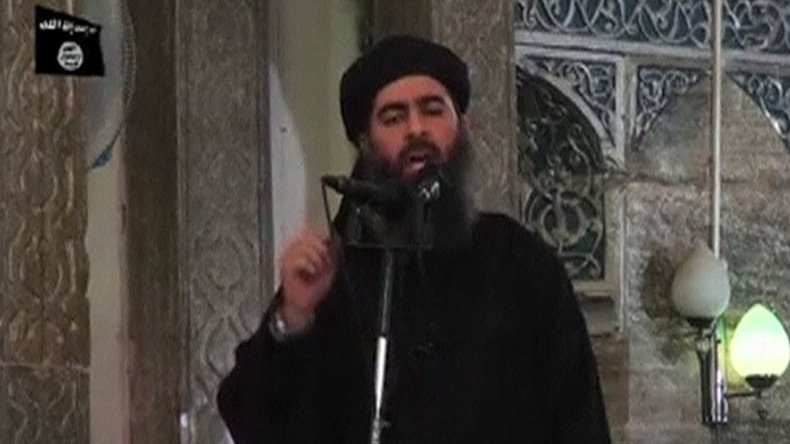 The Russian Defense Ministry said on Friday it is checking on information indicating that Islamic State leader Abu Bakr al-Baghdadi was reportedly killed in a Russia-led airstrike in Syria.
Russian Su-34 aircraft and an Su-35 multirole fighter carried out airstrikes near the Islamic State (IS, formerly ISIS/ISIL) stronghold of Raqqa in northern Syria on May 28, the ministry said. The strikes targeted a meeting of high-ranking Islamic State chiefs where al-Baghdadi was reportedly present.
The meeting was gathered to plan "routes for the exit of militants from Raqqa through the so-called 'southern corridor'," the statement read.
"According to information, which is being checked through various channels, IS leader Ibrahim Abu-Bakr al-Baghdadi was also present at the meeting and was killed as a result of the strike," the ministry said in a statement.
Among those who were killed in the strike were Emir of Raqqa Abu al-Haji al-Masri, Emir Ibrahim al-Naef al-Hajj, "who controlled the district from the city of Raqqa to the settlement of es-Sohne" and IS head of security Suleiman al-Sawah," the ministry added.
Moscow has given its American partners information about the place and time of the airstrike, the ministry said.
READ MORE: Russian MoD publishes image of airstrike that may have killed ISIS leader
Russian Foreign Minister Sergey Lavrov said he can't fully confirm the death of the IS leader.
"I don't have 100 percent confirmation of the information concerning the death of Abu Bakr al-Baghdadi," he said at a press conference on Friday.
The US-led anti-Islamic State coalition said it can't confirm the information that Baghdadi was killed in a Russia-led airstrike.
"We cannot confirm these reports at this time," Colonel Ryan Dillon, spokesman for Combined Joint Task Force - Operation Inherent Resolve (CJTFOIR), said in a statement.
The Pentagon also said that it has "no information to corroborate those reports" on Baghdadi's death, spokesman Navy Captain Jeff Davis said, as cited by Reuters.
Although numerous media reports have speculated on al-Baghdadi's death, neither the Pentagon, nor the Iraqi or Syrian militaries have ever confirmed those claims.
The latest report, which came in early June, claimed that the notorious IS leader had been killed in an airstrike in Raqqa. No official confirmation followed, however.
Born Ibrahim Awad Ibrahim al-Badri, al-Baghdadi made his first public appearance back in the summer of 2014, when IS began capturing territory in Iraq and later in Syria.
The terrorist group has repeatedly released messages allegedly sent by Al-Baghdadi calling for the establishment of a world Caliphate.
The US Department of State has designated al-Baghdadi as a Specially Designated Global Terrorist (SDGT).
You can share this story on social media: