'Iranians, as always, give their president a second term to fulfill promises'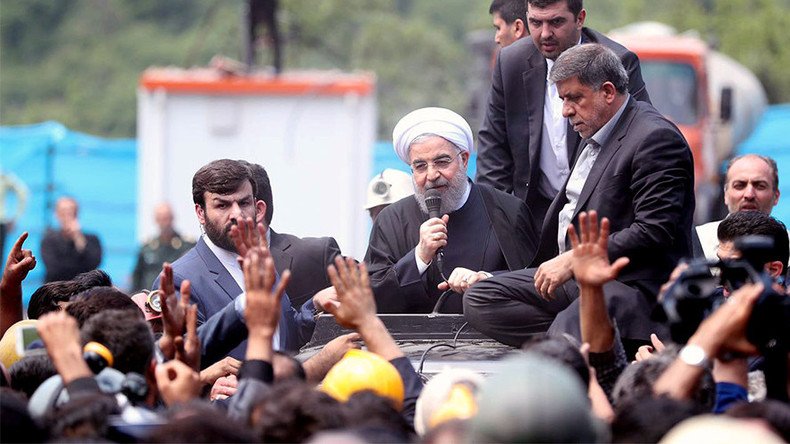 The Iranian people have chosen to give Hassan Rouhani another four years to fulfill his promises instead of jumping ship and voting for another candidate, says Dr. Ebrahim Mohseni from Tehran University's Center for Public Opinion Research.
Iranian President Hassan Rouhani was re-elected for a second term on Friday, defeating conservative rival Ebrahim Raisi, according to the interior minister.
Rouhani secured 57 percent of the vote – enough to avoid a run-off.
Mohseni said the economic situation – including the unemployment issue – was at the core of the election debates. Rouhani's position was that although the previous four years were tough, he promised that the next four years are going to be better, as he has paved the way for a better economic future for Iran, the analyst explained.
People heard what both Rouhani and Raisi said and "decided to go with the incumbent as they usually do in the Iranian elections."
"If you look at the Iranian presidents, all of them have served two terms," he told RT.
If Hassan Rouhani had lost the election, it would have been a new thing in Iranian politics, as generally, presidents are elected two times for consecutive terms, professor Foad Izadi from Tehran University's American Studies Department says.
RT: A convincing victory for Rouhani from a massive turnout. Why have voters chosen to go with what they know? What do they expect from Rouhani now?
Foad Izadi: I think what Rouhani said in the debates was convincing to the majority of the Iranians and Mr. Raisi was not a politician, he was a judge all his life. And he decided to enter the race late. I think he didn't have enough time to prepare himself for policy points that he wanted to present. Generally, in Iran, presidents are elected two times; historically, they win two consecutive terms. And if Rouhani had lost, it would have been a new thing in Iranian politics. He won and he won with a good distance from his competitor…
RT: US President Donald Trump takes a far tougher line against Iran than Obama did. He's no fan of the 2015 nuclear deal, which is close to Rouhani's heart. What's his plan to try and forge more cordial relations with an increasingly skeptical Washington?
FI: Rouhani has tried his best. He promised four years ago to improve relations [with the US]. He got a nuclear agreement. And we have a lot of people in the US Congress that don't like the nuclear agreement. We have Trump and people around him that don't like the nuclear agreement. Trump is in Saudi Arabia and he has to justify this type of policy that the US has – supporting the dictatorship. The Saudis are killing innocent civilians as we speak. And they don't have any elections. This is total monarchy that oppresses its own citizens. In comparison, Iran has a very active and vibrant democracy. People in Iran get to choose their leaders. And Trump is in full support of the Saudi government and enjoying his stay in Riyadh as we speak and opposes the Iranian government. This is very difficult for him to justify given the fact that they want to pass a new law in just a few weeks, a new sanctions bill that would put more pressure on Iran… And so, if the US government continues to pressure Iran, this is going to be difficult for Rouhani.
The statements, views and opinions expressed in this column are solely those of the author and do not necessarily represent those of RT.
You can share this story on social media: