'Macron candidate of fear; only won because he was anti-Le Pen' – Slovenian philosopher Zizek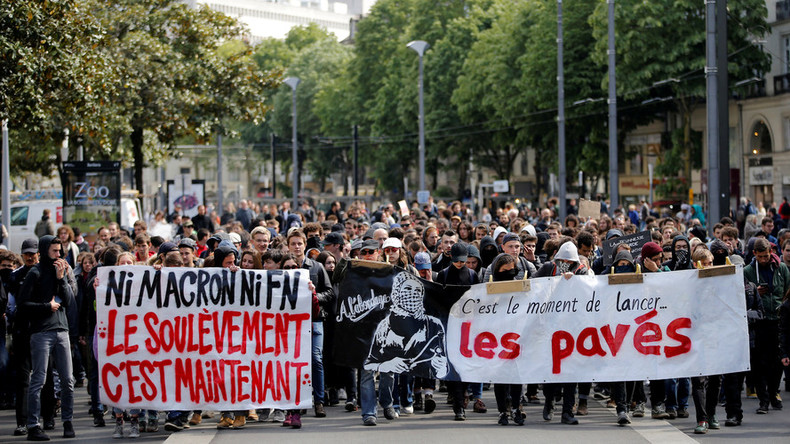 Following Macron's win, famous Slovenian philosopher Slavoj Zizek lashed out at the French president-elect, saying he "stands for the worst of Europe" and "is the candidate of fear of Le Pen," He also noted that neither candidate had a "positive vision."
The outspoken philosopher and cultural critic said, while he was not happy with either of the French run-off candidates' visions, those who voted against Macron were the "only true hope" for France, as they represent the people "who didn't succumb to this liberal blackmail [of] 'Now things are serious. Let's all unite behind Macron.'"
"They said: 'No. Sorry. Whatever that is, we're not ready to play this game – the fascist threat and the politics, which feeds this fascist threat,'" Zizek said.
In Zizek's view, this so-called "blackmail" included a recent La Liberation cover, which featured the headline, "Do whatever you want, but vote Macron."
"Isn't this the very essence of what worldwide is becoming today? You have all the freedom you want if you make the right choice. This is the very formula of why our democracy is becoming more and more meaningless," he said, adding that it appears to be the media that is making choices for the people.
However, Zizek's biggest issue with both candidates was that neither had a "positive vision" of the state of affairs in France, and both eventually became candidates of "fear."
"Marine Le Pen was, obviously, the candidate of fear – fear about immigrants, foreign threat, financial capitalism and so on. But Macron was also a candidate of fear – fear of Le Pen. Macron won not because of what he is, but because he was anti-Le Pen," Zizek said.
The problem is bigger than that, the philosopher added, concluding that the "European political elite is no longer able to rule properly," and changes are urgently needed.
"I already quoted Didier Eribon [French author and philosopher], who said : 'A vote for Macron today, is a vote for Marine Le Pen four years in the future.' We're just caught in this vicious circle. Macron means business as usual. But it's precisely this business as usual that will give new strength to Marine Le Pen. It takes time. She can wait. One election, two elections, three. In the end, she may win," he said.
You can share this story on social media: