'Very essence of establishment': Macron's reformer image questioned in view of govt & EU links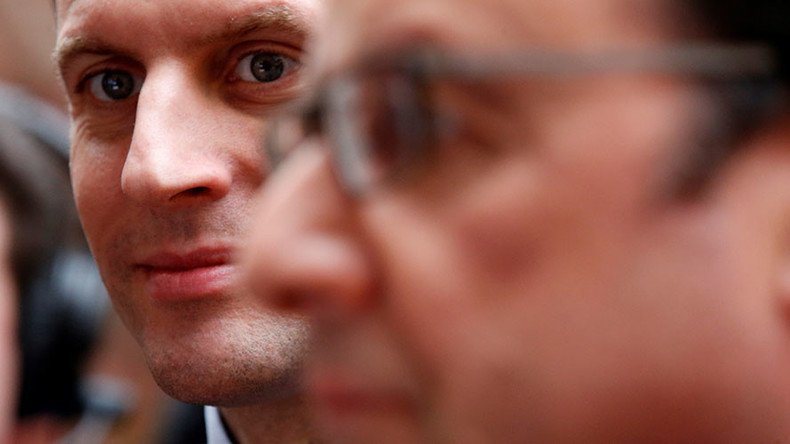 France's newly elected leader, Emmanuel Macron, represents the European establishment fearful of a popular revolt, former MI5 intelligence officer Anne Machon tells RT, as many analysts appeared to be skeptical the former Socialist minister could bring change.
"Former US President Barack Obama endorsed Macron, the EU endorsed Macron. They were very frightened about another popular revolt against the establishment. Macron is very establishment: the elitist universities in France, the fact that he was [France's] Economy Minister," Machon said, further listing the facts showing Macron's actual affiliation.
According to the former British intelligence officer, the fact that his En Marche! political movement "that came from nowhere within one year" looks very much "an establishment stitch-up."
"The western global elites wanted to make sure that EU continues. That there is a status quo," she added.
Steven Woolfe, a British barrister and independent politician, told RT he believes that Macron is next on the list of European politicians masquerading as fighters against the establishment.
"Macron is the essence of the European establishment. If you look at the way from [former UK PM] Tony Blair to [Greek PM Alexis] Tsipras, [former Italian PM Matteo] Renzi, Macron is simply another one of those characters," Woolfe says.
Woolfe notes that Macron was the Economy Minister serving under the Socialist government of Francois Hollande from 2014-16. He stepped down last year and created his En Marche! movement to join the presidential race.
"[Macron] worked in international finance and banking, he is someone who has great links to the establishment media in France. And as long as he is supporting the EU, as long as he never changes what is happening in Europe, then he is the man that was put in place," Woolfe says.
Janice Atkinson, an independent member of the European Parliament, also pointed out that Macron is "backed by EU, backed by globalists, backed by the bankers."
Woolfe believes that, in reality, people "are fed up with globalization, with open borders, with globalists and bankers who are running our systems."
Jean Bricmont, Belgian philosopher of science and a political commentator, believes that Macron is going to follow the policy of his predecessor.
"Macron is going to make the same foreign policy as Hollande, only worse, so it will be more [orientation] on Washington – whether he would get along with Trump, it's a separate question – but it would be very anti-Russian, he would probably want to arm rebels in Syria," he said.
Bricmont said that the French electoral commission had instructed media not to report on the recent leaks about Macron. A massive trove of internal documents from Macron's campaign was leaked by unknown hackers on Friday evening. Macron's En Marche! movement said they were the "victims of a hacking attack."
"When there was an inquiry about Fillon, which in principle should have been secret, it was leaked to the press and the press used it. Fillon was a candidate, who could have beaten Macron but he was totally destroyed by these affairs," he said.
The hacking of the Emmanuelle Macron team's emails "in a certain sense could have helped" the centrist candidate in the vote, Professor Bruno Drweski, from the National Institute of Languages and Eastern Civilizations, told RT.
He pointed out that the attack happened "very late" in the election and failed to reveal any compromising details about the candidate.
READ MORE: Libération becomes Macron's propaganda bullhorn par excellence
"It's difficult to know exactly what did happen, but it confirms that [the Macron team] need an atmosphere of conspiracy… to make something popular because they have no program, no concrete proposals," Drweski said.
Macron may face a problem if he cannot secure a majority in the French legislative elections that are to be held in June 2017, Guy Mettan, Executive Director of the Swiss Press Club, believes.
"He is a candidate of the establishment… But I think that difficulties will come with the next step of legislative elections for Macron and his supporters. Even if he has won tonight, now he has to convince all the French people to vote for him. And it is not yet won now," he said.
He noted that French voters are "completely divided" into five parties, supporting five presidential candidates – En Marche! (Macron), National Front (Marine Le Pen), La France Insoumise (Jean-Luc Mélenchon), Republicans (Francois Fillon) and Socialists (Benoît Hamon).
"I think it will be quite impossible to get a majority in the next parliament. So France will be very divided. It's not possible in four weeks to make a majority in the next parliament," Mettan said.
The statements, views and opinions expressed in this column are solely those of the author and do not necessarily represent those of RT.
You can share this story on social media: