'Shadow cast on Macron': Warnings of challenges, divisions as West welcomes French election results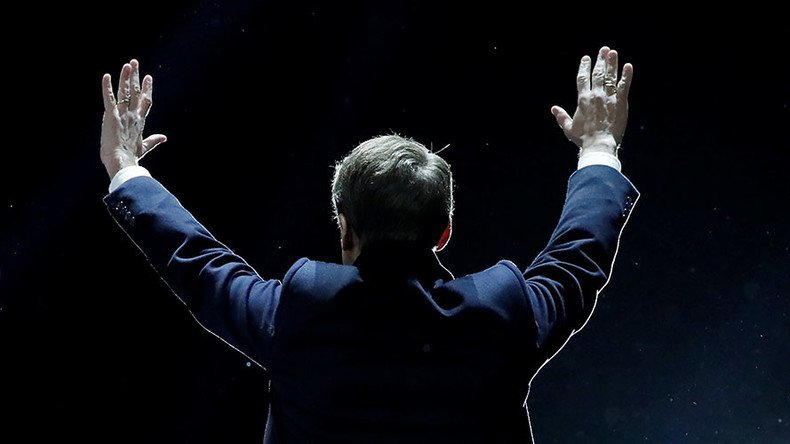 While the mainstream media is presenting Emmanuel Macron's 66 percent win as a landslide victory for democracy, the actual range of reactions in France and across Europe appears to be more sobering, pointing to divisions in society and hostility between political camps.
The outgoing French president, Francois Hollande, who is the record holder of the all-time presidential lowest approval rating in France of 4 percent, has "warmly congratulated" Macron on his victory. Former Socialist PM Manuel Valls celebrated the 80 percent voter approval of Macron in his constituency of Ville d'Evry.
However, many French politicians were disappointed with the outcome of the election for a number of reasons.
"We have a president who is weak," Raquel Garrido, spokesperson for the movement La France Insoumise (France Unbowed), created to promote the candidate Jean-Luc Melenchon, said. Garrido added that Macron got "many votes for want of something better."
Other French politicians pointed out that the far-right scored big despite the defeat, revealing the popular discontent.
"With almost 11 million votes, the far right reaches a sad record in our country tonight," a leading politician of the Socialist Party, Jean-Christophe Cambadélis, said, branding the votes received by Le Pen "confusing and alarming."
The Pro-Macron Cambadelis then took to Twitter to expand on his comments, saying that "the shadow cast on the new president" is "immense."
The vice president of the Republican party, who initially urged to vote against Le Pen, said that Macron "was elected without enthusiasm."
Emmanuel Macron est un Président élu sans enthousiasme. Pour la droite l'heure n'est pas à la compromission.

— Laurent Wauquiez (@laurentwauquiez) May 7, 2017
Taking things across the French border, Nigel Farage, former leader of Britain's UKIP party and leading Brexit campaigner, said that Macron "offers five more years of failure, more power to the EU and a continuation of open borders. If Marine sticks in there, she can win in 2022."
The majority of the European leaders were speaking out in favor of pro-EU Macron after openly supporting him in the run-up to the vote.
Congratulations @EmmanuelMacron. Congratulations to French people for choosing Liberty, Equality and Fraternity over tyranny of fake news.

— Donald Tusk (@eucopresident) May 7, 2017
I warmly congratulate @EmmanuelMacron on his success and look forward to working with him on a wide range of shared priorities.

— Theresa May (@theresa_may) May 7, 2017
The Italian premier Paolo Gentiloni also tweeted, "Hurrah Macron President! There is hope for Europe!"
Evviva #Macron Presidente Una speranza si aggira per l'Europa

— Paolo Gentiloni (@PaoloGentiloni) May 7, 2017
Meanwhile, in the US, President Donald Trump has congratulated Macron on his "big win," saying that he looks "very much forward to working with him."
Congratulations to Emmanuel Macron on his big win today as the next President of France. I look very much forward to working with him!

— Donald J. Trump (@realDonaldTrump) May 7, 2017
But Trump's defeated Democratic rival Hillary Clinton appeared to use her congratulatory tweet to speak of her own woes.
Victory for Macron, for France, the EU, & the world.

Defeat to those interfering w/democracy. (But the media says I can't talk about that)

— Hillary Clinton (@HillaryClinton) May 7, 2017
Western celebrities overwhelmingly welcomed Macron's victory, with plenty of jubilant statements appearing on social media.
Beloved,Beautiful 🇫🇷,You've Not Been Cowered,You've Shown The🌎"French Courage"🇫🇷VIVRE EN MARCHE🇫🇷Bonne Chance🙏🏻Avec L'assemblée Nationale

— Cher (@cher) May 7, 2017
However, not all of the stars appeared to celebrate, with France's own Brigitte Bardot, who has commented on Macron's "lack of empathy" and "cold steel eyes," suggesting that his victory could hurt animal rights.
You can share this story on social media: