'Very good sign Syria 'safe zones' deal endorsed by Washington & UN envoy'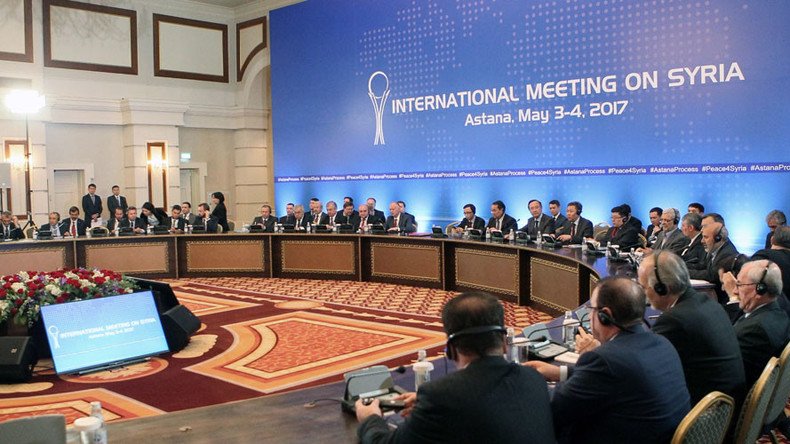 The Russia-backed plan to establish safe zones in Syria is a significant development, says political scientist and author Kaveh Afrasiabi. It requires the participation of all the major stakeholders to be successfully implemented, he adds.
After a new round of peace talks in the Kazakh capital of Astana on Thursday, Russia, Turkey and Iran signed a memorandum establishing four zones of 'de-escalation' in Syria.
RT: What do you expect from these proposed 'de-escalation zones'? What does this mean in reality on the ground?
Kaveh Afrasiabi: It is definitely a very significant development that merits the kind of appraisal that has been lavished by the UN Special Envoy on Syria and others, and it has also been endorsed by the US State Department via a tweet. It is a very good sign. It requires the participation of all the major stakeholders in order to be successfully implemented and create zones of peace in this island of war and turmoil that is today Syria. The parties can draw lessons from prior experiences in Bosnia and Iraq and anticipate some of the side effects and unintended consequences, etc., the question of policing here, the potential role for the UN peacekeeping forces. That is also a distinct possibility in my opinion because we are not dealing with a simple issue. Look at Homs, for example, which has 19 square kilometers. It is not easy to patrol that. Or eastern Ghouta; some of it is controlled by the opposition that are in fighting among themselves as well as against the terrorists and with the Syrian government. In order to have these zones safe as it is called, you have got to have a lot of preconditions in place and sustain a dialogue and smart diplomacy.
Definitely, any move to de-escalate and create safe havens is welcomed, and that is why we've seen the US State Department, when actually the whole Western camp was opposing it, accepted it and welcomed…This is a step forward to maybe a bigger, wider settlement. - Adel Darwish, journalist, and author.
RT: The US isn't directly involved, but Russia's President Putin says his American counterpart Donald Trump supports the idea. How do you think other Western powers will react?
KA: Hopefully, they will also follow the same line as Washington today. Because there is really no alternative after all that we have seen with this calamitous war in Syria, the waves of refugees, etc. And these zones of peace can stem the tide of refugees including to Jordan and one of the safe zones in that region and so forth. So I don't think there will be any hesitation on the part of any Western European government with respect to this very timely initiative by Russia that has been backed by Turkey and Iran. Let me just nuance about the opposition: only some of the opposition walked out [of the Astana talks], and pro-Turkey forces were convinced to come back to the meeting. That is a very good sign. And there is a lot of dissension among the opposition and infighting among them. We have to be careful about these zones not turning into a sanctuary for resupplying the rebels and in order to use it as launching pads against the government forces. Just as it happened last March [when], they used these underground tunnels to go into eastern Damascus, for example. There are a lot of details that need to be hammered out.
The statements, views and opinions expressed in this column are solely those of the author and do not necessarily represent those of RT.
You can share this story on social media: