'Russia, Iran & Turkey move center of gravity over Syria from Geneva to Astana'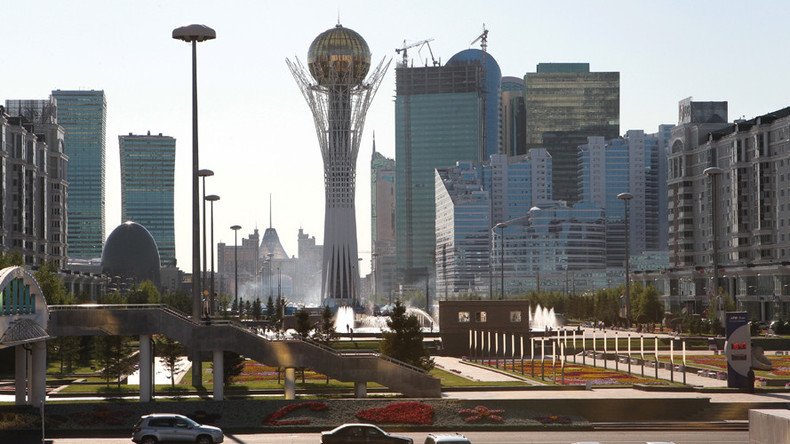 The Astana memorandum signed by Russia, Iran and Turkey reformulates the language of the Syrian conflict from a fabricated inverted reality used by NATO moving the center of gravity from the West eastwards, says global affairs analyst Patrick Henningsen.
Russia, Turkey, and Iran on Thursday signed a memorandum establishing four zones of de-escalation in Syria. This was made during a new round of peace talks held in Astana, the capital of Kazakhstan, between the Syrian government and the armed opposition.
Idlib, Latakia, Homs and parts of Aleppo are among the de-escalation zones and any fighting between government forces, and the armed opposition will cease within the safe zones, according to the memorandum.
These safe zones are meant to separate extremist groups, including Islamic State terrorists (IS, formerly ISIS/ISIL) and Jabhat al-Nusra (Al-Nusra Front), from the armed opposition groups.
Some members of the opposition delegation reportedly walked out in protest at Iran's involvement.
RT: What do you expect from the new proposed 'safe zones'?
Patrick Henningsen: I think the important thing first to point out is that this does mirror the terminology used by the US-led proposal before of safe zones. The only difference, this is not coming from the US, this is being led by a different coalition of countries - Russia, Iran and we have Turkey as well and some agreement from the Syrian government to support a Russian-led proposal here. That is the difference. And I think this is why it is getting some support from the Syrian government. What they are doing is redefining, reformulating the language of this conflict away from a sort of a fabricated inverted reality that has been used in a conversation led by Washington, the UK, France and the other NATO states and to some degree Turkey, and into a reality area where we're actually talking about who are the actual extremists on the ground, who are the terrorist groups, and not calling everybody who is an armed person against the government a 'moderate rebels' or 'moderate opposition', that is not what they are. And I think everybody in Syria knows that, Russians know that, they are hardcore terrorist groups operating and occupying sections of cities in Syria in parts of regions and so forth.
RT: How do you think the three states, Russia, Turkey, and Iran, guaranteeing the Syrian ceasefire will control the zones?
PH: There have been attempts in the past to organize ceasefires between the government and terrorist groups or the government and so-called rebels and between those groups themselves. As we saw last week in east Ghouta, terrorist groups began fighting among themselves, and many dozens were killed in infighting, for instance. So, the whole idea of getting a ceasefire to happen, that is a whole another thing altogether. And there is no guarantee of success. This might be ok on paper, might be a good starting point but going forward it doesn't change the facts on the ground for Syrians…This is a great starting point, but we will see how it develops.
What is important for Russia, in this case, is that the center of gravity has moved from Geneva to Astana, Kazakhstan. Symbolically, that means that it could put Russia and this new coalition of Turkey, Russia, and Iran on somewhat of equal footing with what is going on in Geneva. That to me is very significant. It is taking the center of gravity away from Europe, from Washington, from the West and more eastwards.
According to Peter Ford, the former UK ambassador to Syria and Bahrain, the newly proposed plan of safe zones "looks like a consolidation of the existing ceasefire which has been respected only in part."
"I think the plan is to put that general ceasefire which became operational back in January, to put it back together and make it more effective," he told RT, adding that the Syrian people will welcome any even partial break from the fighting.
However, he added, there are a lot of loose ends and unclear points as to how these safe zones will be controlled. That includes, for instance, how fighters from such jihadi groups as ISIS and al-Nusra will be bombed while other groups working hand and glove with them will remain safe, he said.
The statements, views and opinions expressed in this column are solely those of the author and do not necessarily represent those of RT.
You can share this story on social media: