'No unified understanding of what it will take to end Syria crisis' - UN Under-Secretary-General
What is the global counterterrorism strategy? Why is there a lack of international cooperation on fighting terrorism? Are unilaterally approved actions justified in tackling Syria crisis? RT asked UN Under-Secretary-General Jeffrey Feltman.
The UN is proposing an international anti-terrorism coordination bureau, the Under-Secretary-General Jeffrey Feltman told the sixth Moscow Conference on International Security on Wednesday.
Feltman read a statement from UN Secretary-General Antonio Guterres in which he said: "In order to effectively implement the UN global counterterrorism strategy, I have proposed the creation of a new office for counterterrorism that will further enhance coordination and coherence in the delivery of UN assistance to member states and increase our impact on the ground."
The conference entitled "Global Security: The XXI Century Challenges" has brought together over 750 participants from 86 countries as well as heads of international organizations.
RT spoke with Jeffrey Feltman on the sidelines of the gathering.
RT: In every speech, we heard today about the need for cooperation. Why don't we see this happening?
Jeffrey Feltman: It is important to have a forum like this so we can talk about how to better cooperate. Look at the challenges we are facing. What are we talking about – organized crime, drug smuggling, weapons smuggling or particularly terrorism. These are problems that do not respect national boundaries. These are problems that affect all continents. So, it is only logical that we have to have global, collective solutions. The Secretary-General asked me to represent him here at this conference in order to reinforce that message that we need to have joint solutions to problems that affect us all.
RT: We hear that at every security conference around the globe. Why don't we see real steps toward that aim?
Read more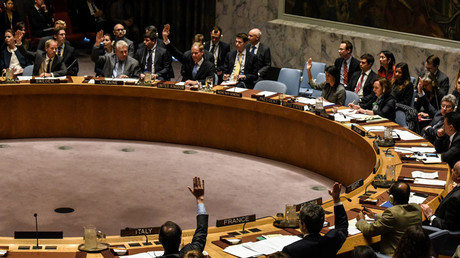 JF: Obviously, we need to do a lot more. Look at the skepticism you see from so many populations around the globe about the international order today. Whether you're talking about Brexit or some of the election rhetoric in Europe or North America - you hear skepticism about the international order. And we have to show that the international order, that the UN and our collective efforts can deliver. So, the populations that are affected by terrorism and global challenges, they expect us to do more to prove our worth. Secretary-General Guterres is very much aware of the expectations placed on him and the UN. The UN is a 71-year-old organization. And the challenges that we are facing in the 21st century – [are] beyond what the founders of the UN were thinking about in 1945 at the end of WWII. Antonio Guterres is proposing several reforms in the organization, and he hopes to get member states support for. The one that is most relevant today is the reform of UN counterterrorism architecture. The UN is guided in its counterterrorism efforts by the UN global counterterrorism strategy. We do not have a standing army that goes out and does the security measures that national states are responsible for. We do have a responsibility to help member states build their own capacity to prevent extremism, to stop terrorism, to work with others on counterterrorism methods. And the Secretary-General believes strongly that our architecture needs to reflect the challenges. It is a proposal now before the General Assembly that he hopes member states will support to make us more effective in addressing the problems that have come up…by speaker after speaker this morning.
The statements, views and opinions expressed in this column are solely those of the author and do not necessarily represent those of RT.